Melinda Burnworth, PharmD – "The 'Eyes' Have It!" A Review of Rare Diseases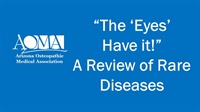 Salepage : Melinda Burnworth, PharmD – "The 'Eyes' Have It!" A Review of Rare Diseases

"The 'Eyes' Have It!" A Review of Rare Diseases 
Dr. Burnworth will share ways to diagnose and treat rare diseases.
Educational Objectives:
Distinguish rare (orphan) diseases and orphan drugs from common diseases and drugs

Compare and contrast rare disease resources (healthcare professionals, patient, caregiver)

Outline rare diseases scenario (porphyria, methemoglobinemia), Formulate a treatment plan.
Dr. Burnworth has no Disclosures
This activity has been planned and implemented in accordance with the accreditation requirements and policies of the American Osteopathic Association (AOA). The Arizona Osteopathic Medical Association (AOMA) is accredited by the American Osteopathic Association (AOA) to provide osteopathic continuing medical education for physicians. 
GRIEVANCE POLICY: The AOMA strives to provide continuing medical education programs to fulfill the needs of the attendees and to meet the AOA Uniform Guidelines and AOA Accreditation Requirements. Comments, questions, or complaints should be forwarded to AOMA Executive Director Josephine Zammuto, by calling the AOMA Office at 602-266-6699 or by mail to AOMA, 5150 N. 16th Street, Suite A-122, Phoenix, AZ 85016, or by email to [email protected]. 
Melinda J. Burnworth, PharmD, FASHP, FAzPA, BCPS is a graduate of the University of Missouri-Kansas City School of Pharmacy. A Professor of Pharmacy Practice at Midwestern University College of Pharmacy-Glendale (CPG), she teaches several hospital-based required courses and a rare disease elective course. Dr. Burnworth promotes health-system pharmacy, minimization of drug shortages, advocacy, rare diseases education, student mentorship, and preceptor development at various levels. As the Arizona Volunteer State Ambassador for the Rare Action Network (powered by the National Organization for Rare Disorders), Dr. Burnworth organized the inaugural 2018 Rare Disease Day community outreach event in Arizona and Proclamation signing by Arizona Governor Doug Ducey. 
Dr. Burnworth has no disclosures