Mental Management Video Seminar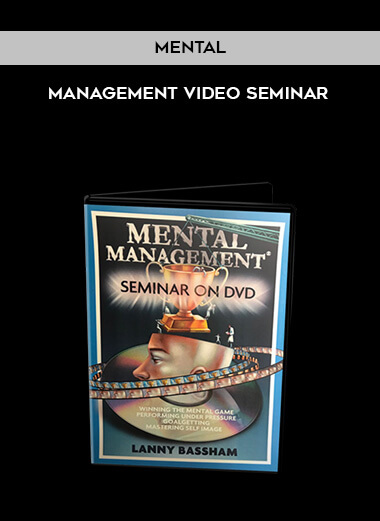 Salepage : Mental Management Video Seminar

What is it?  This 4 DVD video series is an advanced class in Mental Management presented by Olympic Champion, Lanny Bassham. You will feel like you are in a live seminar as Lanny takes you through these topics.
Why do you need it?
If you are unable to attend a Mental Management seminar in person, or would like to have a refresher from your session., this is a great option.
Who can benefit from it?
▪   Athletes – Professional, Amateur and Junior
▪   Stage Performers – Actors, Singers, Dancers, Pageant contestants, etc
▪   Parents of Competitive Youth
▪   Business Professionals
▪   Coaches & Instructors in sport, business or stage performance
▪   Anyone interested in learning more about controlling pressure, building self-image & getting their goals
Learn:
Winning the Mental Game – Learn why 90% of all winning is accomplished by 5% of the performers. Understand the three mental processes that control a winning performance. Master the secrets used by Olympic Champions to win the mental game in business and sport. 60 min.
Performing Under Pressure – When you are under pressure to perform well are YOU in control? Learn why most of our beliefs about pressure are myths. Become skilled at pressure control strategies used by Olympic Champions. Master Mental Rehearsal, Running a Mental Program and Performance Analysis to gain an edge in business and sport. 67 min.
Goal Getting – Setting Goals is not enough. Getting them requires mental discipline. Learn why Goal Getting is the most important skill you will ever need. Learn why most of our beliefs about goal setting are ineffective. Become skilled at the same GoalGetting system used by Olympic Champions. Master the 10 Rules of Attainment and the Becoming Process. 66 min.
Mastering Self-Image – Change your Self-Image and you change your future. Learn why your Self-Image and your performance are always equal. Learn how to change any attitude or habit in just 21 days. Master Self-Image imprinting and reinforcement techniques. 62 min.