Michael Hall – Meta NLP Master Practitioner Video Training Prep Package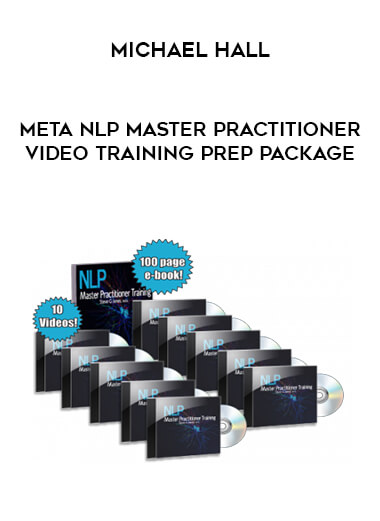 Salepage : Michael Hall – Meta NLP Master Practitioner Video Training Prep Package

This is M. Hall's complete Master Practitioner Set, which consists of two parts. The Master Practitioner Training 1–13, as well as the Meta Programs Master Training 1–5.
The primary topics are as follows:
The Mastery Vision
– An Overview of NLP Mastery
– NLP Mastery
– Your Top Ten States of Mastery
– Well-Formed Mastery Outcomes
– Excellence Circles
Mind-Lines for Mastery
– The Model of Mind-Lines
Conversational Reframing Patterns for Meaning Transformation
7 Ways To Send Your Brain
26 Patterns of Reframing
III. Control Through Trance
Trance Is A Meta-State Phenomenon
Trance and the Meta-Levels
Hypnotic Trance Inductions
Training for Hypnotic Inductions
– Trance Through Time-Lines
Quick And Slow Time
Resources Spiraling
Creating a New Life Story
Modeling
– "Secondary Modalities"
Meta-Levels
Meta-Levels Uncovering Submodalities
Using Sub-Modality to Learn NLP
– Investigating the Structure of Experience
Modeling is at the heart of NLP.
Modeling Types
Best Modeling States
Modeling Instruments
– Modeling Techniques
TOTE Model with NLP Enhancement
Identification, Unpacking, and Replication
Excellence Strategies
Modeling of Neuro-Semantics
– Cultural Simulation
The Organization of "Cultural" Phenomena
Mastery of Meta Programs
Coalesced meta-states as meta-programs
Meta-Programs for "Finding People"
Altering Meta Programs
Making Use of Meta Programs