Mike Acquaviva – Build A Rocking Website – Wix (No Coding Required!)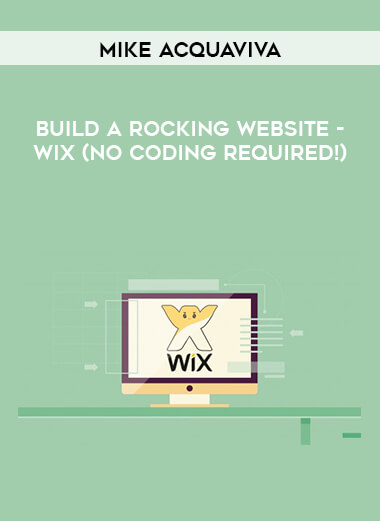 Salepage : Mike Acquaviva – Build A Rocking Website – Wix (No Coding Required!)

Learn over my shoulder how to quickly setup your own Wix website without needing to code or using any expensive tools
Do you dream of sharing your passion and knowledge with the world through your own amazing website but have no clue where to begin?
Are you clueless about programming or using WordPress?
If so than this course is for you!
Learn how to set up an amazing website in 1 hour or less using the easiest website creation tool on the internet! With Wix its literally drag and drop simple..and in this course I walk you through everything you need to know to build an attractive site that people will go googly eyed over!
Seriously…No more scratching your head!
Even cooler I show you how to use the most powerful photo editing tool on the interwebs to design gorgeous website logos & module banners!..
Best of all..Its 100% FREE!!
Its just as good as Photoshop or anything else without costing you an arm and a leg..(or less bluntly..alot of mullah!)
Go ahead and check out the reviews below from some of my awesome students taking this course with great results!
-Check Out This Review From Anneka , One Of My Happy Students-
Awesome complete course! My mouth fell open.
This course is a real eye-opener.
I always thought that making a website is hard work.
Mike shows us that making a website in Wix is really easy.
I was surprised what an online editor can do these days!
The ease to place a video the right way for watching on a phone!
And Mike does teach so much extra free online tools,
-Anneke Camstra
Truthfully my friend.. making a website doesn't have to be hard!
If you want to share your knowledge and learn how to build a rocking website fast..theres only one thing left to do..
CLICK THE "TAKE THIS COURSE" COURSE BUTTON NOW AND I'LL SEE YOU ON THE INSIDE MY FRIEND!
-Your Devoted Teacher.. Mike Acquaviva
What are the requirements?
The Desire To Learn And Create Your Own Wix Sites!
No Prior Knowledge Is Required..This Is Perfect For Beginners!
What am I going to get from this course?
Over 21 lectures and 2.5 hours of content!
Create Numerous Wix Sites Sharing Your Knowledge WITHOUT Coding or Design Experience!
Design Beautiful Logos And Images Without Using Complex Image Editing Programs Like Photoshop Or Expensive Software
Set Up Membership Only Sites That Allow You To Share Exclusive Content With People You Choose
Share The Wix Site Creation Process With Friends Or Relatives That Want To Teach Their Knowledge About Something To Someone Else!
What is the target audience?
People Who Want To Share Their Expertise & Passions With The World!
People Who Are Brand New To Creating Websites And Have No Coding Or Design Knowledge.
People Who Want To Know How To Design Beautiful Logos And Images Without Using Confusing Tools And Software