Mike Murray – Hacking the Mind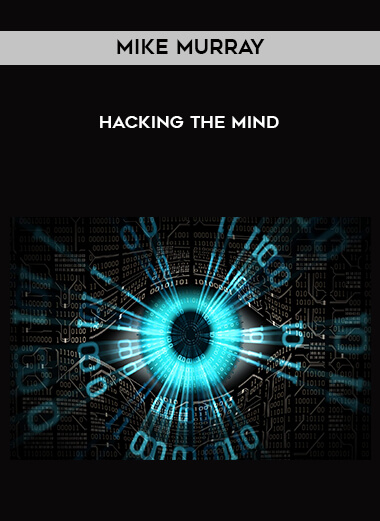 Salepage : Mike Murray – Hacking the Mind

This weekend, I'll be at the Hackers on Planet Earth conference. I'd heard about it a few months before I went to New York and signed up since it was a low-cost conference that seemed fascinating. This is the convention linked with the long-running 2600 Magazine. Anyway, I'm not a hacker, but I'm interested in some of the same things, so why not?
Last night, I believe my conference money was repaid by attending Mike Murray's session on "Hacking the Mind: Hypnosis, NLP, and Shellcode," which was billed in the program as:
The parallels between computer network exploitation methods and language patterns involved in hypnosis and neuro linguistic programming (NLP) are significant. In this talk, nCircle's vulnerability research director Mike Murray (a Master NLP practitioner and certified clinical hypnotherapist) will demonstrate the use of hypnotic language patterns, metaphors, and other patterns of influence, as well as how a good hypnotist structures inductions in a manner similar to that of a skilled computer hacker. The audience will have a better understanding of linguistic patterns and their impact on the human mind after witnessing hypnotic analogies to buffer overflows, shellcode, and other sorts of computer assaults.
As someone who is still interested by manipulation tactics, this was most likely the session I wanted to watch during the conference. And that was far superior than anything I could have imagined.
Murray shared the slides from his discussion, but they don't convey the outstanding performance he gave. He designed the discussion to show the ideas he was teaching, and it was so seamless that even though he was telling us precisely what he was doing, it worked nevertheless. Amazing work.
For example, he described buffer overflow approaches employing open loops. The well-known fact is that individuals can only recall 7 +/- 2 bits of information at a time. Once you get through it, he claims that you are speaking directly to the brain's operating system. How does one go about overflowing the buffer? You create a slew of "loops" and never close them. In this situation, a loop is a thread, or, as he put it, a tale.
He began the discussion with a sequence of four or five anecdotes, and when each one reached its conclusion, he would add, "That reminds me…" and begin another. But the preceding narrative remained unfinished. And when he got into the discussion and detailed buffer overflows, it was clear that he was filling our heads with threads. I really began penning down the stories in the hopes of getting them out of my head and keeping clear. But I was clearly attracted in – I had a real buzzing sensation in my ears, and my impression of his speech became much louder, indicating that something strange was going on in my brain. Very eerie.
The third strategy he recommended was providing ambiguous content, which allows the user to tailor it to their own experience (shades of filling in the blanks posts that I have yet to write). For example, while hypnotizing someone, he may claim, "you will experience a sharp tingling sensation in your left leg," but he'd only be correct a small fraction of the time, and if he's wrong, the trance is broken. If he instead responds, "You have a feeling in your leg. Focus on it," and they will remain in the trance regardless of how they feel. Another example he offered was "You will continue to breathe, focused on the breath"; as he remarked, "I know they're breathing – if they're not, I've got a whole other set of issues". This reminds me of the political training I received:
Make your message â€oeStop Bush!†according to his [Bob Mulholland's] example. If you leave it at that, the individual who sees it will interpret it in terms of their own personal problems. If you continue to say, â€Stop Bush because he is against gay marriage,†that individual may respond, â€Well, I donâ€TMt know how I feel about gay marriage, so maybe I donâ€TMt agree with this campaigner. " Take use of the voters' capacity to provide context.
Another method was to insert your own code into the brain of someone else. That entails comprehending the unconscious brain, which he claims is all about patterns (like On Intelligence) and tales (I love stories). "You came into his office and sat down," says the author of Milton Erickson (who I must read immediately). Then Milton told you a story, and you noticed that you were changing." That sounds fantastic.
The last technique was likewise introduced excellently. "What if there existed a linguistic pattern in the world that could assure that anybody who heard it would run the program you chose?" stated one slide. "Can you fathom what such a design might be?" he said. Then he said, "Don't you think…?" We burst out laughing as we understood the solution. "The question cannot be evaded by the unconscious mind," he said in his following presentation. To process the question, we must first assess its substance. We execute the code. In essence, it is comparable to the "Don't think of an elephant" ploy, in which you must think of an elephant as part of digesting the phrase. Ask them questions; let their minds connect the dots and do the job. People will not reply if you tell them anything; if they come up with it on their own in response to a query, it is theirs.
Talk was really fantastic. I stayed thereafter for an informal Q&A session with him and a few others simply to hear more. I had already read some of the works he mentioned (including Cialdini and Blink), but I'd want to read more by Milton Erickson, as well as maybe Gregory Bateson, Richard Bandler, and John Grinder. He also directed folks to the NLP Canada blog, which I want to read – NLP Canada is where he trained.
P.S. A thought occurred to me later in the evening when discussing this with a buddy I met at the talk: the concept of open loops may explain the flow of great discussions. As participants start threads, they remind others of other threads, and all of these open loops are left dangling, putting the participants in a condition of mutual hypnosis. That's why it takes time for a great conversation to get started, for open loops to accumulate. This is why every interruption tends to halt the dialogue; the context switch clears all open loops. It's why the long discussions I've had feel like they're in a timeless state where I have no idea how long we've been talking – I'm in a hypnotic state. I'm not sure whether this is true, but it's an intriguing notion.