Mike Robertson – Bulletproof Knees & Back Seminar 2011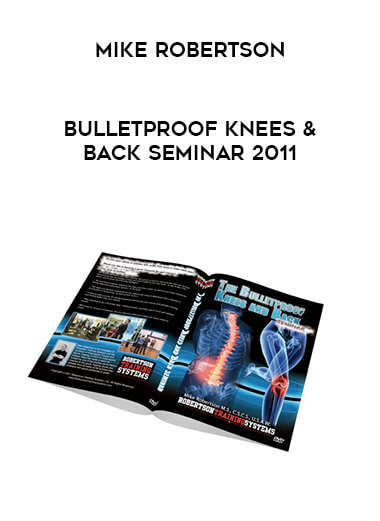 Salepage : Mike Robertson – Bulletproof Knees & Back Seminar 2011

Today is the day – the Bulletproof Knees and Back Seminar DVD's are here!
If you're interested in picking up a copy, here's the link:
Bulletproof Knees and Back Seminar DVD's
If you need a bit of incentive to act quickly, the price is discounted for this week ONLY. On Friday at midnight, the price will go up from $147 to $197.
Along those same lines, I'm not doing a traditional launch here; I'm doing all the marketing and promotion myself. However, I'm hoping that many of you will be willing to help me out!
Here's what I need from you:
For every 25 people that either Re-Tweet this page, Share it on their Facebook wall, or post a comment below, I'll give away a free copy of this DVD Series FOR FREE!
So if 25 people "act" on this, I'll give away one copy.
100? 4 copies.
200? 8 copies.
Hopefully you get the picture
So again, here's what you can do to help:
"Share" this on your Facebook wall.

"Re-Tweet" this to your followers on Twitter.

In the comments section below, please tell me one of two things:

What do you want to learn from this DVD series?

What are some things you've already learned from me with regards to knee and/or lower back health?