Mitch Stevens – How to become Social Media Expert – Earn $5K Monthly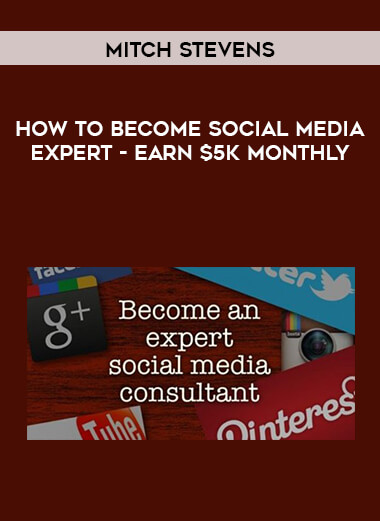 Salepage : Mitch Stevens – How to become Social Media Expert – Earn $5K Monthly

Every one of us is an expert at something chances are. Most likely you have learned something by teaching it to yourself. It's these kind of topics you can use to earn a supplemental income online. One of the biggest things today is earning money online. In order to earn money online you must know how to sell whatever it is you are trying to sell. Whether it be content or a new product you have created. Regardless, of what you are selling you will need to know how to get the word out about your new items.
Social Media is the best way to gain attention for anything you are promoting big or small. The use of Social Media has the power and ability to change your life overnight. However, you first must have an attention grabbing item. If you are selling junk it will be known as junk. So be certain you are prepared to have your new items shared on Social Media. It only take a few bad reviews to get an item negative attention. That's why it's so important to create the best possible page for your social media. If you are going to use your profile it needs to include professional quality profile photo and businesses need to have a great logo for their new brand.
Our Course titled, Learn Social Media Growth Secrets 2015: True Rules of Engagement will guide you step by step through the entire process showing you how to grow followers across each Social Media platform and make money doing it. Social Media Platforms hold a gold mine for affiliate marketing. Learn our favorite techniques for using Social Media and Affiliate Marketing together to make a substantial income.
Section 1: Twitter Growth
Lean to grow followers on Twitter and Dimensions

Learn how to set up a Twitter campaign inside Twitter advertising
Section 2: Facebook Growth and Dimensions
Facebook Stats for 2015

Facebook Features and How to get Penny Clicks in Advertising

Facebook Engagement

How to bid for lowest ad prices
Section 3: Instagram Growth
Instagram Follower Growth and Dimensions

How to use Tagstagram iOS App for more followers
Section 4 Youtube Growth
Youtube Channel

How To Setup your Blog to Grow Youtube Channel

How To Get Top Audio and Video Quality

How to use Description Box Effectively

How to use HootSuite Effective
Section 5: Google+ Follower Growth
How to increase Google+ Followers

How To Earn Money Using Social Media anad Affiliate Marketing Together

Google Plus Dimensions
Be sure to check out our other courses in Udemy to help increase your income immediately.
What are the requirements?
There are no prerequisites of taking this course relating to course work.

Students need to have any Social Media sites they wish to improve already set up.

This course can be taken on Mac, PC, Tablet, or Smartphone (iOS or Android)