Mittmaster – Filipino Boxing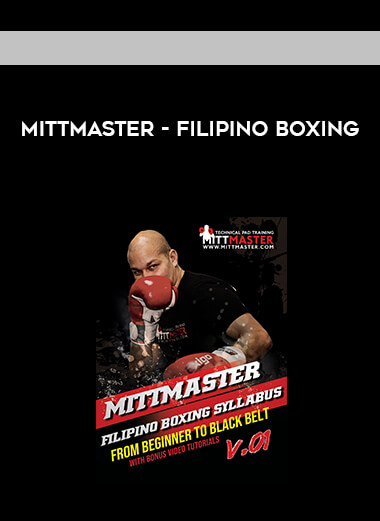 Salepage : Mittmaster – Filipino Boxing

The Mittmaster Filipino Boxing Syllabus
I am SUPER EXCITED about this syllabus!
I've been training Filipino Boxing for nearly 20 years now. I was very lucky to meet a Grandmaster of the Filipino Arts when I was 19 years old.
Anton St James taught me the Filipino Martial Arts daily for over 6 years. We studied stick, knife, staff, palm stick and of course lots of Filipino Boxing. 
He was, and is, a master of all the Filipino Arts
When I moved to London to get my degree I was fortunate enough to get to train at Bob Breen's infamous JKD/ Kali academy during its heyday. 
Bob, as you will know, is considered one of the worlds best instructors in Filipino Martial Arts. 
It was such a privilege to be taught by him for 4 years. Bob is all about practical application. If you can't make it work for real he doesn't teach it. 
I was also lucky enough to train with many visiting instructors at Bobs Academy including Dan Inosanto, Rick Young. Marc McFann and Mike Inay (my favourite) . 
Filipino Boxing differs from Western Boxing in a number of critical ways.
Firstly Filipino Boxing is not designed for sport fighting. It includes many techniques that are illegal in normal boxing including head butts, eye gouges, wrenches, and hammers. 
Secondly, Filipino Boxing has no wasted motions. Every technique and movement is designed to inflict maximum damage as quickly as possible.
Thirdly it is designed to be used when under attack from multiple assailants.  It was developed to finish the person in front you fast so you can exit at an angle onto the next opponent. 
For this reason, it is quick, brutal and very effective.
However, despite all these great elements I often struggled when applying some of the drills and techniques against resisting partners.
So over the years, I modified many of the techniques to make them work for me and found it also made them more functional for most of my students. 
The Mittmaster Filipino Boxing syllabus is comprised of nine grades from white to black belt
It includes:
The 8 Principles of Filipino Boxing

The essential footwork drills that make it all work

Simple destruction techniques

Hammers EVERYWHERE

Sweeps & trips

Throws & takedowns (modified to make them work for us normal folk)

Traps & counter traps

Low line kicking drills

Knees & elbows

Bumping and off balancing

Integrating the head butt into boxing

Power slapping techniques

Joint cranks and breaking techniques

Dirty boxing drills

Practical lock flows

And a whole lot more
This is the LARGEST and most DETAILED syllabus I've ever created and I'm looking forward to getting it filmed over the next month. 
Most syllabus I create get filmed in two weeks but because of its size and complexity, the Filipino Boxing Syllabus will take me 4 weeks. 
The syllabus will include 
Over 100 detailed video instructionals

An editable syllabus

Training tip sheets 

and 12 lesson plans. 
You can order it NOW with a 50% discount.  This discount ends on the 15th of April when the price doubles. 
The syllabus and all the other content will be available to access on May 1st. 
SPECIAL BONUS FOR ACTION TAKERS
(Plus the first 20 people who sign up will also be given exclusive BONUS content including seminar footage of my instructor Anton St James teaching his Filipino Boxing System.
I will also include some fascinating interviews I've recorded with my FMA teachers, where they share their history and developments of this amazing martial art)
So if you've ever wanted a functional/ structured / progressive Filipino Boxing Syllabus now is the time to order.
Thank You
Mittmaster Matt
PS If you want the FREE seminar footage and the BONUS interviews please order NOW. Only the first 20 people to order will receive these bonuses.