Monroe Institute – Metamusic – Shaman's Heart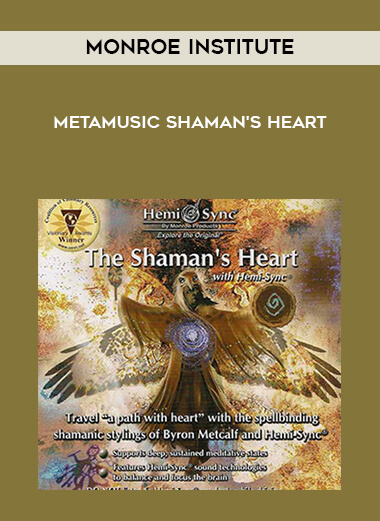 Salepage : Monroe Institute – Metamusic – Shaman's Heart

The only complete home learning program to fully build your ability for soul-centered and heart-centered life. A one-of-a-kind and practical synthesis of shamanic practice, transpersonal psychology, ancient knowledge, and different modern approaches of spiritual growth, development, and personal transformation.
has devised a complete curriculum to assist you in fully developing your real power, purpose, and presence via shamanic and transpersonal heart exploration and development. This package includes four CDs with six verbally led exercises, a customized edition of Metcalf's award-winning Metamusic title, CD, and a complete instruction booklet.
Related Comments:
Other titles by include: and.
"True shamans see with their emotions, live honorably and respectfully, and have a light and delight in their eyes that Westerners aspire for. Byron Metcalf's Shaman's Heart Program (in partnership with Monroe Products) teaches us how to accept all of these gifts. His art is great and approachable to everyone. This training will help both newcomers to shamanism and seasoned shamanic practitioners. I certainly did!" —Sandra Ingerman, author of The Shamanic Journey: A Beginner's Guide and Soul Retrieval "Byron Metcalf's beautiful percussion recordings, combined with natural sounds and the gentle driving frequencies of Monroe's Hemi-Sync® technology, have long been favorites of mine and many others for shamanic journeywork. His music speaks to the heart and brings you into a pleasant, calm, yet focused state that is great for healing divinations. The Shaman's Heart Program also incorporates Byron's orally led exercises and meditations, resulting in a delightfully vast orienting framework for self-directed exploration of the shamanic landscapes." —The Unfolding Self and The Well of Remembrance author Ralph Metzner, Ph.D. "'Where we place our awareness…so the spirit soon follows,' it has been claimed. The Shaman's Heart Program by Byron Metcalf provides a powerful invitation to listeners to dig deep into the heart, the delicate truths of the energy body, and the unseen realities of the spirit realm. The Shaman's Heart Program, enhanced by Monroe Products' integrated Hemi-Sync® technology, is a powerful portal of spiritual practice for both new and experienced practitioners. The Shaman's Heart Program is not just a multidimensional tune-up for the heart, mind, and soul in our increasingly disconnected and fragmented society… but is a necessary post-modern instrument for healing and transpersonal development." —Frank MacEowen, author of The Spiral of Memory & Belonging and shamanic adventurer.