Monroe Institute – Metamusic – Shaman's Heart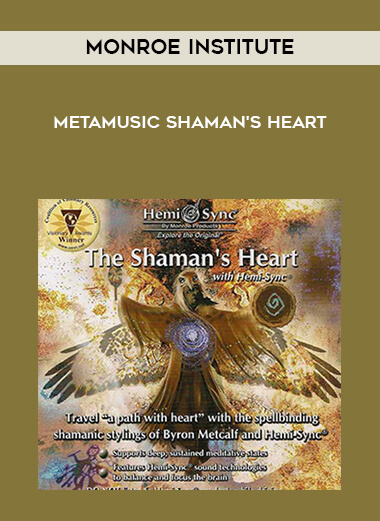 Salepage : Monroe Institute – Metamusic – Shaman's Heart

The first-ever comprehensive home learning program to develop your full capacity for soul-based and heart-centered living. A unique and practical integration of shamanic practice, transpersonal psychology, ancient wisdom, and various contemporary methods of spiritual growth, development and personal transformation.
has created a comprehensive program to help you fully develop your authentic power, purpose and presence by exploring and developing the heart from a shamanic and transpersonal perspective. This program consists of four CDs containing six verbally guided exercises, a special version of Metcalf's award-winning Metamusic title,  CD, and a comprehensive guidance manual.
Related Feedback:
Other titles by  are: and .
"True shamans see through their hearts, live a life of honor and respect, and have a light and joy shining through their eyes that Westerners long for. The Shaman's Heart Program by Byron Metcalf (in collaboration with Monroe Products) teaches us how to embrace all these gifts. His work is brilliant and accessible to all. Those new to shamanism as well as experienced shamanic practitioners will receive great benefit from this program. I know I did!" —Sandra Ingerman, author of Soul Retrieval and The Shamanic Journey: A Beginner's Guide "Byron Metcalf's gorgeous recordings of percussion, blended with the sounds of nature and the subtle driving frequencies of Monroe's Hemi-Sync® technology, have long been favorites of mine, and many others for shamanic journeywork. His music touches the heart-center and invites you into a warm, relaxed yet centered mood that is ideal for healing divinations. The Shaman's Heart Program integrates Byron's verbally guided exercises and meditations into the mix as well, and has created a beautifully expansive orienting framework for self-directed exploration of the shamanic landscapes." —Ralph Metzner, Ph.D., author of The Unfolding Self and The Well of Remembrance "It has been said that 'where we place our awareness…so the spirit soon follows.' Byron Metcalf's Shaman's Heart Program extends a compelling invitation to listeners to engage in a deep-dive exploration of the heart, the subtle realities of the energy body, and the invisible realities of the spirit world. Augmented by Monroe Products' integrated Hemi-Sync® technology, The Shaman's Heart Program is a potent doorway of spiritual practice for beginner and seasoned practitioners alike. In our increasingly disconnected and fragmented world, The Shaman's Heart Program is not only a multidimensional tune-up for the heart, mind and soul… it is a vital post-modern tool for healing and transpersonal development." —Frank MacEowen, shamanic explorer, author of The Spiral of Memory & Belonging.