Mood Disorders
Delivery : Digital Download Immediately
ODD, ASD, ADHD & Mood Disorders: Over 50 Techniques for Children & Adolescents – Jennifer Wilke Deaton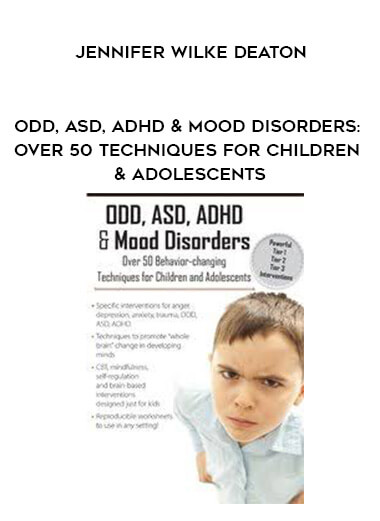 Salepage : ODD, ASD, ADHD & Mood Disorders: Over 50 Techniques for Children & Adolescents – Jennifer Wilke Deaton
It's guaranteed… this recording will guide you through focused, clear and successful methods for treating children. You will walk away with evidence-based techniques that will not only re-energize your practice but also help your clients to:
Decrease:
Aggression
Distractibility
Impulsivity
Over-Activity
Sensory Sensitivity
Irritability/Temper Tantrums
Hopelessness
Panic/Anxiety
Increase:
Effective Communication
Self-Control
Coping with Environmental Change & Transitions
& Transitions
Task-Focus & Persistence
Empathy & Remorse
Respect
Social Skills
Jennifer Wilke-Deaton, M.A., L.P.A., national speaker, expert and author will teach you more than 50 techniques that can quickly improve the lives of children and adolescents with ODD, ASD, ADHD and mood disorders. Learn how to troubleshoot and adapt techniques for preschool through high school aged kids through real-life case studies, video/audio clips, reproducible client-friendly worksheets, and step-by-step directions for every intervention. Jen's passion, caring, humor, and time-tested approaches will make this day of learning fly by! You will leave invigorated and empowered to treat the top childhood disorders.
---
Utilize over 50 proven techniques for working with kids with behavioral issues, high-functioning ASD, ADHD and mood disturbance.
Recommend how to promote "whole brain" change in children with verbal processing and auditory learning issues.
Develop tools for daily mindfulness and self-regulation practice.
Apply strategies to develop life skills for a wide variety of emotional disturbances and behavioral problems.
Implement strategies for treating intolerance, anxiety and impulsivity.
Dissect how to reduce power struggles & anger through CBT and validation techniques.
---
DSM-5® Updates & Making Effective Treatment and Academic Goals for:
ODD/CD
ASD
ADHD
Anxiety/Depression
Trauma
Substance Abuse
The Brain-Behavior Connection
Executive Functioning
Auditory Processing
Emotion Regulation
Sensory-Motor
Treatment Techniques for ODD
Increase autonomy through established environmental support
Decrease arousal states with immediate use self-regulation techniques
Reverse aggression and inattention caused by technology exposure and videogame play
Promote healthy brain function with structured daily living practices
Reduce power struggles and anger through CBT and validation techniques
Foster positive peer involvement & altruism
…and more
Treatment Techniques for ASD
Group and individual techniques for developing social skills of:
Improved prosody
Appropriate eye contact
Awareness of personal space
Effective use of gesture and posture
Redirection from preoccupational interests
Coping with transitions
…and more
Treatment Techniques for ADHD
Reducing excessive movement and climbing
Improve executive functioning and attention to detail
Develop an effective teaching/learning environment
Promote fluid task shifting
Develop "whole-brain" problem-solving skills
Boost sensory regulation
Effectively advocate for seating assignment, home/classwork planning, and task fatigue
…and more
Treatment Techniques for Anxiety/Depression/Trauma
Inoculate anxiety in high pressure situations with behavioral tools
Facilitate anxiety control and decrease escapism at school and home
Reverse lethargy and withdrawal through CBT techniques
Increase distress tolerance skills utilizing sensory tools and imagery
Nurture mindfulness skills and prevent hopelessness and worthlessness
Prioritize worries for mindfulness practice through narrative activities and engagement of acceptance and commitment
Create hands-on tools for decreasing sensory sensitivity
Teach body awareness
Get ODD, ASD, ADHD & Mood Disorders: Over 50 Techniques for Children & Adolescents – Jennifer Wilke Deaton at beelibrary.com
Readmore: Jennifer Wilke Deaton