Murilo Bustamante – Old School Crushing Pressure and Submissions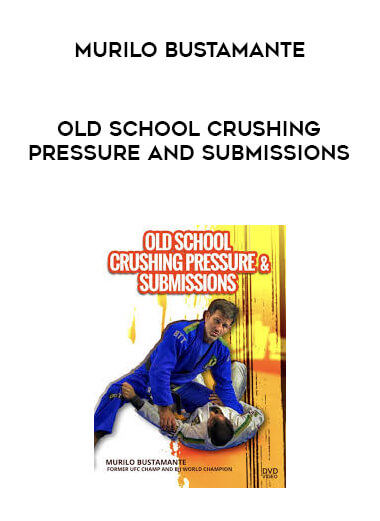 Salepage : Murilo Bustamante – Old School Crushing Pressure and Submissions
Learn The Crushing Old School Pressure Concepts That Will Smash & Submit Everyone In Your Gym.
50 Year Old Murilo Bustamante Is A Former UFC Champion & BJJ World Champion Who Takes The Life Out Of Younger Pro Fighters & He Wants To Show You His Secrets.
The best guys know a little more than the rest of us. Murilo Bustamante is old school Jiu Jitsu. He is no nonsense and tough as nails. The old school guys were just cut from a different cloth. Murilo came up under the legendary Carlson Gracie.
If Carlson were a football coach, hed have been Vince Lombardi. He wanted his guys to be better conditioned, better trained and tougher than the opposition. Murilo was one of his prodigies and had one of the most decorated careers in history. He was a UFC champ, a BJJ World Champ and a semi-finalist at ADCC.  
So What is On This 2 DVD Set 
DVD 1:
-side control to mount
-side control to knee on belly 
-Choke from knee on belly 
-Baseball Choke from knee on belly
-Arm lock from knee on belly 
-Variation Arm Lock from knee belly
-Kimura from knee on belly
-Mount concepts
-mount from side control 
-Mount Retention 
DVD 2: 
– Cross Choke from mount 
-Cross Angle choke
-Arm triangle from Cross Angle choke 
-Arm lock from Cross Angle Choke
-Variation of Arm lock 
-Ezekiel from mount 
-Paper Cutter Choke 
-Arm lock from paper cutter choke 
-Arm lock variation from paper cutter choke