NEW BaZi Wisdom Bootcamp Bonus #2 – BaZi Academy Advanced Track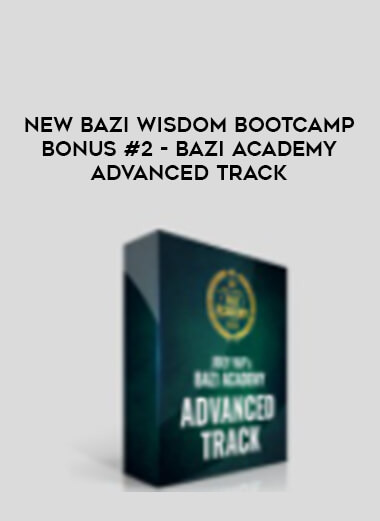 Salepage : NEW BaZi Wisdom Bootcamp Bonus #2 – BaZi Academy Advanced Track

Advanced Module 1
The Chaotic Balance Method
If you're somewhat familiar with BaZi, you would have come across the term Useful God. The traditional view and practice of finding and using the Useful God to balance one's chart can sometimes be misguided and misinterpreted. This is perhaps one of the biggest causes of error that lead to inaccurate and unhelpful BaZi readings. No BaZi chart is perfectly balanced, rather they are perfectly imbalanced. The Chaotic Balance Method is a distillation of the classics to understand the true transformational power of BaZi.
Advanced Module 2 & 3
The Shifting Palace Method
(Upper & Lower Scroll)
The next 2 modules are unique to the Joey Yap Academy and practice. The Shifting Palace Method is an advanced application technique in BaZi which is not written openly in the classics. It is a method derived directly from the understanding of these classics and accumulated experiences of actual readings. The mastery of this technique allows one to read the multiple dimensions and relational connections in a person's life.
Advanced Module 4
People Management
Any leader would know that the #1 challenge leaders face is managing people. No two persons are the same. The key forward is leveraging on the work or value of others, any successful person knows that. This goes way beyond the workplace and seeps into families, spouse or even children. BaZi helps you comprehend how people work and how to get them to work. It gives you leverage and the power to influence them
Advanced Module 5
Strategic Alliances
The old saying goes – It's not what you know, it's who you know. Without omitting hard work, perseverance and an impeccable work ethic, having the right connections will certainly put you on the fast track (if not the correct path) to achieving your goals. Your BaZi chart gives you this information and where to look and how you can gain access or leverage.
Advanced Module 6
Investments
An important part of personal and financial growth is the ability to invest profitably because getting rich is not easy and staying rich is way harder. Your investment decisions very much dictate the scalability of your wealth and success. Each person's BaZi tells the story of their affinity with different investment types. What kind of vehicle best suits you? How risk tolerant are you?
Advanced Module 7
Clash Dissolving Methods
One of the most feared combos in BaZi is the Clash. Almost everyone is scared of Clashes when they first learn about it. Fortunately, Clashes are actually rather manageable and there are solutions on how you can even dissolve a Clash. When two opposing forces collide in your chart, learn the answer on how it can be resolved in this module.
Advanced Module 8
Harm Dissolving Methods
Unlike the direct attack and effects of a Clash, Harm is a bit more subtle in its effect. Some of the effects of Harm includes stress, anxiety and emotional problems. Knowing when it will hit you is only half the battle; the other half i