Michael Carroll – NLPedia Practitioner Study Set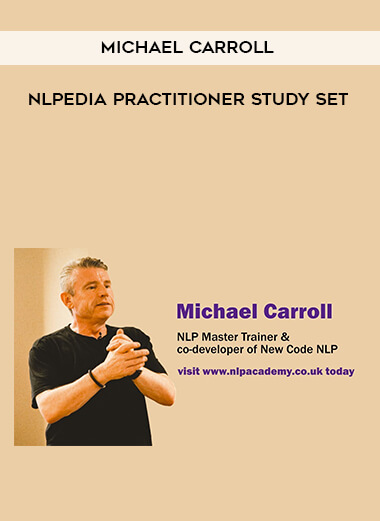 Salepage : Michael Carroll – NLPedia Practitioner Study Set

Master Practitioner NLPedia is the latest way to learn NLP. Using a specialist Multi Media format you have a whole NLP Master Practitioner course at your fingertips. Just imagine sitting comfortably at your computer – experiencing a complete NLP Master Practitioner course unfold.
Gone are the days of dreary hard to read NLP books. Antiquated NLP audio tapes and audio CDs that fail to utilise the visual sense can also be relegated to ancient history. NLPedia is a revolutionary sensory rich experience where you learn NLP at your leisure in the comfort of your own home, as if you're actually attending a live training.
When you order the Master Practitioner NLPedia Practitioner, you will have full Online access to the following:
32 hours of video filmed at live Master Practitioner Course, featuring Michael Carroll.
     Nowhere in the world has such a large amount of video material been edited and made available in one unique product.
1500 Slides accompany the video, an amazing amount of information that adds extra clarity on the content Michael is teaching.
     Nowhere in the world has such an extensive database of knowledge been collated.
Full text transcription that runs simultaneously to the video track and power point presentation.
     Nowhere in the world does such an extensive document exist.
Lifetime Access to NLPedia Master Practitioner.
With NLPedia, you are transforming your computer in your own personal NLP study centre. Order the NLPedia Master Practitioner Study set and you will have instant access to Master Trainer Michael Carroll, training an NLP Master Practitioner course live on your screen.
As you sit back in your chair you can navigate to any section you like and watch and listen to Master Trainer Michael Carroll deliver the training to a live audience. You can watch the video, see the slides that accompany the video and read the transcript of what is being said simultaneously.