Perry Marshall – 80-20 Life Hacks Collection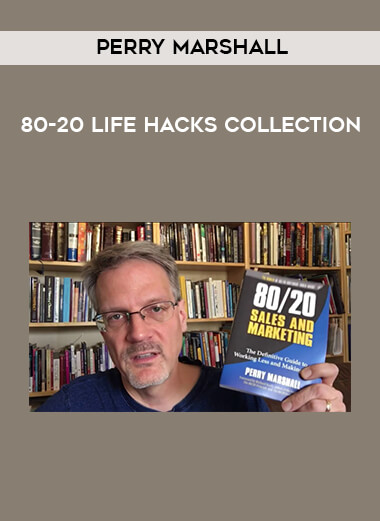 Salepage : Perry Marshall – 80-20 Life Hacks Collection

Perry Marshall is one of the world's most expensive business consultants, with endorsements in FORBES and INC Magazine. He has helped various clients grow from startup to tens of millions of dollars.
He established the $10 million Evolution 2.0 Prize, which is judged by Harvard, Oxford, and MIT. The award, announced by the Royal Society in the United Kingdom, aims to answer biology's biggest riddle.
The Harvard Business Review published his reimagining of the Pareto Principle. His 80/20 Curve is used as a productivity tool by NASA's Jet Propulsion Labs at the California Institute of Technology. Many expanding businesses require an 80/20 sales and marketing split.
Marketing rebel Dan Kennedy claims that not knowing who Perry Marshall is is unacceptable. Perry is an honest man in a world full of charlatans.
His Google AdWords book created the groundwork for the $100 billion Pay Per Click market, and the tactics he pioneered have become industry best practices. The Ultimate Guide to Google AdWords is the best-selling book on online advertising in the world.
He has advised clients in over 300 sectors and has testified as an expert witness in marketing and Google AdWords litigation.