Pete Godfrey – Exocet Missile Copywriting Seminar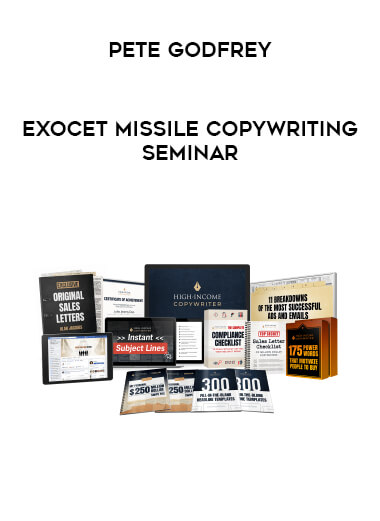 Salepage : Pete Godfrey – Exocet Missile Copywriting Seminar

"THE EXOCET MISSILE SEMINAR: How To Hone In On The Two BIGGEST Money Making Revelations Of The New Millennium!"
"At Last! Discover The Shortcut Secrets To Pocketing Fistfuls Of $$$ and Cash-In On The Biggest Money Making Revelations Of This Century…
Before You Miss The Boat!"
Now, at last, you can get the real TRUTH on the BIGGEST opportunity of this century from master copywriter Pete Godfrey….
Ultra-Profitable Copy Confessions Of a Pro Copywriter
Sit in for a full power-packed day as they reveal in this DVD …
– How to find the head turning hook that reels customers into your copy, riveting their eyes to your message.
– How to nail the "hidden emotions" your prospects feel so they eagerly embrace your message and can't wait to order.
– How you can unleash thousands of dollars of junk in your house to a starving market.
– The SINGLE biggest element to include in your copy and why missing this element will cost you the sale every single time.
– Why your fortune depends on some basic "street-savvy"… and how to instantly install this skill straight into your brain as if by magic.
– The RIGHT angle to take for different markets so you are almost assured of a WINNING promotion.
– How to write killer headlines that stop your prospects cold and get them into your copy…compelling them to passionately read every word.
– How to use pictures, graphics, banners and other tools to bump your response!
– The ONE thing you must do to develop your copy skills and why ignoring this piece of advice will cost you BIG time.