Peter Levine, Ph.D. on Trauma: How the Body Releases Trauma and Restores Goodness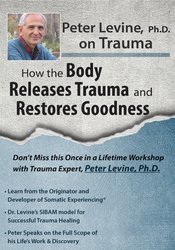 Salepage : Peter Levine, Ph.D. on Trauma: How the Body Releases Trauma and Restores Goodness

DESCRIPTION
Learn from the Originator and Developer of Somatic Experiencing®

Levine's Nine Principles in Successful Trauma Healing

Peter Speaks on the Full Scope of his Life's Work & Discovery
Join international trauma expert and author, Peter A. Levine, Ph.D., to learn how sensation-based (as opposed to emotional or rational) treatment is the key inroad into the trauma, and how to slowly uncouple fear from the natural immobility state. He will discuss his nine principles in successful trauma healing, all told through his own successful renegotiation of a personal traumatic event.
Representing the full scope of his life's work and discovery, Dr. Levine will discuss the evolutionary underpinnings of trauma. The day will include an in-depth review of how trauma is related to the ethnological concept of tonic immobility, the importance of the so-called "primitive" Vagus system, and how its connections through the viscera and body are a key ally in trauma therapy.
OUTLINE
CHILD DEVELOPMENT: THE SIGNS OF TRAUMA IN EACH DEVELOPMENTAL PERIOD:
Pre-Natal
Hormonal interactions between mother and child

Birth Stress
Year One
Safety, affection and containment

Proprioceptive development
The Dopamine System
The space to explore one's effect on the world

The formation of a self that is different from Mom and Dad

Testing boundaries
Age 3-5
The Biology and balance of shame

The importance of shame in society

The signs of overshaming

The signs of undershaming
The initial forays into sexuality
The importance of flirting

How these sames stages replay themselves out in later life
THE NATURALISTIC MECHANISMS OF TRAUMA
Understanding our primary survival tactics and how they play out in the body: Flight, fight, freeze and collapse
500 million years of evolution: Our Polyvagal underpinnings
How the Dorsal Vagal System is related to shutdown and collapse

Fight or flight: Sympathetic/adrenal

System mobilization, Returning to the our Mammalian birthright: The Ventral vagal system and social engagement
How we get "stuck"
Tonic immobility – The fallback to freeze

Freeze couples with Fear

Dissociation

Bracing and terror

Euphoric dissociaton

Collapse
Somatic and emotional – syndromes and complexes
Emotional – anxiety, depression

Somatic – chronic pain, fibromyalgia

Autonomic – migraines, irritable bowel
RESOLVING TRAUMATIC REACTIONS
The importance of "Bottom-Up" processing
The Paul MacLean's Triune Brain-

In an Unspoken Voice
Somatic Experiencing©
Renegotiation

vs. Reliving.

Restoration of self-regulation

Trauma isn't about the event, but the body's inability to process and integrate the nervous system charge

The importance of developing a felt sense
The nine basic stages of trauma treatment
Containment of strong sensation and emotion

Pendulation – The dual opposites of sensation

Titration – going gradually

Completion

Renegotiation of active for passive responses

Allow things to settle: Self-Paced termination
Simple exercises that you can use in your practice
SPIRITUALITY AND TRAUMA
Trauma as one of the 4 avenues to enlightment
Lessons from the Kundalini

A feeling of "okayness", wholeness and trust in the world

And other side effects of effective trauma treatment

The importance of maintaining balance in one's life
OBJECTIVES
Describe the four major development stages that increase our vulnerability to trauma, and how to recognize them in your clients.

Explain the naturalistic mechanics of trauma and survival responses of flight, fight, freeze and collapse.

Describe the evolutionary underpinnings of trauma and the Polyvagal theory.

Define the importance of "Bottom-up" processing versus "Top Down" processing.

Summarize the process of how overwhelming stress leads to somatic and emotional syndromes.

List Dr. Levine's nine stages for successful trauma healing.
Provide a detailed description as to how trauma therapy can be a conduit to a deeper spiritual understanding, and the social implications this feeling of connection can have on the world as a whole.
ADA Needs
We would be happy to accommodate your ADA needs; please call our Customer Service Department for more information at 1-800-844-8260.
 Satisfaction Guarantee
Your satisfaction is our goal and our guarantee. Concerns should be addressed to: PO Box 1000, Eau Claire, WI 54702-1000 or call 1-800-844-8260.
Target Audience Counselors, Social Workers, Psychologists, Psychotherapists, Therapists, Marriage and Family Therapists, Addiction Counselors, Occupational Therapists, Occupational Therapy Assistants, Case Managers, Nurses, School Psychologists, Other Helping Professionals
Dr. Peter Levine holds doctorates in both medical biophysics and psychology. He is the developer of Somatic Experiencing® (SE), a naturalistic body-awareness approach to healing trauma, which he teaches all over the globe. Dr. Levine is also the founder of the Foundation for Human Enrichment and was a stress consultant for NASA during the development of the space shuttle.
An accomplished author, Dr. Levine penned Healing Trauma, Sexual Healing and the bestselling book, Waking the Tiger. He also co-authored with Maggie Kline Trauma Through a Child's Eyes and Trauma-Proofing Your Kids. His latest book, In an Unspoken Voice: How the Body Releases Trauma and Restores Goodness, is a testament to his lifelong investigation into the connection between evolutionary biology, neuroscience, animal behavior, and more than 40 years of clinical experience in the healing of trauma.
Dr. Levine was honored in 2010 with a Lifetime Achievement Award from the United States Association for Body Psychotherapy (USABP) and is a Senior Fellow at Meadows Behavioral Healthcare.
Speaker Disclosure:
Financial: Peter Levine is the Developer of Somatic Experiencing®. He is the founder and Senior Advisor to the Foundation for Human Enrichment; and Senior Advisor to The Meadows Addiction Treatment Center. Dr. Levine receives a speaking honorarium from PESI, Inc.
Non-financial: Peter Levine is a member of the American Psychological Association; Humanistic Psychological Association; and International Society for Traumatic Stress Studies.
Articulate the four major developmental stages that increase vulnerability to trauma and how to recognize them in your clients.

Determine the naturalistic mechanics of trauma and survival responses of flight, fight, freeze and collapse as it relates to clinical treatment.

Discover the evolutionary underpinnings of trauma and the Polyvagal theory and their clinical implications.

Demonstrate the importance of "Bottom-up" processing versus "Top Down" processing to improve treatment outcomes.

Summarize the process of how overwhelming stress leads to somatic and emotional syndromes in clients.

Incorporate Dr. Levine's simple containment tools in order to more effectively engage your client in trauma therapy.

Child Development: The Signs of Trauma in Each Developmental Period:

Pre-Natal

Hormonal interactions between mother and child

Birth Stress

Year One

Safety, affection and containment

Proprioceptive development

The Dopamine System

The space to explore one's effect on the world

The formation of a self that is different from Mom and Dad

Testing boundaries

Age 3-5

The Biology and balance of shame

The importance of shame in society

The signs of overshaming

The signs of undershaming

The initial forays into sexuality

The importance of flirting

How these sames stages replay themselves out in later life

The Naturalistic Mechanisms of Trauma

Understanding our primary survival tactics and how they play out in the body: Flight, fight, freeze and collapse

500 million years of evolution: Our Polyvagal underpinnings

How the Dorsal Vagal System is related to shutdown and collapse

Fight or flight: Sympathetic/adrenal

System mobilization, Returning to the our Mammalian birthright: The Ventral vagal system and social engagement

How we get "stuck"

Tonic immobility – The fallback to freeze

Freeze couples with Fear

Dissociation

Bracing and terror

Euphoric dissociaton

Collapse

Somatic and emotional – syndromes and complexes

Emotional – anxiety, depression

Somatic – chronic pain, fibromyalgia

Autonomic – migraines, irritable bowel

Resolving Traumatic Reactions

The importance of "Bottom-Up" processing

The Paul MacLean's Triune Brain-

In an Unspoken Voice

Somatic Experiencing©

Renegotiation

vs. Reliving.

Restoration of self-regulation

Trauma isn't about the event, but the body's inability to process and integrate the nervous system charge

The importance of developing a felt sense

The nine basic stages of trauma treatment

Containment of strong sensation and emotion

Pendulation – The dual opposites of sensation

Titration – going gradually

Completion

Renegotiation of active for passive responses

Allow things to settle: Self-Paced termination

Simple exercises that you can use in your practice

Spirituality and Trauma

Trauma as one of the 4 avenues to enlightment

Lessons from the Kundalini

A feeling of "okayness", wholeness and trust in the world

And other side effects of effective trauma treatment

The importance of maintaining balance in one's life