Position To Submission by Matheus Diniz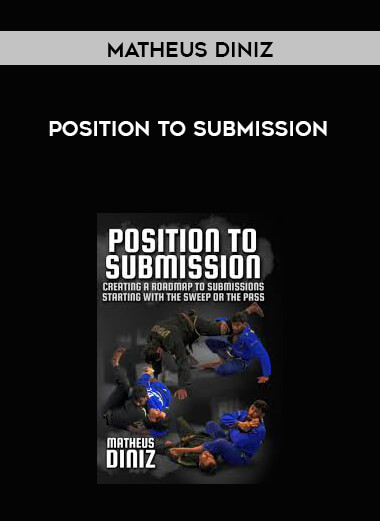 Salepage : Position To Submission by Matheus Diniz
Marcelo Garcia Black Belt Matheus Diniz Shares The Secrets That Make Him One Of The Most Feared & Respected Submission Hunters On The Planet
Your Problem Is That You Start Submissions Too Late
Once You Learn To Start Them As You Pass Or Sweep Your Submission % Will Skyrocket & Your Skills Will Improve Beyond Belief
Matheus has beaten top level black belts like Garry Tonon, Murilo Santana, Mahamed Aly..
Matheus Starts every submission before you know that he's started it
If he is sweeping or passing, he begins with the end in mind. That is what his coach – the Great Marcelo Garcia has taught him to do
What do we mean by this?  It means that in every aspect of your grappling you should have a game plan that ends with a submission, you want to be three steps ahead of your opponent meaning that if you are thinking of sweeping, think of the pass you are going to connect and the submission.  This is much easier said than done and it can be next to impossible to adapt this mentality.  You have to be able to think quickly and have a game plan that leads you to the submission. 
So how can you develop a game plan like this?  Find a way to connect the dots, find a way to chain your attacks.  This is one of the best characteristics that you can adapt to your game.  You want to be three steps ahead of your opponent just like we stated above.  We can look to some of the greatest grapplers in the world to see how they accomplished this.  Lets look at Marcelo Garcia, Marcelo was infamous for his rapid pace and his submission oriented bjj.  Marcelo was always doing moves but had the submission in mind.  For example, if he was trying to butterfly sweep, he would connect a knee slice and then hunt the arm bar.  If the butterfly sweep failed and his opponent pressured back in, he would hunt the neck, he knew that in that transition his opponent's neck would open and he would be able to capitalize on the moment.
You can learn to do this through repetition and drilling.  You have to learn patterns and be able to recognize them.  This will allow you to be able to capitalize on submissions.  So, you can learn to do this from guard, while you're passing, and even once you have passed.  You can create movement and attack the submissions.