Power of Celestial Herbalism
Delivery : Digital Download Immediately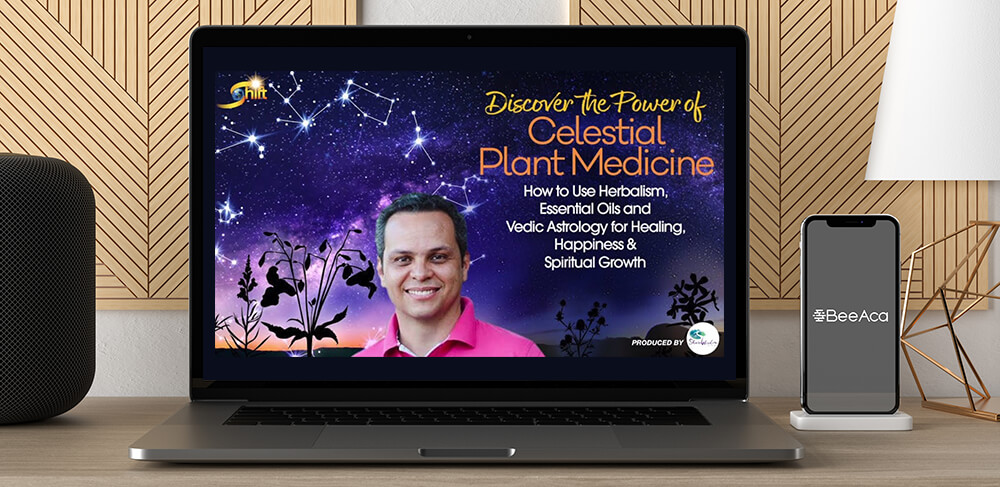 Arjun Das – The Power of Celestial Herbalism 2018
Salepage : Arjun Das – The Power of Celestial Herbalism 2018
Archive : Arjun Das – The Power of Celestial Herbalism 2018
Course Download Size :
New 7-week Video Training With Live Q&A Starts
Wednesday, September 26, 2018
What You'll Discover in These 7 Weeks
Course sessions are on Wednesdays at 5:00pm Pacific.
In this 7-week transformational intensive, Arjun will guide you through the fundamental spiritual skills and competencies you'll need to successfully deepen your understanding and application of plant medicine, and show you how combining it with Vedic astrology can help heal your body, mind, emotions, and spirit.
Each weekly LIVE contemplation and training session will build harmoniously upon the previous ones so you'll develop a complete holistic understanding of the practices, tools, and principles of Celestial Herbalism.
Module 1: Foundations of Celestial Herbalism
The 3 Pillars of Ayurveda: Your Immunity, Vitality & Metabolism
In this first session with Arjun, you'll explore the transformational power of planetary herbalism. You'll begin applying this practical synthesis to whole-body health, which is encompassed by the three pillars of Ayurveda medicine: immunity, vitality, and metabolism.
Arjun will guide you to correlate planets with herbs whose characteristics of form, color, taste, and aroma heal and strengthen these three aspects in the physical and subtle energy bodies.
You'll discover:
An integrated, holistic approach that links the planets and stars with the healing and evolution of your body, mind, and soul
The healing qualities of specific plants and their corresponding astrological archetypes
The "healing stars" within nature's pharmacy — and which ones you can grow in your own garden
How to use herbs, spices, and foods that heal imbalances in your immune system, deepen your vitality, and improve your capacity to metabolize energy (food, emotions, and even karma!)
Module 2: Understanding Your Karma
The Link Between Health Challenges & Life Challenges Revealed in Your Vedic Birth Chart
There is a divine purpose for all of your life experiences, according to Vedic astrology's rich contribution to the concept of karma. In this second live session with Arjun, you'll recognize the link between difficult areas of your life and your karma — and how plants can help you effectively "digest" your karma and master the lessons your soul incarnated for.
You'll discover:
How herbalism and Vedic astrology can deepen your healing, happiness, and spiritual growth
The overall spiritual "learning curve" you're experiencing through imbalances associated with karmic reactions — as recorded in your birth chart
A way to honor your struggles and learn how to use herbs to support your journey — and "digest" difficult aspects of your karma
The connections between weaknesses in the body's systems and emotional challenges with family members and other loved ones — as well as with professional and spiritual challenges
Module 3: Your Healing Celestial Garden
Creating a Home Pharmacy in Your Garden With Local Medicinal Plants Mapped to Stars & Planets
It's time to put into practice your knowledge of plant medicine… in your kitchen and out in the garden. In this session, you'll discover how to enhance your health, wellbeing,and cuisine with herbs and spices that stimulate healing and rebalancing.
Arjun will show you how to integrate the elements of the cosmos in your cooking, and help you create a list of local plants based on their astrological classifications and celestial healing powers.
You'll discover:
How to create (or expand) your kitchen pharmacy and grow a garden of "healing stars and planets"
Locally grown plants, based on corresponding astrological energies and archetypes
A powerful contemplative, gardening technique — which will connect you with divine energies through Mother Nature
Simple techniques to bring the stars into your kitchen — through your use of spices — to turn your meals into a healing celebration of life and the cosmos
Module 4: Your Personalized Celestial Aroma
Creating Your Personal Fragrance to Radiate Peace & Contentment
In this exciting session, you'll pinpoint the most active planetary energies in your life and match these energies with specific aromas to create your personal celestial scent. This unique fragrance, based on your "astral signature," will consist of a healing blend of aromas associated with planets in your birth chart.
You'll discover:
How to identify your astral signature to create a celestial scent for meditation, for applying to your skin, or for use as a home fragrance
Specific sacred plants to elevate your mood and bring out positive emotions
Create a vibrating aromatic signature to manifest the best version of yourself
Different aromatic blends to support your goals and radiate more confidence
The best herbs, flowers, and trees for YOU — and how to grow and apply them to take advantage of their healing astral qualities
Module 5: Nine Essential Oils With Astral Healing Powers
Using Essential Oils as a Potent Alternative to Ayurveda's Gemstone Tradition
In Ayurveda, there's a great emphasis on the therapeutic astral energies of gemstones, which are applied mainly to healing karma. In this session, Arjun offers a practical and powerful alternative to rare gemstones: essential oils. Just as precious as gemstones, essential oils allow you to access the divine energies of the planets for healing and transformation.
You'll discover:
Essential oils to purify energies and bring peace into your home
Navaratna — the 9 astrological gemstones and corresponding 9 essential oils
How to do an "astral detox" — using the planets as spices, and cooking with them for better assimilation and digestion
Herbs for spiritual protection, for celestial immunity, and for use in a "home energy" cleanse
Module 6: Celestial Herbalism & Your Spiritual Practice
Applying Planetary Archetypes to Support Meditation
In this powerful session, you'll create a unique meditation technique, employing positive affirmations and teachings directly inspired by the archetypes and qualities of the planets. Arjun will guide you to choose the best astrological moments — when the planetary energies are most potent — to enhance your spiritual practice and deepen your healing.
You'll discover:
How to heal your body and awaken your consciousness through meditation
How to identify your main patterns and struggles and the best mantras for supporting your healing
Principles of mantra meditation and cosmic sounds for tuning into divine peace
A practical framework — aligned with the planetary vibrations of the day of the week — to support and boost your vitality
The most effective essential oils to support your meditation practice and create a sacred atmosphere for realizing deep contentment
Module 7: Daily Celestial Rituals
Deepening Your Connection With the Divine Using Plants & Planets
In this final module, you'll create sacred daily practices integrating specific herbs and essential oils to enhance healing in your mind, body, emotions, and spirit. Arjun will guide you to access the divine energies within special mandalas and geometric symbols, using these symbols to connect with your soul and the greater cosmos.
You'll discover:
A personalized daily routine integrating herbs, essential oils, and your unique celestial scent
How to work with mandalas associated with the planets — and access the sacred, healing energies in these geometric expressions of the Divine
A guided meditation harmonizing mantras connected with the divine energy of the planets
Deeper peace of mind and emotional balance — by assimilating the powerful, healing energies in your kitchen garden and personal scent
How to work with the planets to create blends of essential oils, which will deepen your capacity to heal and commune with the Divine
The Power of Celestial Herbalism Bonus Collection
In addition to Arjun's transformational 7-week virtual course, you'll receive these powerful bonus materials. These bonus selections complement the course — and promise to take your understanding and practice to an even deeper level.
Healing Stars: Using Essential Oils as Astrological Remedies
Audio Dialogue With Arjun Das Hosted by David Crow
Join Arjun Das in this talk from the Plant Medicine Summit 2017 as he offers an integration of herbology, Ayurveda, and astrology. He highlights medicinal plants that are related to the planets and their proper therapeutic uses. From a karmic perspective, these plants are very effective in restoring health on many levels — including our astral bodies.
Guided Meditation on the 9 Planets & Sri Yantra
Audio Recording From Arjun Das
A special recording on the best affirmations for evoking the energy of the planets to create an aligned state of mind. Use the sacred geometrical design called Sri Yantra to make your meditation practice easier and deeper.
Celestial Body Map
PDF Chart From Arjun Das
The Celestial Body Map is a beautiful chart of the human body showing the main body sites connected with the stars and their physiological functions. You'll locate the most potent places on your body for receiving the best results with aroma.
20% Discount From Floracopeia Store
As part of your participation in the course, you'll receive a 20% savings on any purchases you'd like to make from our friends at the Floracopeia online store. Floracopeia was established to provide the highest-quality aromatic treasures and health education, to support ecological agriculture, and to promote traditional plant-based knowledge. You can find amazing essential oils and flower essences that will promote your health, vitality, and spiritual opening.
Author
Arjun Das is an Ayurvedic practitioner and Panchakarma specialist, and the director and founder of TriGuna Institute in Brazil.A certified Hatha Yoga instructor and researcher of medical astrology, Arjun studies local herbs and their connection with Vedic astrology for health and meditation.
Arjun, who's received the blessings and guidance of many healing masters around the world, is conducting pioneering research on public health and traditional medicines in both Brazil and India.
Readmore: Arjun Das