Practical Project
Product Delivery:

You will receive a receipt with download link through emai
Ben Burns – Practical Project Management
Price: $249
PROJECT MANAGEMENT
Run your projects profitably and friction-free.
Project Management is process, & process is king. Welcome to a practical, proven way to manage profitable projects & create great experiences for your clients.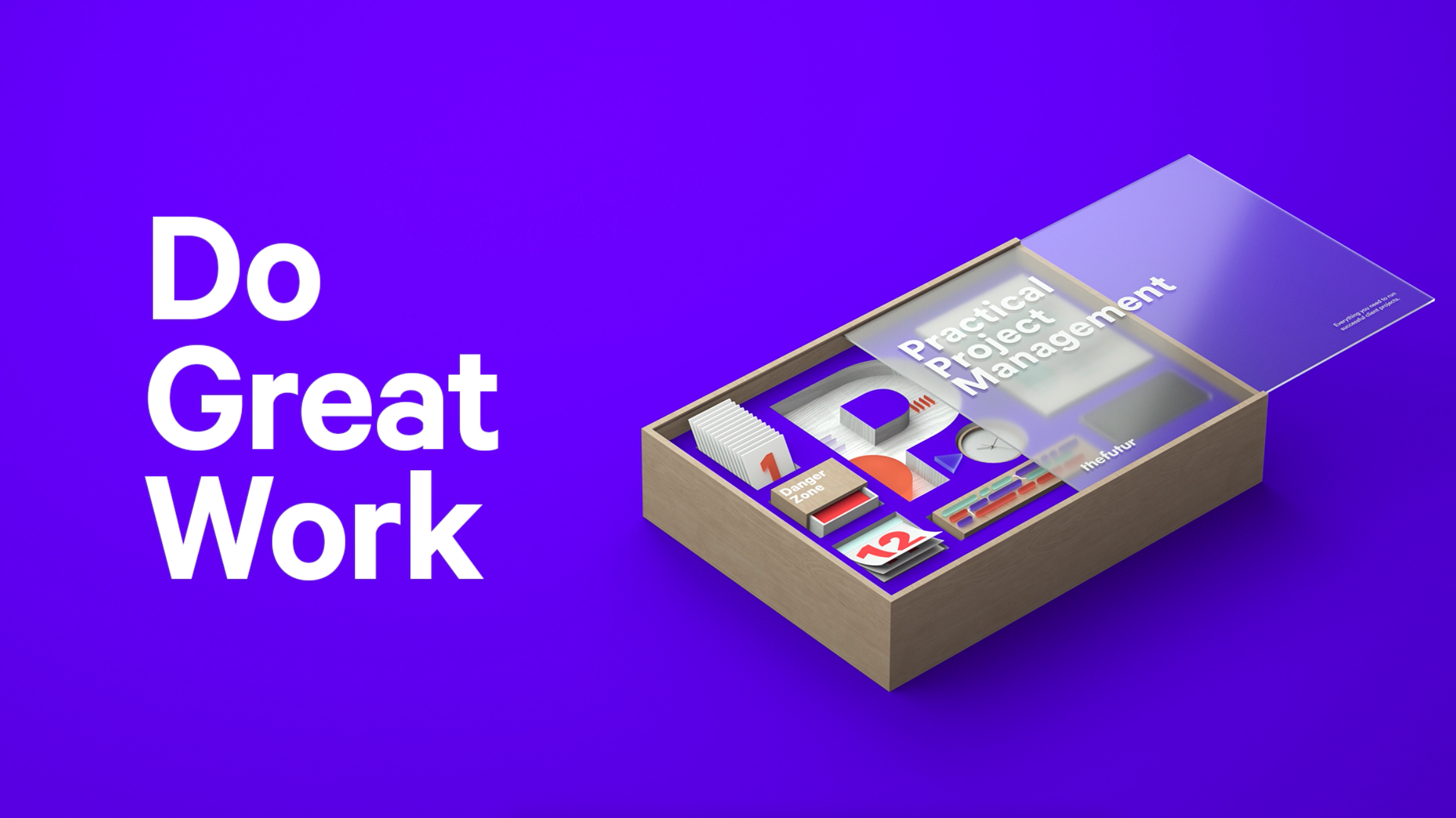 Learn how to make more money by running jobs more efficiently.
What if you could have a happy client at the end of every project?
What if you could feel confident when someone asks about your process?
What if you could actually figure out how to delegate & spend time doing what you love?
How does project management help?
When I first started out, I was a freelance designer working out of my garage. A one-man-band doing everything myself. If I'm being honest, I was figuring it out as I was going along. For those of you who know my story, you know that they were tough times.
See, back then, I was making $3 per hour.
While I wasn't really confident enough to ask for more, there was one other reason why I wound up making so little:
I had no process.
I like to say that I learn by getting punched in the face. Few hits on the jaw and lesson learned. And since those days, I've picked up a few tricks. My entire mission in life is to help you learn without lumps. I've written two products to date: The Perfect Proposal and The Complete Case Study. Both have been used by thousands of other creative entrepreneurs to really step up their game. You've probably seen these before:
Now I can not WAIT to share what I've learned about managing projects..
See, I used to onboard a client to do a $50 logo, and it would be a completely new venture. I reinvented the wheel with every project. I just kinda went with the flow. This wound up flowing me right into no money. And with goals of starting a family, this started to stress me out in a major way.
I don't think I'm alone here. I struggled with things like:
Clients asking for more and more revisions
Not getting paid on time, or ever
Unhappy clients at the end of the project
Not knowing when or how to hire people or delegate work
I can't tell you how much referral work I probably missed out on because I didn't hone and standardize my approach. This is a sure sign of unhappy clients. You know how it goes:
Clients disappear after the project ends
You never get to see the finished piece in the real world
That last payment takes a while to come in
I knew I needed to improve things, but I had no idea where to start. I looked up project management online… what a Google search, right?! There are so many different methodologies out there, so many different tools, and so many different opinions about how projects should be run, it was confusing to say the least.
I tried learning things like Agile/Scrum, Waterfall, Lean, and used pretty much every tool under the sun… but everything I tried seemed like overkill. Most of that stuff just added more work to my plate instead of actually helping me get things done.
If you're like me, you need a practical project management framework that actually saves time.
You're in the right place. What I've learned over time is that we need to manage our projects in a way that:
sets client expectations from the beginning of the project
aligns the internal team with a concrete but flexible process
submits work in a way that actually gets approval
manages feedback in a positive and nuturing way
delivers the work beautifully when it's done
Eventually, working with clients became a well-oiled machine. I was able to give them transparency and access while still maintaining control over the relationship.
Get Practical Project Management – Ben Burns, Only Price $59
But then everything changed.
I started working at Blind and met Matthew Encina. Watching Matthew lead an internal team is like watching a an experienced conductor guide a well-rehearsed orchestra. Seriously: he's Maestro status.
The more we collaborated on projects, the more I noticed our approaches overlap and eventually, we were left with a framework that wins: every. single. time. Our combined approach is really where the magic happens. And we've outlined it here:
Welcome to Practical Project Management.
This is the project management approach that we've used to manage million-dollar projects for clients like XBOX, AARP, Hudson Pacific Properties and more.
When you're finished with Practical Project Management, you won't just have a philosophy to think about. You'll have actionable, tactical steps that are industry proven. Tactics and fundamentals that work regardless of what project management software you choose to use. We've finally opened the curtains and will teach you how to:
have ultimate transparency with your clients
maintain control in the relationship
get work approved faster
manage both freelance and internal teams
deliver work in delightful way
If you're ready to make the most of every project, have time to do the work you really want to do, and start to scale your business by delegating, Practical Project Management will be great for you.
What's Inside:
70+ Video Classes

Matthew Encina and I walk you through our entire project management approach, from onboarding to delivery, in over 70 video course lectures. Each lecture is packed with information, presentation materials, and is easy to digest.

Email Templates

We found we write the same emails over and over again. To save time, we decided to simply create templates that you can use with your clients and teams.

Work Approval Form

A form you can send to your clients when it's time to sign off on milestones or entire projects. Get the peace of mind that the revisions are done.

After Action Review Worksheet

A simple, easy-to-use worksheet to help your internal team conduct retrospectives on each project after completion.
Imagine: finally feeling confident about your process.
Get the right tips, tricks and solutions from people who have been running creative projects for Fortune 500 clients for over a decade. Stop running jobs at a loss and have the time to work on what you love.
Here's the curriculum:
Ch 001 Introduction: Four Videos
Ch 002 Project Management Theory: Six Videos
Ch 003 Our Approach Overview: Two Videos
Ch 004 Client Onboarding: Five Videos
Ch 005 Onboarding Using Monday.com: Eleven Videos
Ch 006 Internal Kickoff: Four Videos
Ch 007 Assigning Tasks: Four Videos
Ch 008 Check Ins: Five Videos
Ch 009 Submitting Work: Three Videos
Ch 010 Managing Feedback: Eight Videos
Ch 011 Danger Zone: Six Videos
Ch 012 Redirecting The Team: Four Videos
Ch 013 Getting Approval: One Video
Ch 014 Project Delivery: Four Videos
Ch 015 After Action Review: Three Videos
Bonus Email Templates
Bonus File Structures
Manage projects profitably regardless of how much experience you have.
Do I really need to learn project management?
I work alone – why bother?
Does this framework work for teams?
Students
Feel ready to join a team with a high-level of understanding on how projects really work in a professional studio:
Prepare for interviews by learning about real client relationships
Start organizing your communication and file systems early
Make a great first impression to your new team
Freelancers
Be confident in telling people about your process, and learn how to manage and organize the way you work:
Impress new clients with a concrete but transparent process
Start working with other people in your industry: working for yourself doesn't mean you have to work alone
Automate and delegate tasks that you don't want to do: save time for what matters!
Studio Owners
Balance internal and external project management so you can scale your company:
Keep clients in the loop without giving them too much access or control of your internal team
Keep internal teams happy, challenged, busy and empowered
Systematize the process in order to onboard project managers, new team members, and of course, new clients.
Readmore: Ben Burns