Progressive Yoga by Scott Sonnon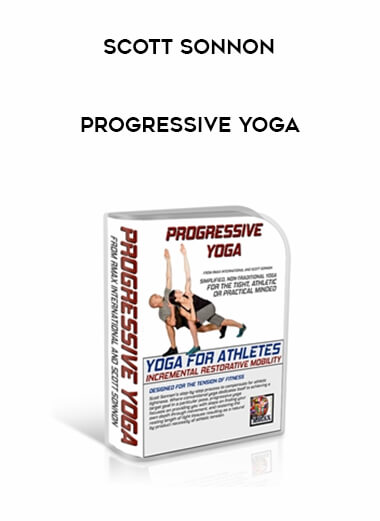 Salepage : Progressive Yoga by Scott Sonnon
Progressive Yoga: The Map, Torch and Compass through Stress
Some people create their own storm and get upset when the hurricane destroys their home. Your training choices wreak havoc on your body, so you look for tranquil respites from the storm. You try to rest, and you can't. You try to sleep, and it's not helping. You try yoga, and you can't get into the positions, and probably have gotten hurt from doing it.
Traditional yoga is, by definition, not for you. You are either for it, for the tradition, or you're not ready and are "diluting" the tradition. For the modern individual, with a high-stress job, finances, activities, and frankly "real" concerns on time, only a Progressive yoga will let you compensate for the challenges of your lifestyle, so that you can respond to the warning signals of postural dysfunction, muscular tightness, and hormonal imbalance before your body adapts to these problems.
The most dangerous communication problem we have with our body is that we don't listen to it to understand; we only scream commands over the quiet messages it feeds back.
If you listen to your internal messages, you can adjust your yoga for the explicit purpose of functionally adapting to all the stressors in your life, especially exercise stress, and you minimize dysfunctional adaptation. You get more out of when you exercise, work or play, with less undesired outcomes (like tightness, soreness, aches, and restrictions).
Progressive yoga has spread throughout the highest stress occupations, surgeons, operators, pilots, tactical first responders, hostage negotiators, etc… It has proliferated because yoga was never the goal. Progress was. How can you progress from the stress in your life, and become a better, stronger, healthier person from anything you encounter in life? Progressive yoga is your map, your torch, and your compass.
Proclaimed by Men's Health magazine as the creator of the World's Smartest Workout The Flow Expert, whom Men's Fitness magazine named "one of the Top 25 Trainers in the World" His methodologies recognized by Men's Health magazine as "guaranteed to build muscle and burn fat anywhere, anytime" Claimed by Men's Journal to be "Absolutely Essential!" Ranked "#1 Best!" by Cleo Magazine Named by Black Belt Magazine as "one of the 7 most influential instructors of this century".
Scott Sonnon was forced into a life of seeking alternative exercise options due to early childhood joint disease and motor challenges. Institutionalized for his learning difficulties in a psychiatric hospital, teachers and doctors advised that he set low-bar realistic expectations on his potential. Through tremendous persistence he rose to become an adjunct professor of physical education at Penn State University, a US National Team Coach and a 5 time international martial arts champion.