Psychological Trauma: Neuroscience, Identity and the Transformation of the Self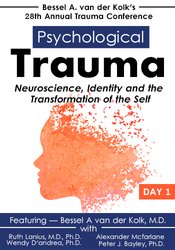 Salepage : Psychological Trauma: Neuroscience, Identity and the Transformation of the Self

CD/DVD
Click here to purchase the DVD or CD recording from our product store.
For almost three decades this conference has examined the evolving knowledge of how trauma affects psychological and biological developmental processes, and how the damage caused by trauma and neglect can be reversed. This year we will explore new frontiers in this work, frontiers that transcend old paradigms of explaining, fixing troublesome behaviors, or administering drugs. 
The study of psychological trauma has been accompanied by an explosion of knowledge about how experience shapes the central nervous system and the formation of the self. Developments in the neurosciences, developmental psychopathology and information processing have contributed to our understanding of how brain function is shaped by experience and that life itself can continually transform perception and biology. 
The study of trauma has probably been the single most fertile area in helping to develop a deeper understanding of the relationship among the emotional, cognitive, social and biological forces that shape human development. 
Starting with post-traumatic stress disorder (PTSD) in adults and expanding into early attachment and overwhelming experiences in childhood, this endeavor has elucidated how certain experiences can "set" psychological expectations and biological selectivity. 
We have learned that most experience is automatically processed on a subcortical level in the brain; i.e., by "unconscious" interpretations that take place outside of awareness. Insight and understanding have only a limited influence on the operation of these subcortical processes. When addressing the problems of traumatized people who, in a myriad of ways, continue to react to current experience as a replay of the past, there is a need for therapeutic methods that do not depend exclusively on drugs and cognition. In this conference we will pay particular attention to physical self-experience, finding one's voice to speak the truth of experience, and the transformative potential of action, mind altering medications and theater. 
Workshops included in this recording:
Self and Identity in Traumatic Stress: From "fixation on the trauma", to Resuming the Arc of One's Life

—

Bessel A. van der Kolk, MD

Dealing with Unrelenting Threat: Translating the Lessons from the Neuroimaging Lab into Effective Treatment

—

Ruth Lanius, MD, Ph.D.

Trauma, Body and Self: How Physiological Hypoarousal Contributes to Alterations in Identity, Awareness and Agency

—

Wendy d'Andrea, Ph.D.

Panel Discussions and Questions
The Impact of Trauma Over Time: The Need for Stage-Dependent Diagnosis & Treatment of Traumatic Stress

—

Alexander McFarlane, MD

Meditation as Trauma Therapy: A Cognitive Neuroscience Perspective

—

Peter Bayley, Ph.D.
Target Audience Physicians, Psychologists, Social Workers, Addiction Counselors, Counselors, Marriage & Family Therapists, Nurses, Psychiatrists, and other Mental Health Professionals
Bessel A. van der Kolk, M.D., is a clinician, researcher and teacher in the area of post-traumatic stress.  His work integrates developmental, neurobiological, psychodynamic and interpersonal aspects of the impact of trauma and its treatment.
Dr. van der Kolk and his various collaborators have published extensively on the impact of trauma on development, such as dissociative problems, borderline personality and self-mutilation, cognitive development, memory, and the psychobiology of trauma.  He has published over 150 peer reviewed scientific articles on such diverse topics as neuroimaging, self-injury, memory, neurofeedback, Developmental Trauma, yoga, theater, and EMDR. 
He is founder of the Trauma Center in Brookline, Massachusetts, and President of the Trauma Research Foundation, which promotes clinical, scientific, and educational projects. 
His 2014 #1 New York Times best seller, The Body Keeps the Score: Brain, Mind, and Body in the Treatment of Trauma, transforms our understanding of traumatic stress, revealing how it literally rearranges the brain's wiring – specifically areas dedicated to pleasure, engagement, control, and trust.  He shows how these areas can be reactivated through innovative treatments including neurofeedback, somatically based therapies, EMDR, psychodrama, play, yoga, and other therapies.
Dr. van der Kolk is the past president of the International Society for Traumatic Stress Studies, and professor of psychiatry at Boston University Medical School.  He regularly teaches at conferences, universities, and hospitals around the world.
Speaker Disclosures:
Financial: Bessel van der Kolk is a professor of psychiatry at the Boston University School of Medicine.  He receives a speaking honorarium from PESI, Inc.
Non-financial:  Bessel van der Kolk has no relevant non-financial relationship to disclose.
Ruth Lanius, MD, Ph.D.

Related seminars and products:

1
Ruth Lanius, MD, PhD, Professor of Psychiatry is the director of the posttraumatic stress disorder (PTSD) research unit at the University of Western Ontario. She established the Traumatic Stress Service and the Traumatic Stress Service Workplace Program, services that specialize in the treatment and research of Posttraumatic Stress Disorder (PTSD) and related comorbid disorders. She currently holds the Harris-Woodman Chair in Mind-Body Medicine at the Schulich School of Medicine & Dentistry at the University of Western Ontario. 
Her research interests focus on studying the neurobiology of PTSD and treatment outcome research examining various pharmacological and psychotherapeutic methods. She has authored more than 100 published papers and chapters in the field of traumatic stress and is currently funded by several federal funding agencies.  She regularly lectures on the topic of PTSD nationally and internationally. She has recently published a book The Impact of Early Life Trauma on Health and Disease with Eric Vermetten and Clare Pain.
Speaker Disclosures:
Financial: Ruth Lanius is Professor of Psychiatry and director of the posttraumatic stress disorder (PTSD) research unit at the University of Western Ontario. She is an author for W.W. Norton & Company and receives royalties.
Non-financial: Ruth Lanius has no relevant non-financial relationship to disclose.
Wendy D'Andrea, Ph.D.

Related seminars and products:

1
Wendy D'Andrea, PhD: Assistant Professor of Psychology at The New School for Social Research in New York, NY. Her research focuses on physiological manifestations and consequences of complex trauma.
Alexander McFarlane, MB BS (Hons) MD

Related seminars and products:

1
Alexander McFarlane, MB BS (Hons) MD, is the Professor of Psychiatry, Head CMVH, University of Adelaide Node, The Centre for Military and Veterans' Health, Australia; and Past President, ISTSS. He's the author of more than 300 peer-reviewed scientific articles on PTSD, and Co-author of Traumatic Stress: The Effects of Overwhelming Experience in Mind, Body and Society. He's also the principal investigator, Australian Department of Defense longitudinal study of combat exposure.
Peter J. Bayley, Ph.D.

Related seminars and products:

1
Peter J. Bayley, PhD, War Related Illness and Injury Study Center (WRIISC), VA Palo Alto Health Care System, clinical assistant professor, Stanford University, Department of Psychiatry and Behavioral Sciences.
Explain how the brain has fundamental capacities to learn to regulate itself.

Explain how infant brains develop over time.

Describe how to integrate neuroimaging into effective treatment.

Recognize how physiological hyproarousal contributes to alterations in identity, awareness and agency.

Identify the impact of trauma over time.

Examine the role and mediating mechanisms of meditation practices in healing emotional suffering.

Discover integration for paradoxes of mind and brain using meditation.

Self and Identity in Traumatic Stress: From "Fixation on The Trauma", To Resuming the Arc of One's Life

Attachment

PTSD and the Military

Developmental Trauma Disorder

Dealing with Unrelenting Threat: Translating the Lessons from The Neuroimaging Lab into Effective Treatment

Objectives

Psychiatric Comorbidity of Chronic Early Trauma

Attachment Dysregulation

How Do We Develop Adequate Emotion Regulation Capacities?

Secure Base

The Attachment Relationship: A Prerequisite for An Adequate Window of Emotional Arousal

Optimum Zone of Emotional Arousal

Four Dimensions of Consciousness Affected by Psychological Trauma

Remembering Vs. Reliving

Clinical Implications

Present Vs. Past Centered Therapies

Dissociative Change in Narrative Perspective

Fragmentation of The Self

Voice Hearing and Dissociation

Differentiating Psychotic Disorders from Dissociation

Toward Self-Compassion: Creating 'Secure Attachment Relationships' Between Different Parts of The Self

Disembodiment and The Stress Response

Defense Cascade Model

The Body During Fight, Flight, Freeze, And Shut Down

The Reptilian Brain: The Subconscious Brain

Periaqueductal Gray (PAG)

Dorsolateral PAG Connectivity

Dissociative PTSD: Greater Ventrolateral PAG Connectivity

Clinical Management of Freezing Responses

Deep, Paced Breathing & Heart Rate Variability

Heart Rate Variability (HRV)

The Effects of Conscious & Subconscious Triggers On HRV

Clinical Implications: Restoring Mind/Brain/Body Connections

Mind/Brain/Body Synergy

Consciousness of Emotion

Panksepp's Basic Emotional Systems

How Can We Regulate Emotions?

Neurofeedback

The Neurobiology of Eye Contact

Healing the Traumatized Self: The Rebirth of The Self

Healing the Traumatized Self: The Rebirth of The Self

Trauma, Body and Self: How Physiological Hypoarousal Contributes to Alterations in Identity, Awareness and Agency

Awareness Test

Emotion Regulation

Fight or Flight Response

Rhythms

Neurofeedback

Heartrate Variability

Cerebellum

Measuring Voice

The Self

Vagal Tone and The Body

Panel Discussion and Questions
The Impact of Trauma Over Time: The Need for Stage-Dependent Diagnosis and Treatment of Traumatic Stress

Developments Within the Field

The DSM-5

Where We Are Today

The History of PTSD Treatment

Conflict of Interest

Treatment Guidelines

Delayed Onset PTSD

Executive Function

Meditation as Trauma Therapy: A Cognitive Neuroscience Perspective

Subtle Yoga

Meditation as A Treatment For PTSD

Pilot Study

Sudharshan Kriya Yoga (SKY) As A Treatment For PTSD

Effects of SKY on Cognition and Sleep

Sleep to Forget and Sleep to Remember (SFSR) Model of Emotional Memory Processing

Current Study

SKY Vs. Cognitive Processing Therapy for Treating PTSD

Experience A Taste Of SKY