PUAcademy.com Interview – Stephane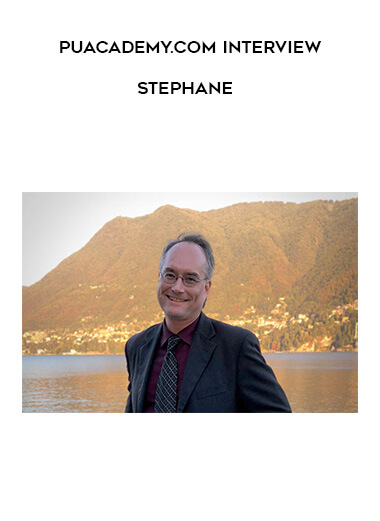 Salepage : PUAcademy.com Interview – Stephane

With Stéphane Jetté, we are travelling to the lovely Canadian Province of Quebec. But not only: Stéphane is a true example of how his curiosity and openness to transformation enabled him to seize unique professional and learning opportunities; and how his faithfulness and approach to pleasure in life guided him to develop and maintain friendships with fascinating people from around the world.
The youngest of six children, Stéphane was born in Sherbrooke and grew up shortly after the Quebec's "quiet revolution". It was a time when the social pressures were slowly giving way to a less dogmatic approach in life to his parents' post-Word War II generation. Average sizes of families were transitioning from twelve, to six, to two children; most people were going from low to higher education; more and more women were taking part in the workforce; and, as Stéphane puts it, "people were generally thinking more for themselves rather than reciting indoctrinating lyrics". Being the youngest in a large family with 15 years' age difference with his oldest brother, Stéphane was exposed to behaviours in the 70s, 80s and 90s earlier than what was expected for his age. This led him, as a teenager, to try various eye-opening part-time jobs such as working for his brother's cleaning company at luxurious hotels or in the manufacturing, construction and steel industries. Undeniably, from an early age, Stéphane was exposed to people and ways of life that sparked his curiosity even more to go on to study his first degree in Actuarial and Computer Sciences at Laval University in Québec City. Such a field was so high in demand in the late 90s that Stéphane got hired as a professional consultant even before completing his official university degree. Later on, he went on to fine-tune his academic education with a Master of Economics at the University of Ottawa. Stéphane's bilingual capacities in French and English, his open-minded approach, as well as his skills, led him to take on stimulating positions within the Canadian Federal Government and international governmental agencies. Stéphane currently resides in the Ottawa region with his Ecuadorian partner, Leslye, her three children, and Morita, their cute black dog. Apart from being an adrenalin and endorphin addict that he expresses through fast motorcycle riding and car driving, Stéphane loves rock climbing, scuba diving, soccer and mineralogy. He is also currently the newsletter editor for the Ottawa Lapsmith and Mineral Club.
It is a true gift for Emerald Jaaz' readers to discover Stéphane Jetté, a loyal and generous Canadian who strongly values honesty and making the use of the ability to think and form opinions for oneself: personal freedom at its essence!
"I believe that anyone who can establish and share their own thoughts contributes to the world in a far greater and intelligent way than by reciting indoctrinating lyrics."

–  Stéphane Jetté
Emerald Jaaz: Stéphane, what do you enjoy the most about your current lifestyle?
Stéphane Jetté: My current lifestyle allows me to have a decent living while having enough flexibility in my work-life balance. I can undertake personal projects while still maintaining a good level of implication in my work and influence certain Canadian policy developments. As an example, without divulgating specific confidential details, I can sometimes stir policy development in ways that I consider to be better. There are of course other people involved and any policy needs to be approved by the elected political party; nonetheless, the policy developments are considered based on our recommendations. If the political party rejects our recommendations, at least they had to consider what we were telling them. That is a very rewarding role since we can make a difference. On a personal basis, I dedicate my time to activities that I like and share them with friends, colleagues or family. Also, I became a member of the Ottawa Lapsmith and Mineral Club (OLMC) after taking creative art jewellery courses in the earlier 2000s. Today, I am still involved with the OLMC. I also like motorcycle riding and high-speed vehicles. On top of that, I do regular physical training to ensure I get minimal physical activity to maintain a decent health status.
Emerald Jaaz: What does your current professional activity consist of?
Stéphane Jetté: As a Senior Project Leader in Policy Development at Innovation Science and Economic Development Canada, I mostly assess existing policies and programs. I evaluate the impact of specific proposals on both Canadian economic and social implications. These assessments constitute the basis on which program administrators may adjust their programs or on which politicians may create new programs, stop, or change existing ones.
Emerald Jaaz: What made you choose to live the life you do today?
Stéphane Jetté: In my case, I cannot pinpoint a specific event that had a dominant impact on the life I live. I have mostly lived my life as it came. Nevertheless, I am not blind to what happens around me and I will do what I can to stay on a path where I can be happy. Even though I have a set of values that I respect strongly, I am rather curious. This makes me explore to a large extent my surroundings. I consider indirect or future implications of my actions. Such an approach has mostly guided my decisions throughout my life, which has resulted in where I am today. Without being anxious or maniac about anything, I always try to understand what is occurring, why, and what could happen later. By assessing the likelihood of what I can expect, I adapt my behaviour to influence the best I can how my life will unfold. Hence, I live in the hope that my life will evolve in a good way for me, those who surround me, and, to some extent, all those living on the planet. I do not consider only myself from only today's perspective, but rather I always try to look beyond what is immediately perceivable. Overall, I act in what I consider the best for all: okay for me first, whilst still wishing the best for everyone and not being oblivious to what happens to the others.
Emerald Jaaz: What are your main interests and passions; and what causes are close to your heart?
Stéphane Jetté: I am rather an adrenaline and endorphin addict – which is unfortunate for some safety aspects, as it can significantly affect my observation and reaction skills! I have a Subaru WRX STI car and a Yamaha YZF R1 motorbike as recreational and transportation vehicles. The car is for the Canadian heavy winter and the motorbike for the summer. When I am calmer, I will value creative art and craft. Although I am not an admirer of art and craft results per say, such as historical paintings, I really enjoy seeing anything that can be crafted today: how it is done, the usefulness of it, and is it an accessible craft for me to do? This includes brewing, gardening, marinating food, gathering rocks for jewellery, etc. I generally like nature. I will not panic if I am in the middle of a wood, in the mountains, or diving in water where I don't see any signs of human civilisation. Such situations will actually make me relax, until there are too many mosquitos or other annoying or really threatening wildlife. Similarly, I find storms relaxing and I love to watch lightning.
Emerald Jaaz: What do you like most about the Ottawa region, where you currently live?
Stéphane Jetté: The National Capital Region (Ottawa-Gatineau) has nice family cities. The region is not as lively as Montréal or most European cities; however, it is safe with many accessible outdoor activities. Moreover, the National Capital Region is large enough to have most of what can be expected of a multi-cultural region, including all the incredible restaurants! Ottawa being the capital of Canada, it also hosts many Embassies and their related cultural and political events. My house is one of the few houses in the National Capital Region with direct access to the river in my backyard. This was not that fun last spring when we had to buy a canoe to get out of the house due to unusual flooding, but it is nice to have space and land to relax!
Emerald Jaaz: What is the source of your inspiration and motivation?
Stéphane Jetté: From a professional point of view, I strongly motivate myself when I identify something that could be done at the country level and from which Canada would significantly benefit. In such circumstances, I am very eager to find more evidence to justify such policy, to consider all the strategic implications to move it forward, and to put in place the proper communication level to make it possible. On a personal level, taking the time to relax will mostly provide me with the energy to go forward.
Emerald Jaaz: Please give us an example of one of your typical days.
Stéphane Jetté: My usual workdays have nothing particularly special. I will get up, after being woken by my partner running after her children. Hopefully, I will be sufficiently awake not to trip over our black female dog, Morita. Morita used to be an adorable puppy, but has now grown up to be an affection-deficient larger dog that seems to think she is still small enough to throw herself in our legs out of pure affection, without any issues! I have to avoid the dog on a regular basis – which is usually my hardest physical dexterity challenge of the day! I get ready, kiss everyone goodbye, to go to work and come home in the evening. Typical!
Emerald Jaaz: Please give us an example of one of your ideal weekends.
Stéphane Jetté: An ideal weekend is one without any urgent issues to solve for me or for anyone in the family. Ideally, we will get up without stress and prepare for a fun activity, which is often to drop Leslye's children at their friends' places and then relax together afterwards. Otherwise, an ideal weekend will be to go to Montréal and see old friends on my own. I will do this usually because there is a side event, such as a music show to see. I cannot do it often, although seeing good friends once in a while is important for me, which allows me to feel positive and happy.
Emerald Jaaz: Among the places you have visited, which one moved you the most?
Stéphane Jetté: Rome's Colosseum is the place that moved me the most since it is a building that shows impressive engineering given the resources of the time. Incidentally, it was also mostly a shrine of human cruelty where thousands of people died, sometime for no other reason than barbaric entertainment. On a more positive side, there are many places that I have seen and considered as natural wonders. These places made me feel small but also at ease with what Earth's features can be. There are many places like this in the European Alps, in Canada, on different coastlines, and in many other places where nature is still predominant and humans have not yet encroached the area to the point of disfiguring it. Then again, they may have also done it through impressive engineering and good reasons.
Emerald Jaaz: Which place do you like to return to regularly and why?
Stéphane Jetté: When I was a child, there were a few trees on which I would climb for the pure purpose of just sitting and relaxing on higher branches. Nostalgia! Today, there are nearby places – such as the Paugan Dam – that can be impressive during stormy weather. Otherwise, I also like to go back to places where I spend time with friends or meet interesting new people.
Emerald Jaaz: Which place would you like to visit that you haven't yet visited?
Stéphane Jetté: I would place New Zealand and Australia on this list. Firstly, I haven't been to that part of the world yet and, secondly, the people that I have met from Australia and New Zealand have all been pleasant and friendly. They appeared to share values that are close to what I am used to in Canada. On another front, I would like to visit part of the Inca's trail for the impressive natural wonder, while seeing traces of what remains of the history of Central and South American societies.
Emerald Jaaz: Please share with us a couple of your favourite places to hang out, to eat, to mingle, to reflect or simply to watch the world go by.
Stéphane Jetté: Having lived in Brussels for three years as a Canadian diplomat to the European Union, the Ralph's Bar on Place de Luxembourg was an inevitable drinking point to see colleagues and counterparts, mostly all relating one way or the other to the European Union. Situated a few metres from the European Parliament, Ralph's Bar was an institution in itself! Sadly, I learnt that it recently closed. Also, on quite a different note, I like to visit the Rock Classic music bar each time I go back to Brussels. Back in Ottawa, I regularly go to the 3 Brewers Pub on Spark Street, which is conveniently located in the same building as where I work. It is officially our "Boardroom 3B" to wrap-up work meetings! Food wise, there are many great places in and around Ottawa. The Mill in Wakefield is a nice place to enjoy outside of the city. Les Fougères is also a very good restaurant offering mainly local products. I have many good memories from there.
Emerald Jaaz: What motivates you to achieve your goals and to get out of bed in the morning?
Stéphane Jetté: I would tend to say that it varies significantly. When I have immediate / daily goals or issues to solve, I seek to solve them to get them out of the way so that I can focus on what I would really like to do later on that day. If I have no immediate things to do, I can be a bed procrastinator until I actually come up with a good and pleasant reason why I should get out of bed to do something else!
Emerald Jaaz: What are you most grateful for?
Stéphane Jetté: I am grateful to be able to think for myself on basically anything. Whether I know about an issue or not, I can set my own hypothesis about what it is, its possible outcome, and what I should do about it – which frequently involves to initially seek more information about the situation. It is generally against my beliefs to rely only on external sources for answers, or to state that I have no opinion on something: I need to formulate my own views about everything. Although my opinion may reach near indifference on some topics, or it may be very preliminary given the limited knowledge I have about the topic, I will formulate my own opinion nonetheless, at least for myself. After that, my own curiosity will often push me to investigate the topic further, until I know more and/or boredom becomes the obvious outcome…
Emerald Jaaz: What values are key to you?
Stéphane Jetté: For me, honesty is the initial key to everything.
Emerald Jaaz: Please share with us an important lesson you learnt in life.
Stéphane Jetté: Sadly, I find that most humans rely on dogmatic beliefs to guide their lives. Usually, in such cases, there are few views that they really thought through on their own. Although this generally goes against my own principles, I will never be a preacher to the world! I have to accept that changing all the people of the world is impossible and it is not worth trying! Being able to share my own thoughts with some people is already a big first step for me. Furthermore, I believe that anyone who can establish and share their own thoughts contributes to the world in a far greater and intelligent way than by reciting indoctrinating lyrics. As humans, we are lucky to have received the ability to think – let's make use of that precious gift!