PUAcademy.com Interview – Stephane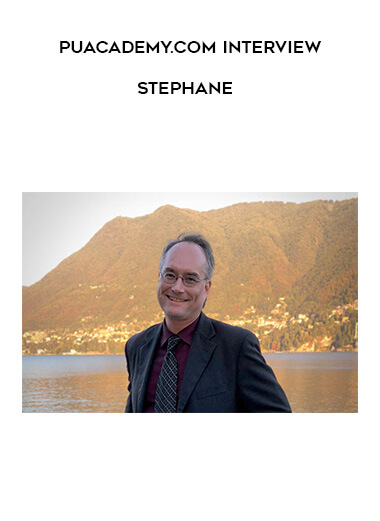 Salepage : PUAcademy.com Interview – Stephane

We're off to the gorgeous Canadian province of Quebec with Stéphane Jetté. Not only that, but Stéphane exemplifies how his curiosity and openness to change enabled him to seize unique professional and learning opportunities, as well as how his faithfulness and approach to pleasure in life guided him to develop and maintain friendships with fascinating people from all over the world.
Stéphane, the youngest of six children, was born in Sherbrooke and grew up just after Quebec's "silent revolution." It was a moment when societal constraints were gradually giving way to his parents' post-World War II generation's less dogmatic approach to life. Average family sizes were decreasing from twelve to six to two children; most people were progressing from low to higher education; an increasing number of women were entering the labor force; and, as Stéphane puts it, "people were generally thinking more for themselves rather than reciting indoctrinating lyrics." Stéphane was exposed to behaviors in the 70s, 80s, and 90s earlier than expected for his age since he was the youngest in a big family with a 15-year age gap with his eldest brother. As a result, as a teenager, he tried a variety of eye-opening part-time occupations, such as working for his brother's cleaning firm at opulent hotels or in the manufacturing, construction, and steel sectors. Stéphane was undoubtedly exposed to people and ways of life from a young age, which piqued his interest enough to pursue his first degree in Actuarial and Computer Sciences at Laval University in Québec City. In the late 1990s, such a specialty was so in demand that Stéphane was engaged as a professional consultant before earning his official university degree. He later completed a Master of Economics at the University of Ottawa to round up his academic credentials. Stéphane's linguistic abilities in French and English, as well as his open-minded approach and capabilities, lead him to challenging positions inside the Canadian Federal Government and worldwide governmental organizations. Stéphane presently lives in the Ottawa area with his Ecuadorian partner, Leslye, her three children, and their adorable black puppy, Morita. Stéphane enjoys rock climbing, scuba diving, soccer, and mineralogy in addition to being an adrenalin and endorphin junkie, which he displays through rapid motorbike riding and vehicle driving. He is also the Ottawa Lapsmith and Mineral Club's newsletter editor.
Discovering Stéphane Jetté, a devoted and generous Canadian who greatly values honesty and exercising one's right to think and make ideas for oneself, is a wonderful gift for Emerald Jaaz' readers!
"I feel that everybody who can develop and communicate their own ideas contributes to the world in a far bigger and more sophisticated way than just repeating indoctrinating songs."
Stéphane Jetté's
Emerald Jaaz: Stéphane, what do you like best about your current way of life?
Jetté, Stéphane: My present way of life enables me to make a good livelihood while yet having adequate flexibility in my work-life balance. I may focus on personal projects while being involved in my employment and influencing specific Canadian policy changes. For example, without disclosing particular sensitive facts, I may occasionally influence policy formulation in ways that I believe are better. There are other persons engaged, of course, and any policy must be authorized by the elected political party; but, policy changes are examined based on our recommendations. Even if the political party rejects our advice, they had to examine what we were saying. That is a highly satisfying role since we can make a difference. Personally, I devote my time to things that I enjoy and share them with friends, coworkers, and family. In addition, after completing creative art jewelry classes in the early 2000s, I became a member of the Ottawa Lapsmith and Mineral Club (OLMC). I am still active with the OLMC today. I also enjoy riding motorcycles and driving fast cars. In addition, I engage in regular physical training to ensure that I get enough physical exercise to maintain a healthy lifestyle.
Jaaz, Emerald: What is the nature of your present professional activity?
Jetté, Stéphane:
I generally review current policies and programs as a Senior Project Leader in Policy Development at Innovation Science and Economic Development Canada. I assess the economic and social repercussions of certain initiatives in Canada. These assessments serve as the foundation for program managers to adapt their programs, or for lawmakers to create new programs, discontinue or amend current ones.
Emerald Jaaz: What inspired you to live the life you do now?
Jetté, Stéphane: In my situation, I cannot identify a single incident that had a significant influence on the life I lead. I've largely lived my life as it came to me. Nonetheless, I am not ignorant to what is going on around me, and I will do all in my power to stay on a road that will allow me to be happy. Even though I have a set of ideals that I hold dear, I am intrigued. This encourages me to investigate my surroundings to a greater extent. I examine the indirect or future consequences of my activities. Such an attitude has generally influenced my decisions throughout my life, leading to where I am now. Without being nervous or maniacal about anything, I always attempt to understand what is happening, why it is happening, and what could happen later. By estimating the possibility of what I may expect, I change my behavior to affect how my life will develop as best as I can. As a result, I live with the hope that my life will unfold in a positive way for myself, people around me, and, to some extent, all those who exist on the world. I strive to go beyond what is immediately perceptible, rather than merely considering myself from today's perspective. Overall, I behave in what I regard to be the best interests of all: alright for myself first, but still seeking the best for everyone and being aware of what happens to others.
Jaaz, Emerald: What are your primary interests and passions, and what causes are dear to you?
Jetté, Stéphane: I am an adrenaline and endorphin junkie, which is terrible for certain safety reasons because it might impair my observation and reaction abilities! As leisure and transportation vehicles, I own a Subaru WRX STI automobile and a Yamaha YZF R1 motorcycle. The automobile is for the harsh Canadian winter, while the motorcycle is for the summer. I will value creative art and craft when I am calmer. Although I am not a fan of art and craft outcomes in general, such as historical paintings, I do appreciate seeing everything that can be produced today: how it is done, how practical it is, and is it a craft that I can perform? This covers things like brewing, gardening, marinating food, collecting pebbles for jewelry, and so forth. In general, I enjoy nature. I won't freak out if I'm in the middle of a forest, in the mountains, or diving in water where there are no evidence of human civilization. Such circumstances will really make me relax, unless there are too many mosquitos or other bothersome or perhaps dangerous critters. Similarly, I enjoy seeing lightning and find storms peaceful.
Jaaz, Emerald: What do you enjoy the best about the Ottawa area, where you presently reside?
Jetté, Stéphane:
Family-friendly cities may be found in the National Capital Region (Ottawa-Gatineau). The region is not as vibrant as Montréal or other European cities, but it is safe and offers a variety of outdoor activities. Furthermore, the National Capital Region is large enough to include the majority of what can be anticipated of a multi-cultural region, including all of the fantastic eateries! As Canada's capital, Ottawa hosts several embassies and related cultural and political events. My residence is one of the few in the National Capital Region with direct river access in my backyard. It wasn't so much fun last spring when we had to buy a canoe to get out of the home due to exceptional floods, but it's good to have some space and land to rest on!
Jaaz, Emerald: What are your sources of inspiration and motivation?
Jetté, Stéphane: Professionally, I am highly motivated when I discover something that might be done at the national level that would help Canada greatly. In such instances, I am eager to uncover additional evidence to defend such policy, to analyze all strategic ramifications in order to carry it ahead, and to put in place the necessary communication level. On a personal level, relaxing will largely supply me with the energy to move on.
Jaaz, Emerald: Please give us an example of a normal day in your life.
Jetté, Stéphane: My typical workdays are nothing out of the ordinary. After being awakened up by my spouse rushing after her children, I will get up. Hopefully, I'll be alert enough not to trip over our black female dog, Morita. Morita was a gorgeous puppy, but she has now grown into an affection-deficient bigger dog that thinks she is still tiny enough to fling herself in our legs out of pure adoration without any problems! On a daily basis, I have to dodge the dog, which is generally my most difficult physical dexterity task of the day! I get dressed, kiss everyone goodbye, and go for work and return home in the evening. Typical!
Jaaz, Emerald: Please tell us about one of your perfect weekends.
Jetté, Stéphane:
An ideal weekend is one with no pressing difficulties for myself or anybody in the family. Ideally, we would wake up stress-free and prepare for an enjoyable activity, which is usually dropping Leslye's children off at their friends' houses and then relaxing together afterwards. Otherwise, an ideal weekend would be to travel to Montréal on my own and visit old acquaintances. I normally do this when there is a side event to attend, such as a music show. I can't do it very frequently, but visiting excellent friends once in a while is crucial for me since it helps me feel optimistic and joyful.
Jaaz, Emerald: Which of the places you've visited has had the largest impact on you?
Stéphane Jetté: The Colosseum in Rome touched me the most since it is a building that demonstrates incredible engineering considering the resources available at the time. In addition, it was primarily a temple of human brutality, with hundreds of people dying for no other purpose than sadistic pleasure. On the plus side, there are several sites that I have visited and regard as natural wonders. These locations made me feel little, but also at comfortable with the many aspects of the Earth. There are numerous spots like this in the European Alps, Canada, along various beaches, and many more areas where nature still reigns supreme and humans have not yet encroached to the point of defacing the landscape. However, they might have done it through outstanding engineering and compelling arguments.
Emerald Jaaz: Where do you prefer to go on a regular basis, and why?
Jetté, Stéphane:
When I was a kid, I used to climb a few trees with the sole purpose of reclining and relaxing on higher branches. Nostalgia! Today, there are adjacent areas that can be remarkable during inclement weather, such as the Paugan Dam. Otherwise, I enjoy returning to areas where I have spent time with friends or met intriguing new individuals.
Jaaz, Emerald: Which location would you like to visit that you have not yet seen?
Jetté, Stéphane: This list would include New Zealand and Australia. First, I've never traveled to that region of the world, and second, the Australian and New Zealanders I've met have all been polite and courteous. They looked to have ideals similar to what I am used to in Canada. On the other hand, I'd want to hike part of the Inca Trail to witness the stunning natural wonders while also learning about the history of Central and South American nations.
Jaaz, Emerald: Please share a few of your favorite locations to hang out, dine, mix, reflect, or simply watch the world go by.
Jetté, Stéphane:
After living in Brussels for three years as a Canadian diplomat to the European Union, Ralph's Bar on Place de Luxembourg was an unavoidable meeting place for colleagues and counterparts, most of whom had some connection to the European Union. Ralph's Bar, located just a few meters from the European Parliament, was an institution in and of itself! Unfortunately, I learned that it had just closed. On a completely separate subject, whenever I return to Brussels, I like to stop by the Rock Classic music bar. Back in Ottawa, I frequent the 3 Brewers Pub on Spark Street, which happens to be in the same building as where I work. It's officially "Boardroom 3B" for work meetings! There are several excellent restaurants in and around Ottawa. Wakefield's Mill is a pleasant area to visit outside of the city. Les Fougères is also a very fine restaurant that serves mostly local fare. I had many happy recollections from that time.
Emerald Jaaz: What drives you to achieve your objectives and get out of bed in the morning?
Jetté, Stéphane:
It varies quite a little, in my opinion. When I have immediate / daily goals or challenges to handle, I try to solve them as quickly as possible so that I may focus on what I truly want to achieve later that day. If I don't have something pressing to do, I may be a bed procrastinator until I come up with an excellent and pleasurable excuse to get out of bed and do something else!
Emerald Jaaz: For what are you most thankful?
Jetté, Stéphane:
I am glad for the ability to think for myself on almost any subject. Whether I am aware of an issue or not, I may make my own theory about what it is, what it could mean, and what I should do about it – which typically requires seeking more knowledge about the situation. It is often contrary to my ideas to rely solely on external sources for answers or to declare that I have no opinion on something: I believe that I must establish my own opinions on things. Although my view on certain issues may border on apathy, or it may be extremely preliminary given my poor understanding of the subject, I will form my own opinion, at least for myself. After then, my own curiosity will frequently drive me to research the issue more, until I know more and/or boredom sets in…
Emerald Jaaz: What are your core values?
Jetté, Stéphane: For me, the first key to anything is honesty.
Jaaz, Emerald: Please share with us an essential life lesson you've learned.
Jetté, Stéphane: Unfortunately, I have discovered that most individuals rely on dogmatic ideas to direct their life. In such circumstances, there are usually just a few points of view that they truly considered on their own. Despite the fact that this often contradicts my own values, I will never be a world preacher! I must recognize that changing all of the people on the planet is impossible and not worth attempting! Being able to communicate my own opinions with others is a significant first step for me. Furthermore, I feel that everyone who can develop and communicate their own ideas contributes to the world in a far more meaningful and intellectual way than repeating indoctrinating songs. As humans, we are fortunate to have the ability to think; let us put that valuable talent to good use!