QiMen Insights – Actual Case Studies By Iverson Lee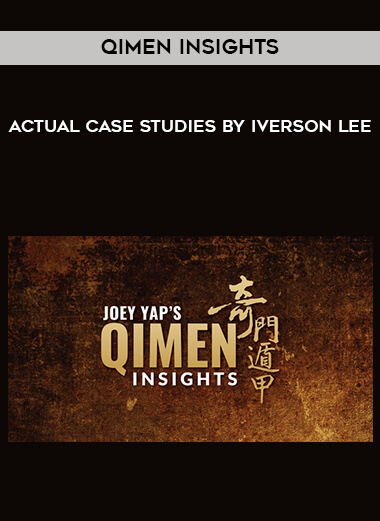 Salepage : QiMen Insights – Actual Case Studies By Iverson Lee

Please kindly take note!!!
This is a video program, only softcopy of the video will email to you. NO hardcopy will delivery out.
Payment and delivery:
Please kindly provide your EMAIL address in "message:" during checkout.
You will receive an access link to the video in google drive via email after payment has been confirmed.
You can access the file(s) via google drive only. It will be available to you as long as google drive is active.
QiMen Insights – Actual Case Studies By Iverson Lee
Qimen Insights is a standalone program. It is a complete walk-through of real-life case studies and examples from students.
You'll discover in-depth analysis and an advanced reading of these techniques.
ABOUT IVERSON LEE 
Iverson Lee is a graduate from Joey Yap Research International and since then, he has become a qualified consultant and instructor for Joey Yap Consulting Group in 2013. 
As one of our well-known instructors, he has a wealth of experience in BaZi, Feng Shui, Qi Men Dun Jia, Date Selection, Yi Jing, Face Reading and many more. Driven by his personal motto, "Life Transformation", it has always been an aim in his life to help others improve and excel. 
To do this, he has conducted many successful workshops and tutorials in the past such as BaZi & Feng Shui for Beginners, DRT Peak Performance Workshop, Feng Shui for Property Investors and Qi Men Dun Jia: Destiny Forecast. In addition to that, he also has been engaged as a professional speaker in many talks related to Chinese Metaphysics for INTI International University, NTV 7, HSBC, Mah Sing Group, UEM Sunrise Group and MRCB.