Rafael Lovato Jr – How To Start A Match (jiujitsu.com) [720p]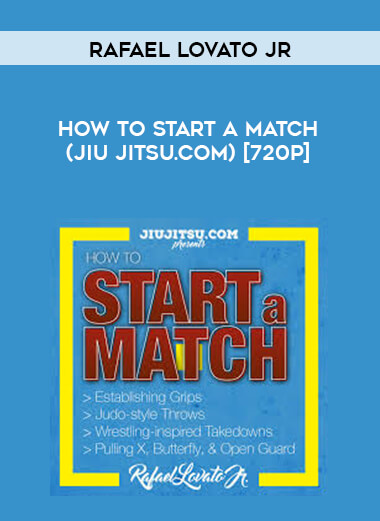 Salepage : Rafael Lovato Jr – How To Start A Match (jiujitsu.com) [720p]

Free Lesson1 – The Grip Game
The Grip Game: The science of defensive and offensive starting grips revealed.
Premium Lesson2 – Grip Breaks
Grip Breaks: How to use your entire body against your opponent's fingers to shatter 3 different upper body grips.
Gold Lesson3 – Kouchi Gari
Kouchi Gari: Lovato's #1 most effective take-down! Why? It's low-risk, efficient and you don't have to lift or throw your opponent.
Gold Lesson4 – Collar Drag
The Collar Drag Face Plant: a Team Lovato special… the super-easy way to surprise your opponent as he lands face down on the mat.
Gold Lesson5 – Osoto Gari
Osoto Gari: The 2 major flaws with the traditional Judo version of this take-down against today's BJJ fighters.
Gold Lesson6 – Drop Seoi Nage
Drop Seoi Nage: A 13-minute tutorial that makes this one an ace up your sleeve against taller guys or guys who stay hunched over.
Gold Lesson7 – Tomoe Nage
Tomoe Nage: The same beautiful technique Rafael used to take down Kayron Gracie in Metamoris One.
Gold Lesson8 – Double Leg
Double Leg: A legit how-to breakdown of what many consider the most powerful wrestling take-down known to man.
Gold Lesson9 – Outside Single
Sprawl-proof Outside Single: All secrets exposed.
Gold Lesson10 – Two on One Kouchi Gari
Two-on-One Kouchi Gari: 2 ways to catch the arm and 2 ways to control it just before your steal your opponent's balance and pick his ankle.
Gold Lesson11 – Two on One Sumi Gaeshi
Two-on-One Sumi Gaeshi: With the same catch-and-control formula above.
Gold Lesson12 – Pulling Open Guard
Pulling an Invisible Open Guard: How to disguise your guard pull (so you don't get crushed by take-down artists).
Gold Lesson13 – Jumping Guard
Jumping Closed Guard: A safe and strong starting position to pull your attacker into your control.
Gold Lesson14 – Pulling Butterfly Open Guard
Pulling Butterfly Half Guard: A low-risk and strong way to initiate your half-guard game while avoiding the guillotines, chokes and front headlocks.
Gold Lesson15 – Pulling into X-Guard
Pulling Into X-Guard: How to easily slip into 2 different X-Guards and safely put yourself into position to sweep and score right away.