Reilly Bodycomb – Sambo Leg Locks For No-Gi Grappling Vol 1+2 DVD Rip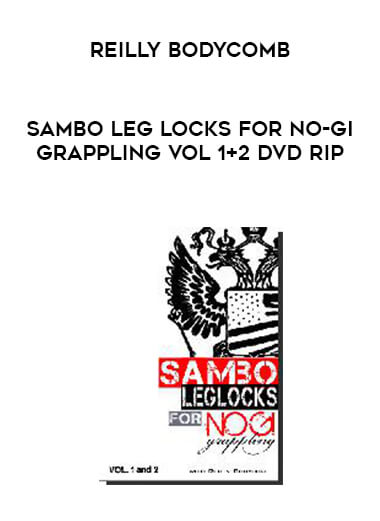 Salepage : Reilly Bodycomb – Sambo Leg Locks For No-Gi Grappling Vol 1+2 DVD Rip
Reilly.Bodycomb-Sambo.Leglocks.For.No-Gi.Grappling.Vol.1+2.DVDRip.XviD-UPiNSMOKE
Reilly.Bodycomb-Sambo.Leglocks.For.No-Gi.Grappling.Vol.1.DVDRip.XviD-UPiNSMOKE
This DVD is a recording of a seminar given by Reilly Bodycomb (grappling and leg lock coach for NY Combat Sambo) designed to help contemporary submission grapplers integrate Sambo leg attacks into their own game by breaking them down into a succinct, easy to understand system. This DVD covers aggressive entries into leg locks from multiple positions, tactics to keeping leg control for long periods of time, and proper finishes to the toe hold, heel hook and the most misunderstood leg submission, the Achilles ankle lock.
"Reilly Bodycomb is a leglock master. He shows very interesting variants and exhibits excellent body mechanics and dynamics. His groundwork is highly technical. His DVD would be perfect for sambo, submission wrestling and mixed martial arts sportsmen interested in developing their leglock ability. I highly recommend it."
Igor Kurinnoy
Merited Master of Sport
Three Time Sambo World Champion
Five Time Sambo World Cup Champion
Director of Borec Sports Club
Reilly.Bodycomb-Sambo.Leglocks.For.No-Gi.Grappling.Vol.2.DVDRip.XviD-UPiNSMOKE
This is a recording of a follow up seminar by Reilly Bodycomb with all new content, and deeper exploration of the leg control techniques discussed in the first DVD. This DVD is a great stand alone lesson package to learn how to work leg locks into your no-gi game and also brings a new perspective to the information you may have already seen in the first volume.
Thanks to rudebwoy for the DVD's
Enjoy!
All props to UPiNSMOKE!!!
DO NOT UPLOAD THIS TO PUBLIC TRACKERS!!!!
If you like what you get please say thanks, it means a lot