Reweaving Your Ancestral Story
Delivery : Digital Download Immediately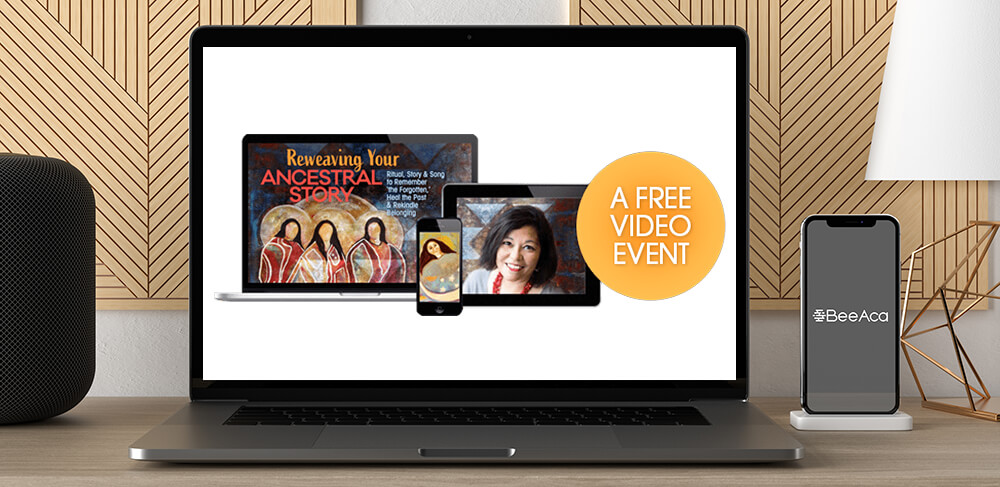 Gemma Benton – Reweaving Your Ancestral Story
Salepage : Gemma Benton – Reweaving Your Ancestral Story
Archive : Gemma Benton – Reweaving Your Ancestral Story
Course Download Size :
New 7-Week Live Video Training Starts
Wednesday, May 15, 2019
What You'll Discover in These 7 Weeks
Course sessions are on Wednesdays at 5:00pm Pacific.
In this 7-week transformational intensive, Gemma will guide you through the fundamental spiritual skills and competencies you'll need to connect in deep, experiential ways with your ancestors through ritual, story, song, and art to heal old wounds, cultivate belonging, and remember your truest self.
This course will feature LIVE teachings, interactive training sessions, and experiential practices with Gemma. Each session will build harmoniously upon the previous ones so you'll develop a complete holistic understanding of the practices, tools, and principles you'll need to source from the wisdom of your ancestors to become a powerful elder yourself and an integral part of your community.
Module 1: Navigating the Land of the Forgottens — Exploring the Stories & Rituals of Our Ancestors (May 15)
Ancient peoples believed that the land imprints itself on everything it touches… that you can tell where a person comes from and who has taught them by the very way they breathe. They believed that the land never forgets those who belong to it.
In this first module, you'll discover practices for navigating the Land of the Forgottens, the spiritual realm imbued with our ancestors' stories and collective experiences, a place with its own special language, rhythms, and customs.
You'll discover:
The importance of preserving Indigenous ways and language
How to use song, story, ritual, and art as enjoyable, experiential practices for connecting deeply with the healing wisdom of the ancestors
How the circle and spiral can be used as symbols for building community and a sense of belonging
How celebrating with traditional food and song, as Indigenous peoples did, helps us connect with the language of the land
Module 2: Shifting Feelings of 'Otherness': Explore Identity & Belonging With the Ancestors (May 22)
When we talk to those who have been through difficulties, oftentimes they speak of a feeling of melancholy about the "good times" that have passed — the times they once shared with loved ones. What's most precious to them, that they've fought to keep, are their memories of togetherness and belonging.
These memories can be tied to little things… such as the intricate and brightly colored stitchery their grandmother created when they were a child. This memory and its physical remnants may be cherished, yet when explored with new friends, these precious pieces may be viewed as illuminating "differences" — between themselves and others who don't share such a memory, and, perhaps, even between them and their own ancestors, who lived differently than they did.
In the Land of the Differently Forgottens, you'll explore the idea of otherness and revisit places where you feel disconnected from your ancestors. You'll also discover how to shift feelings of "otherness" into feelings of tender belonging, as a way of healing and embracing all that is "differently forgotten" in yourself and with your ancestors.
You'll:
Reconnect with your ancestors, who are excited to share their stories of belonging with you
Reimagine the places in your life where you have felt alone, awkward, or different
Remember your connection with the "good times," where living memories of wholeness and connection with the land of your ancestors still exist
Reclaim — through ritual and song — those places where you have felt separate, alone, abandoned, or betrayed
Module 3: Remembering Who You Are: Exploring Self-Expression & Significance  (May 29)
Breathing in, we are connected; breathing out, we know ourselves — not as separate and distinct, but as pieces of the whole, connected, and unique. We know ourselves as connected with the Tree of Life, with Life and Creation, with the Generations.
From this place of connection, we stand with our ancestors in an act of sovereignty to dissolve the notions of dis-ease, lack, and separation. We remember ourselves as holy and sacred, and connected with the cycles of creation and renewal.
In this module, you'll explore song as a bridge for connecting to and relating with your ancestors, the Earth, and all of Creation. You'll be invited to move beyond linear divisions of time and identity to rethink the concepts of WE and US, and move into deeper places of healing and self-empowerment.
You'll:
Reconnect with the power of your voice as a means of connecting and healing with your ancestors
Reimagine those places within your own story where you feel unheard, discounted, or were told it wasn't okay to be who you truly are
Remember the sound of your authentic voice and how its unique expression can connect you to your ancestors
Reclaim, through ritual and song, those places within where you have felt silenced or discounted
Module 4: Healing Wounds of Loss & Separation in The Land of Unbearable Forgottens (June 5)
Whether through death or separation, the loss of a loved one can be devastating, in part because we fear that it is final, and our dreams for our life with this person were cut short. We find ourselves wondering if we'll ever see them again, and if so, will everything be the same as when they lived.
As we start to move into relationship with our ancestors, we can come to better understand that death is as normal and natural as life. Just as we watched our children grow in the womb, and stumble through the cycles of life, we understand that death is a similar crawling back into the womb of the "Great Mystery," as she shapes and reshapes our spirits.
In this module, you'll gain support and guidance to walk into those unbearable places where you've lost people you deeply cared for, and start to heal feelings of grief and loss.
You'll:
Reconnect with the spirits of those you've loved and lost
Reimagine your stories of loss as places of powerful transformation and healing for you and your loved ones
Remember the "good times," and dive deeper into those places where you felt there was more to say or share
Reclaim, through ritual and song, your relationship with a loved one in the Spirit World, making them a trusted ally who provides support and guidance for your life
Module 5: Journeying Deeply Into the Souls of Your Ancestors: Exploring Vulnerability & Authenticity (June 12)
We start our journey as human beings as an unseen seed in a dark womb… first the womb of Creation and then the womb of a woman. Even in this formative state, we hold an invisible longing to express our memories from the Unseen world from which we came… in the Seen world we will be born into.
Yet, upon our birth, we start to forget these longings, and who we truly are. Our lives then become a process of remembering what we've always known, who we've always been.
Having already traveled with our ancestors to the first three of the Lands of the Forgottens, this week you'll have the opportunity to look deeply into your ancestors' souls, to see them as they truly are and have always been.
You'll:
Reconnect with the raw and vulnerable places inside your ancestors' stories to discover their true essence
Reimagine the vulnerability and power within your ancestors' stories as an invitation to witnessing the beauty of your own vulnerability and authenticity
Reclaim your authentic voice through art and song
Remember the places where you feel inadequate and transform them through healing ritual
Module 6: Dwelling With The Forgottens: Enjoying the 'Slow Living Movement' (June 19)
Enjoying a leisurely meal, stitching something by hand, and taking the time for long, deep conversation draw us around the table of our ancestors and offer us a beautiful way to connect with their stories.
In Indigenous communities, life moves between ceremonies, the in-between time filled with long conversations about what has happened and what may happen next. Hands are busy creating what will be used in the next ceremony, weaving one story in with the next.
In this module, you'll have the time to contemplate and integrate the conversations you've had with your ancestors and fellow participants… giving your mind a chance to catch up with your spirit and keeping your hands busy writing and creating art.
You'll:
Explore places of meaning and connection with others who have been traveling to Forgotten places
Learn the importance of having places to contemplate, integrate, and reimagine your journey toward growing wiser and more vibrant in your elder years
Learn different types of art meditation, which incorporate asemic writing (a wordless form of writing) and watercolor
Explore the symbols and patterns in your ancestors' stories and how you can use them in art
Module 7: Celebrating the Wisdom of Our Ancestors: A Changed World — Within & Around You (June 26)
Traveling through the Land of the Forgottens is a way of honoring the ancient tradition of a rite of passage or the Heroine's Journey," an inner and outer quest that transforms the journeyer, who returns home to a feast and to share the gifts or teachings of the journey.
You have traveled to distant places with your ancestors, and have returned with your views expanded, your life transformed, and, in some ways, healed. This last week together, you will realize that not only have you changed, but the world around you may feel different as well. Your expanded "reality" can better include all of life, including death, by honoring its cycles of hope and healing.
You'll:
Explore how you can continue to share the stories of your ancestors in increasingly meaningful ways
Deepen your understanding of the importance of rituals that honor life transitions and others in community
Explore new possibilities of creating rituals that are authentic to you, and honor your cultural heritage and who you are today
Express gratitude for your ancestors and the gifts they have shared with us
Celebrate your connection with your now-remembered ancestors
Author
Gemma B. Benton is a traditional Native American singer, spiritual activist, mixed media artist, storyteller, and the coordinator for the Healing Story Alliance. Through her transformational art workshops, Gemma shares stories and wisdom gathered during her 27 years of working in Native American and Indigenous communities. Gemma is the creator of the Ancestors Journey online creative course that uses storytelling, sacred song, art, and ritual to empower people to heal the wounds passed down through the generations by our ancestors.
Readmore: Gemma Benton