Richard Bandler – Building ft Maintaining Generalisations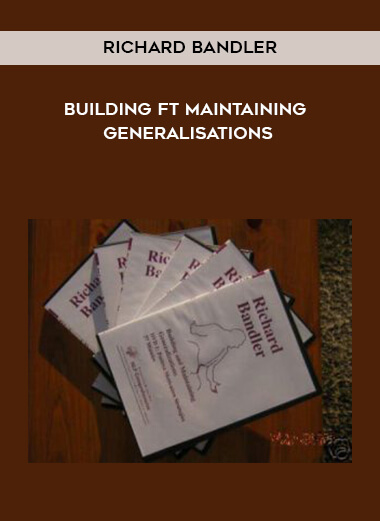 Salepage : Richard Bandler – Building ft Maintaining Generalisations

Bandler discusses how individuals get motivated, learn, get convinced, and generalize in this advanced submodalities course. The earliest recorded presentation of Bandler's time model is included in this series.
1. Positive Motivation Techniques 57 min.
Changing the criteria and beliefs. Using submodalities to boost motivation. Streamlining and redesigning the strategy's operating phase by rechunking and resequencing it.
2. Acquisition and Conviction Learning Strategies 66 min.
Install an internal-reference evaluation based on analogue sensory feedback (internal and external) as well as a recursive loop to ensure that conviction leads to motivation.
3. Understanding Elements 80 min.
The temporal dimension in generalizations, as opposed to personality or attitude change, and meta-programs that retain generalizations.
4. Developing New Perspectives 59 min.
Creating perceptual grids to determine generalization structure. Identifying and developing imprint reference experiences that serve as the foundation for developing or modifying generalizations.
5. Meta-Programs and Time 77 min.
More information on the influence of Time and meta-program differences on generalizations, as well as how to use this knowledge to choose a modification approach and forecast how far it will generalize.
6. Recalling, Planning, and Intervening 111 min.
Remembering is the foundation of planning, and both processes include generalizing. The knowledge and methods to install new beneficial generalizations are provided by how someone generalizes.
Richard Contains Explicit Language.