Richard Bandler – Unfearing Decisions & Soften More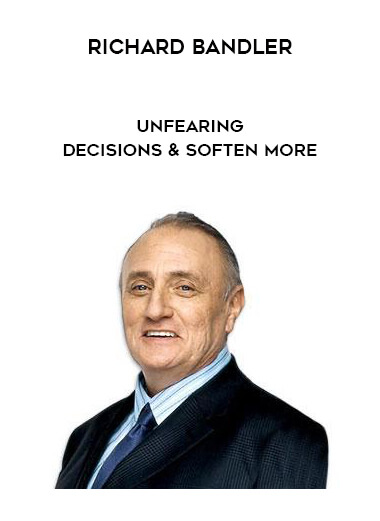 Salepage : Richard Bandler – Unfearing Decisions & Soften More

This is excerpted from a Neuro-Hypnotic Repatterning seminar with Richard Bandler and is outstanding. Many pople don't make decisions easily, and some are afraid to make those important decisions in their lives. Richard takes us through doing this.
With his Soften tape being very popular, this is the most up-to-date version now on CD.
It is excellent learning material for the astute learners who want to track some of the most exquisite language patterns and NLP(TM) like no else can do it, but Richard.
Many of these products may contain adult language.
About Author:
Richard Wayne Bandler PhD D. LITT (born February 24, 1950) is a hypnotist, musician and the source of Neuro Linguistic Programming (NLP), Neuro Hypnotic Repatterning (NHR) and Design Human Engineering (DHE). His CDs are hypnotic journeys designed to teach and entertain. Dr Richard Bandler also known as the co-inventor (with John Grinder) of Neuro-linguistic programming (NLP), a collection of concepts and techniques–collectively referred to by Bandler as technologies–intended to understand and change human behavior patterns.
He also developed follow-up systems known as Design Human Engineering (DHE) and Neuro Hypnotic Repatterning (NHR).
Note that there is another Richard Bandler who is an editor of the conference proceedings of several technical conferences on neuro-physiology.
Co-founding of NLP
Richard Bandler was invited by the psychiatrist Robert Spitzer, to attend, record and transcribe a teaching seminar of family therapist Virginia Satir. He was later hired to assist Spitzer edit one of gestalt therapist Fritz Perls' (who had recently died) books, The Gestalt Approach (1973) and to assist with checking transcripts for Eye Witness to Therapy (1973). According to Spitzer, " came out of it talking and acting like Fritz Perls." A student of mathematics, Richard began studying the work of Gestalt therapy. John Grinder, who came to observe, said to Bandler that he could explain almost all of the questions and comments Bandler made using transformational grammar, the topic in linguistics that Grinder specialized in. In 1974 Bandler and Grinder began to make a model of the language patterns used by Perls, Satir and Hypnotherapist Milton H. Erickson, which they published in their books The Structure of Magic Volumes I & II (1975, 1976), Patterns of the Hypnotic Techniques of Milton H. Erickson, Volumes I & II (1975, 1977) and Changing With Families (1976). These books formed the foundation of the field of Neuro-Linguistic Programming.
They developed a model for therapy and called it the meta-model. It became their first book, The Structure of Magic, Volume I (1975). Bandler was Gregory Bateson's landlord, who taught at UCSC, Kresge College as did Grinder, and had moved to a community on Alba Road near the Santa Cruz mountains community of Ben Lomond. Bateson would have a profound influence on Bandler's future, he introduced Bandler and Grinder to Milton Erickson, which formed some of the foundational models for Neuro-linguistic programming.[3] In 1975 Bandler then formed his own publishing company, Meta Publications, and published Patterns of the Hypnotic Techniques of Milton H. Erickson Volume I (1975).