RIPT90 14-DVD Workout Program Complete set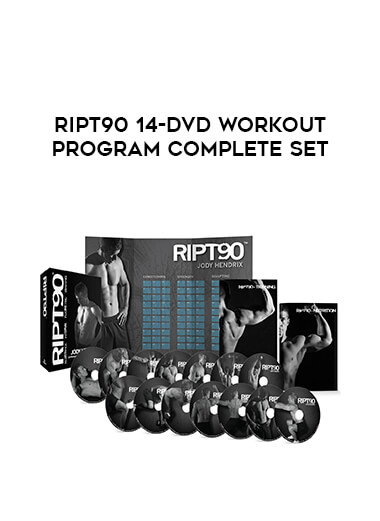 Salepage : RIPT90 14-DVD Workout Program Complete set
RIPT90: 90 Day 14-DVD Workout Program with 14 Exercise Videos + Training Calendar & Fitness Guide and Nutrition Plan.
RIPT90 is a complete workout system of 14 intense workouts on 14 DVDs, all specifically designed to deliver amazing results in 90 days.  
RIPT90 includes a nutrition guide with healthy, clean recipes that are easy to make, a training guide that details what's in store for you over the next 90 days and a training calendar to help you stay motivated while you track your workouts over the 90 day program.
You don't need an expense Crossfit membership; RIPT90 is the solution for you!  RIPT90 will challenge you to complete tough, no nonsense workouts, in about 30 minutes a day.  Each of the 14 workouts will help you gain strength, shed fat, build muscle and scorch serious calories.  RIPT90 stands for Resistance Interval Plyometric Training and is a 90 day program that won't just get you ripped; it will get you stronger, leaner, and sweating while delivering results that keep you motivated and get you RIPT!
14 Workouts on 14 DVDs
Each of the 14 intense workouts focus on specific body parts that have been designed to transform your body.
RIPT ABS (14 Min) Really engage the abdominal muscles with the highly effective exercises in this workout that builds ab strength and creates the much desired six-pack.
Arm Annihilator (35 Min) Curl, press, and push your way to the well defined arms you want in this resistance training workout that builds strength and definition in the biceps and triceps.
Back Breaker (42 Min) Build strength and develop definition and shape in the entire back.  You will push and pull your way through this workout that challenges one of the largest muscle groups in the body and will increase your metabolism in the process.
Chest Shredder (39 Min) The series of lifts in this workout really build mass in the upper body and delivers the strong and defined muscular chest you desire.
Deadlift Killer (39 Min) Really get the blood pumping and ignite the metabolism in this challenging workout. The exercises focus on strengthening the glutes and hamstrings while developing definition and power in the muscles.
Death by Thruster (25 Min) Multiple muscle groups are recruited and challenged in this workout to maximize calorie burn, condition the entire body and gaining muscle strength from head to toe.
Dirty Dozen (23 Min) Get ready for this high intensity workout of 12 exercises that leave no body part untouched. This is a head to toe workout that will dramatically improve your athletic endurance and stamina while scorching calories and building muscle definition.
Leg Overhaul (25 Min) Every muscle in the lower body gets an overhaul in this workout.  Strengthening and developing one of the largest muscle groups in the body while you challenge your hamstrings, glutes and all four muscles in the quads.
Metabolic Mania (25 Min) This is a fat shredding workout that recruits every muscle in the body with cardiovascular movements along with strength segments that sets the metabolism into overdrive.
Minute by Minute (39 Min) We have some explosive plyometric moves that get the heart rate elevated along with some strength moves to for a complete head to toe conditioning workout.  This is a complete circuit of exercises done in 60 seconds for a total of 20 sets in order to get your stronger and fitter.
Shoulder Pressure (21 Min) What good is a gun show without the finishing touch of sculpted shoulders? We will increase strength, power and definition in the deltoids to really round out the arms.
Stretch (17 Min) Prevent injuries in this low impact routine that adds flexibility throughout the entire body.  Enjoy the muscle recovery and reward your body from head to toe.
Total Body Tamer (32 Min) We target the entire body in this HIIT-like workout that uses cardiovascular and strength building exercises that burns calories to shed fat.
Ups & Downs (18 Min) Hit every square inch of your body with various weight moves to strengthen your body while we incorporate cardio moves to burn fat.