Robert Anthony – The Secret of Deliberate Creation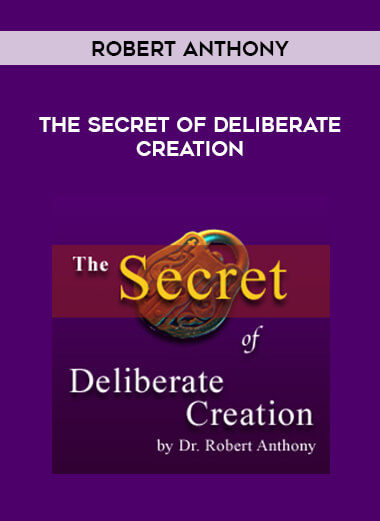 Salepage : Robert Anthony – The Secret of Deliberate Creation

The Secret of Deliberate Creation by Dr. Robert Anthony is one of the most popular programs available for creating and designing your reality by living the law of attraction effortlessly and smoothly.
I am sure if you are reading this post, then you are aware that you are creating your reality moment by moment and day by day. The problem for most people is that they are not always creating their reality deliberately.
Your thoughts are the first step to creating your reality, so you want to be conscious of what kinds of ideas you are allowing yourself to have. This is one of the critical components of living the law of attraction every day.
Would you like to learn the law of attraction to attract money, jobs, and relationships into your life and to design an experience that works for you? Would you like to have more control over how your life flows?
Would you like to be able to do what you want to do when you want to do it? Then let me introduce you to Dr. Robert Anthony and the Secret of Deliberate Creation.
Dr. Robert Anthony
Dr. Robert Anthony best-selling author, Master Hypnotist, International Trainer, and Personal Performance Consultant.
Over the past 25 years, He has trained and worked with thousands of people, helping them to overcome obstacles that have held them back and create the lives they've always dreamed of.
I believe he can help you too. Dr. Robert Anthony was the inspiration for the hit movie: The Secret. I am sure that you watched this movie and you don't remember seeing him in it. There's a good reason for that. Dr. Anthony knew that the film was missing critical components for manifesting your reality using the Law of Attraction, and that is why he declined to be in it.
Much other Law of Attraction aficionados appeared in the Secret and gained a mass following because of it…