Robert Middleton – Action Plan Marketing Club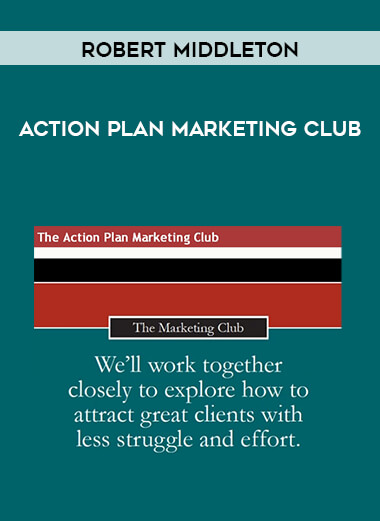 Salepage : Robert Middleton – Action Plan Marketing Club

For Self-Employed Professionals: Isn't it time you mastered the art of attracting more clients without so much struggle and effort?
Like many self-employed professionals, you know what marketing you need to do (i.e., networking, speaking, eZines and blogging). It's just that you're not getting around to it – either because you don't know the exact marketing how-tos and/or you just don't have the time.
Hi, I'm Robert Middleton, the owner of Action Plan Marketing. Since 1984 I've been helping Independent Professionals such as consultants, coaches, trainers, designers and financial professionals master the fundamentals of successfully marketing their services so they attracted more of their ideal clients, multiplying their incomes while they increased their confidence.
All of these people had very much the same issues as you do:
You know what you need to do but not how to do it. You know you should do speaking, for instance, but you don't know exactly how to turn speaking into a client-attracting system. This is very common. Very few know this information and fewer know how to implement it.

You don't want marketing systems full of hype and over-the-top promises. You want your marketing to not only work to attract clients, you want it to be professional, respectful and to reflect your personal integrity and commitment to making a difference.

You don't want marketing systems that take forever to implement. You want simple, straightforward strategies and plans that you can follow and that will naturally develop relationships with good prospective clients. Then you want these systems to move them, without pressure or manipulation, into doing business with you.
So what's the secret to this?
It's not so much a secret than it is a professional system that you need to master. It includes "7 Core Marketing Principles and Practices." And it's not that you haven't heard of them before, it's that you don't yet know exactly how to implement them successfully.
It took me over 20 years of study, trial and error to develop this system exclusively for Independent Professionals (I call them InfoGurus). And it truly had to be a system, not a collection of random strategies.
These Seven Principles and Practices of this Marketing System are:
The professional process or "game" of marketing. This is the process of making initial connections with prospects and then guiding them gently toward working with you.

The individual mindset or approach to marketing. Medicine and law have certain mindsets. And so does marketing professional services. The first task is to get rid of old mindsets that prevent you from marketing successfully.

The language, or syntax of marketing. Marketing is, above all, about communication. Everyone knows how to communicate, but few understand how to communicate in a way that generates real attention and interest. This is something you can learn.

The skill of holding marketing conversations. Once you've generated attention and interest, the job of marketing is to have conversations that keep the prospect engaged in the possibility of hiring you and paying you for your services.

The ability to implement various marketing strategies. Marketing isn't about one "killer strategy." It's more about knowing how to design and implement the best strategies for your business. All strategies follow a very definite path that leads to more clients.

The practice and discipline of marketing action planning. Planning is not difficult, but few apply it to their marketing. It's a matter of knowing what do do, how to do it, and when to do it. Master this and your business will grow automatically.
When you receive the proper training and direction in each of these practices, you start to attract more clients naturally. It's not a big struggle because you actually know what you're doing. You know how to implement these practices to attract clients consistently.
Where do you learn all of this?
Well, most resort to books, courses, seminars, and workshops. But none of these are very successful. Because they only teach isolated parts of this system in a very random way – one strategy here, another strategy there. That would be like a series of seminars for doctors to learn brain surgery one day, heart bypass operations the next day – without ever taking a course in basic anatomy!
No wonder marketing is confusing!
It's confusing for most self-employed professionals because they don't understand the foundational practices that make marketing work. They have no sound reference points for moving a prospect from being a stranger one day and into a trusting client the next.
But once you've mastered marketing you can expect:
Marketing will no longer be an effort and a struggle

You'll get consistent results from all your marketing activities

You'll notice opportunities to attract clients that were invisible to you before.

Marketing and selling won't be dirty words anymore. They will be highly valued and profitable skills.

Anxiety, fear of rejection, doubts about your effectiveness and marketing avoidance will be a thing of the past.

Good prospective clients won't "slip through your grasp." You'll turn more of them into paying clients.

You will generate more word-of-mouth business and your professional reputation will grow.

Your income will increase and you'll finally be paid what you're worth.

Your professional future will be more secure and stable.
My Process for Teaching this System
After working with independent professionals for over 25 years, coaching clients individually, teaching workshops, courses and even writing manuals, I knew there had to be a better way. I realized that people needed a complete and systematic marketing program that went step-by-step through these principles.
And I wanted to offer a program that would be accessible to everyone. What I came up with is…
The Action Plan Marketing Club
I created a do-it-yourself marketing membership program that teaches all my proven marketing principles. I called it the "Marketing Club." And as a member of the Club you get to learn and implement all these 7 principles and practices with other Club members.
Briefly, there are 3 main parts to the Club:
The Seven Marketing Principles and Practices. These are offered as both audio and written tutorials with powerful, yet simple exercise. You listen and read, do the exercise and move on to the next principle. It's all laid out in a very organized way with step-by step instructions and checklists.

Expert Marketing Interviews. I've interviewed over 40 marketing experts over the past couple years on very specific how-to marketing strategies. Again, you can listen to or read the interviews. These are meant to be studied only when you get through the first part of the program – and only the few that will fit your particular business.

Marketing Coaching Calls. Twice a month I do a Coaching Call with the Club members to help them with the finer points of the system. I go over certain concepts in more depth and actually do some hands-on coaching right on the call. For those who can't make the live calls, they are all recorded and posted on the site.
In addition, we provide a few other valuable resources in the Club. This includes a Profile section where you can post information about your business for the purpose of networking, a Marketing Discussion Forum and even the opportunity to set up Marketing Mastermind Groups.
Is the Club for you?
The Marketing Club may be for you if you're a motivated do-it-yourselfer. You know that if you have reliable how-to information and step-by-step directions for implementation, you'll do all right. But you also appreciate some assistance when you need it. It's not for those who want "magic formulas" but appreciate very clear guidance and instructions.
Club members who jump right in, study the 7 Principles, attend the Coaching Calls and listen to some of the Expert Interviews, implementing what they've learned, get great results. So I want to invite you to check out the Club for a free month.
I want to give you a no-risk chance to check out the Club.
And as a thank you, I'd like to give you a copy of my report:
"5 Silver Bullets to Get Almost Immediate Marketing Results."
Are there any real silver bullet strategies that get tangible, measurable marketing results almost immediately?"
Yes, and I've put them all in this report.
This report gives the detailed hands-on information on how to implement these 5 silver bullets, (all of which cost absolutely nothing, by the way).
A proven way to get immediate attention for your business whenever someone asks you what you do. Virtually nobody does it. It costs nothing and it works almost every single time you use it.

The most powerful and quickest way to increase your email list. I re-worked this strategy recently to multiply my ezine opt-in rate by 300%. Again, zero cost.

The easiest and most fun way to get dozens, if not hundreds of qualified prospects to give you their cards, asking for more information about your services. I've taught this to many people and it's virtually foolproof. Another cost-free strategy.

A strategy almost all InfoGurus can use immediately to get qualified prospects to contact you to set up appointments to talk to you about your business. Anyone can do it and the results will almost always surprise you, but again, it won't cost you a dime.

A seemingly obvious way to get buy-in for your services before a prospect meets with you that more than doubles the chances they will end up working with you. No tricky closes or manipulative sales techniques required. Cost? $0.00.
These Marketing Silver Bullets are the most powerful stand-alone strategies for getting real marketing results I know of. By using them, prospects will want to know more, will want to meet with you and will want to work with you. And their only cost is the investment of a little of your time.
This is the first time I've put all this powerful information into one step-by-step report. This report is a distillation of over 25 years of working with Independent Professionals helping them attract more clients.
And this report comes free when you check out the Marketing Club – also free for the first month.
Get a complimentary one-month membership
I'd like to give you a complimentary one-month pass to the Club. Once you're in, you'll get the free Silver Bullet Report plus free unrestricted access to everything else in the Marketing Club for one month with teleclasses, reports, marketing courses, expert interviews and more.
The access to all the valuable material in the Club costs you nothing for a full month. Feel free to go into the Club as often as you want and use what you need.
Over 1500 self-employed professionals have taken advantage of this offer. You can too.
Four days before your one free month expires you'll get an email from me asking if you'd like to continue as a member of the Club. If so, great. You'll then be charged the small monthly fee of $29 for the next month. If not, no problem, your trial membership will end and you won't pay a cent.
Many people stay in the Club for several months, some leave after their one free month. I'm willing to take that risk, but there's no risk to you because you will not be charged if you don't want to continue (and even if you miss the deadline and get charged, I'll happily refund you if you don't want to continue).
Fair enough?
Do this to get Your Free Silver Bullet Report and Free Trial Club Membership:
Click on the link below and you'll be taken to a page to get your free trial membership to the Club. Fill out the form and click Continue. Then you'll be directed to a check-out page where you'll put in your contact information, including your credit card number.
Your Credit card will not be charged, as the amount is $0.00 (by the way, you can also use PayPal)
We need the credit card because this triggers the free Club membership. Otherwise this would have to be done manually. This is the easiest, fastest way to give you your free Club membership as well as the teleclass.
You'll be immediately directed to the Club website and also get an email with a link that will take you to the Club site where you you'll see the link for your Silver Bullet Report.
Remember, if the Silver Bullet Report is all that you want, no problem. The one month free trial is without risk or obligation.
OK, that's it. Here's the link to get your free Silver Bullet Report and your free month in the Marketing Club: just click on this link and you're good to go!
All the best,
Robert Middleton
Action Plan Marketing
P.S. If you're already a member of the Club, you can attend this TeleClass for free. Just go to the home page of the Club and click on the link for the "Silver Bullet TeleClass Series" to make your reservation.
P.P.S. Remember, once you're a member in the Club, there is no additional fee for any Club services.
The report comes with a very valuable bonus – one month free to the Action Plan Marketing Club. You'll get free unrestricted access to the Marketing Club for one month with more reports, marketing courses, expert interviews and more.
This is a bit like me giving you a free cake and then also giving you free access to my bakery for a whole month (but without the calories)!
After one month you'll get an email from me asking if you'd like to continue as a member of the Club. If so, great. If not, no problem, you won't pay a cent.
Here's what you need to get the Silver Bullet Report:
Click on the link below and you'll be taken to a page to get your free trial membership to the Club. Fill out the form and click Continue. Then you'll be directed to a check-out page where you'll put in your contact information, including your credit card.
Your Credit card will not be charged, as the amount is $0.
You'll get an email with a link to the free report as soon as you complete this process.
OK, that's it. Here's the link to get your free Silver Bullet Report and your free month in the Marketing Club: just click on this link and you're good to go!
All the best,
Robert Middleton
Action Plan Marketing
P.S. I know that you may love the Club material so much you'll want to join the Club for a longer period. But you are not obligated to do so. So this is my way of giving you something very valuable and having you check out the Club as well. My highest intention is that this material gives a big boost to your business.
The only real way to get an experience of the Club, is to try it out. So what I've done is arranged for you to take a free month's test drive of the Club. You can go in and take advantage of the tutorials on the 7 Principles, listen to a few Expert Interviews and even attend a Coaching Call or two.
If you're ready to take a free one-month test drive of the Club and get our free Report: 5 Silver Bullets to Get Almost Immediate Marketing Results, just click here for complete details.