Robson Robinho Breaking Guard DVD Rip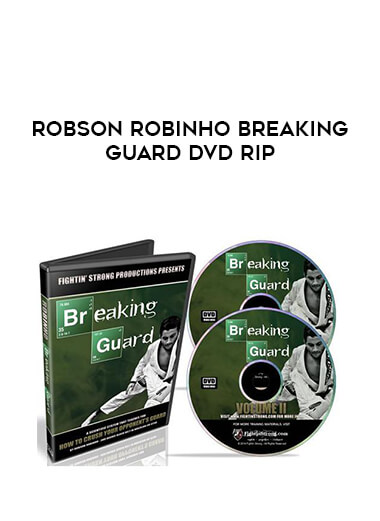 Salepage : Robson Robinho Breaking Guard DVD Rip

The Breaking Guard Program is a scientific system of guard passing and submissions by Professor Robson Robinho, BJJ black belt and competitive grappler.
Anybody who has been involved in BJJ for any length of time at all knows how darn frustrating it can be to get around someone who is a "guard player" (usually those small punks who are really flexible)!
Nothing you try seems to work. As soon as you think you get past his damn legs, he does something to put you right back in the guard again!
What you need is a proven method for wiping that grin off of his face now by passing his guard and tapping him out – fast!
Learn Proven Methods of Guard Passing, From a Competitive Expert Grappler Who Specializes In An Aggressive "PASS AND SUBMIT" Style!
Every BJJ player has a special field of expertise.
3rd Degree Brazilian Jiu Jitsu Black Belt Robson Robinho is an expert in "guard passing" and has a scientific approach on how to pass your opponent's guard and tap him out.
In this video. Robson will teach you this system and how you can put it to use immediately.
CLOSED GUARD? OPEN GUARD? SIT UP GUARD? HALF GUARD? IT DON'T MATTER…
This Set Will Teach You How To Shut Them All Down
 How To Deal With His Legs and Control Them
 How To "Crawl In" When He Attempts To Stop Your Pass
 How To Trash The Open Guard
 How To Pass And Tap Him Fast With A Surprise Move ("The "Joker")
 Have Confidence In What You Are Doing
Prof. Robinho will teach you "battle tested" methods for passing and submitting.
 Learn How To Shut Down That Annoying "Sitting Up" Guard
 How To Use Underhooks To Stop His Half Guard Counters
 Learn Variations Of The "Sleeve Him Up" Move
 Gain New Concepts On Footlocks
The Breaking Guard system will show teach you how to attack with confidence and precision!
GET ALL OF THIS AND A LOT MORE! THIS SET IS OVER 2 HOURS LONG AND IS CHOCK FULL OF NO BS HELPFUL TIPS AND HIGH LEVEL INSTRUCTION…
Robson Robinho is a black belt under Jorge Patino Macaco and specializes in attacking the guard.