Roy Furr – High-Velocity Copywriting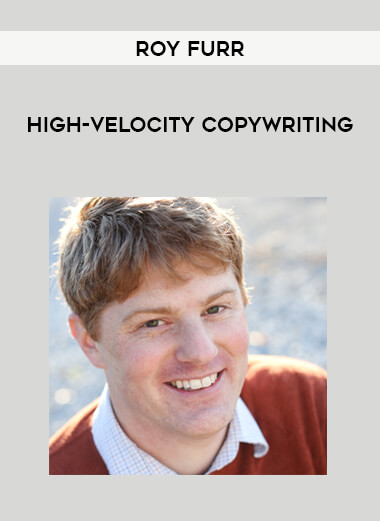 Salepage : Roy Furr – High-Velocity Copywriting

This "secret" structure of A-list sales copy
helps you crank out powerful,
profitable copy, fast…
Right before I launched my career as a freelance copywriter, I was handed what would become my secret weapon.  It was a 20-point copywriting outline, from none other than the great Clayton Makepeace.
I knew it was important at the time.  But I didn't know how important.
In fact, this one piece of paper would help me launch my direct response copywriting business, fast…  Score me my first million-dollar marketing campaigns for clients…  Earn me the coveted $10,000 check on stage at AWAI's copywriting Bootcamp, just 12 months later…  Allow me to instantly compete with the best copywriters, in the most competitive (and lucrative!) markets…
And lay the groundwork for my entire career in direct response…  Now including growing my own direct response publishing business!
Here's the thing: once you know how to create highly-effective sales messages for any media, you can write your own ticket!
I knew GOOD long copy made millions — I just didn't know how to write GOOD long copy, until I figured this out… 
If you don't think long copy outsells short copy, you haven't worked with any truly good long-copy copywriters.
Because anyone who has actually run a bunch of tests on this topic will tell you this truism is as true today as it ever has been: "The more you tell, the more you sell."
IF your long copy is boring, confusing, or unclear…  Or if it flat-out sucks, like mine did before that Makepeace outline…
Of course people won't respond!
But if you're speaking to buyers and qualified prospects about things that are interesting and personally-relevant?  They'll stick around through thousands of words of sales copy!
Some of my most profitable ads have been more than 10,000-words long!
When you have a tough sale to make, you NEED that much copy.  BUT it's not just about length.  It's about how you use all that copy to structure an effective sales argument that carries your prospect from the conversation already going on in their head to taking action on your offer.
When you hear about copy that makes millions or even tens of millions of dollars or more…  And you look at it and you think, "That's a long sales letter, how could I write all that in a way people would actually read?!"
The secret is, most often, that the A-list copywriter behind it knows the deep structure of selling messages that work — in any media.
In fact, when you know the structure of effective copy, it becomes easy!
Long copy or short copy.  In any media.  For any market.  Once you understand what's taking place under the surface, you can craft effective selling messages with ease.
It doesn't matter if you're writing for the internet, or offline.  It doesn't matter if you're putting it in video form, audio, or print.  Heck, you can use the exact same principles to structure speeches and webinars to sell — I do!
You simply follow the deep structure…  Fit your message and offer to that…  And you're off to the races.
Once I understood this, it became my secret weapon…
One of my biggest secrets to success in direct marketing has been being able to turn an idea into a full marketing campaign quickly, and get it into the market to test it.
When you can do more projects, more campaigns, more tests, and more copy…
You're almost guaranteed to outsell and outpace your competitors.
"Money loves speed," after all.
And the faster you can write copy, the more income you stand to make — if for no other reason than the sheer volume of work you're putting into the marketplace.
Then, when you add in royalties from doing more campaigns…
Then, when you add in increased performance from testing more ideas and getting a better understanding of what works…
You'll quickly see how writing copy faster — as long as you follow the proven structure of effective sales messages used by only the world's best direct response pros — will get you bigger success, faster.
Let me give you the benefit of my experience!
The Makepeace outline, which I've later shared (with Clayton's blessing), formed a great starting point.  But it required a ton of interpretation.  It required a pile of additional layers of understanding piled on top.
Plus, it works in many cases, but there are other outlines and copy structures that have worked just as well for me, and other copywriters and marketers like me.  Not only that, there are critical elements like nailing down your big idea that aren't covered in the 20 points.
And so ever since that day in 2009 where I first got my grubby little paws on Clayton's outline, I've consistently looked for similar shortcuts I could use.  And, for ways to fill in the details that went above and beyond what was captured on that one piece of paper.
I took notes.  I learned from others.  I looked for where other pros overlapped with Clayton's outline, and where their advice was unique.
And, I relentlessly tested every concept, principle, strategy, technique, and tactic I could find, in my own work creating highly-effective copy for clients.
In doing so, I discovered ways to both write better copy, AND to write faster!
The result is High-Velocity Copywriting!
This is the first and only program of its kind, breaking down what I've identified as the ONLY three categories of big ideas that generate massive sales in the most competitive markets.
And then, based on which idea you start with, how to structure the subsequent sales logic to support that big idea, and transition toward making the sale.
And then finally, how to present your offer in the most compelling, convincing way, to get prospects to take you up on it.
This is how you grab your ideal prospect's attention, build their interest and desire, and get them to take urgent action and give you money.
And importantly — this training installs the depth of thinking behind how to structure these messages in a way that lets you write more powerful, profitable copy, faster.
Plus, I threw in an entire extra lesson covering productivity secrets to help you generate more breakthrough copy and selling messages, in less time.
Whether you write copy for yourself or for clients, whether you actually sit down and bang out all the words, or create the structure for copy cubs or for presentations…  This training will be a godsend.
And it's all included in the High-Velocity Copywriting training.  And it's all available to you for instant streaming access.
UPDATE: I've just added the companion High-Velocity Copywriting Templates to this training — as a free and complementary bonus training.  It was originally valued at $97, but it's yours free.  See below for a description of the templates training plus its own special bonus.
Let me walk you through
exact templates for writing
high-powered big idea copy…
After I created the High-Velocity Copywriting program, I realized I did you a disservice.  While I walked through the only three big idea types that consistently create big winners…  And I walked through the structure of highly-effective sales copy…
I didn't connect the dots.
What was missing?  Specific, explicit outlines for the three big idea types.  Starting at the very beginning, with the prospect's mental state and stage of awareness…  And walking through what the copy needs to do to carry the prospect from wherever they're entering the conversation…  All the way to the sale.
High-Velocity Copywriting Templates is your step-by-step blueprint…
This program is not long.  At a hair over two hours, it does only what it needs to do, and nothing more.
It takes the foundational principles, strategies, techniques, and tactics of High-Velocity Copywriting, and shows you specifically how to turn that into a finished piece of sales copy.  Based on proven-effective sales narratives and copy outlines.
If you're writing a piece of copy to help your prospects solve an urgent problem…  To introduce them to a 10X opportunity…  Or to make an imminent prediction with specific recommendations on how to respond to it…
You'll have the specific templates you need to write that copy in the best, most compelling, most profitable way possible.
Plus, you get the specific walkthrough so you know exactly how to use that template and turn it into a finished piece of copy…  Including the intricacies and exceptions to consider with each big idea type.
Important: Go through High-Velocity Copywriting first!
This training is meant to supplement High-Velocity Copywriting: Speed secrets and shortcuts to write better copy, faster. 
You could certainly go through just the templates training and get a ton of value.  And yet, you'll have a deeper understanding and be able to create much better results if you've taken these two trainings in order.
BONUS: The Copy Outline that Made My Copywriting Career…
In addition to all of my own High-Velocity Copywriting templates, I did a bonus live webinar.  I walked through the "Pretty Darned Good Copy Outline" I got from Clayton Makepeace…  Which I credit for launching my freelance direct response copywriting career.
This is the outline I used when writing my first million-dollar controls.  (And I know of at least one other top copywriter who got his start with this exact outline, too.)
In the webinar, I walked through the outline and shared my insights and perspectives from more than eight years of applying it on all levels: principle-based, strategic, technique-driven, and tactical…
The webinar recording plus my notes on the Makepeace outline are now available as a BONUS to the High-Velocity Copywriting program, accessible in the course contents below…