Saurabh Bhatnagar – Time line Domination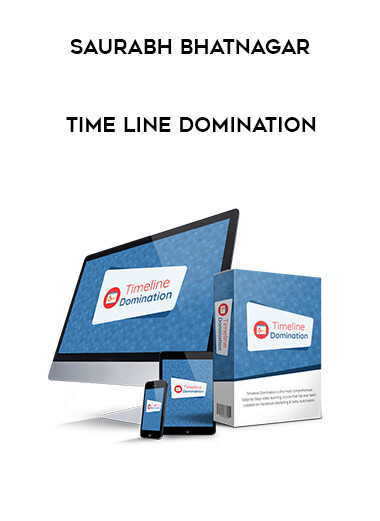 Salepage : Saurabh Bhatnagar – Time line Domination
What You Will Discover
Contents
Running Profitable Facebook AdsTM
Make Money With FacebookTM Marketing
Anytime, you may sell your product or service very instantly.
Modules for Advanced Targeting
Modules for Advanced Lead Generation
Create Outstanding Brand Awareness
Bring in more customers and clients on a regular basis.
Self-Managed FacebookTM Ads That Produce Real-Time Profits
No more guesswork or wasting money on trying and testing.
Modules for FacebookTM Ads
MODULE 1: INTRODUCTION AND WELCOME
We'll take it slowly at first. We'll begin with a nice little introduction to help us become friends, followed by a strong motivation to keep you energized for the journey.
MODULE 2: MARKETING CONCEPTS
My job is to help you become a better marketer. This will be ensured by this module, in which you will learn about marketing concepts. This will help you in your online journey for the rest of your life.
MODULE 3: Product and Unbeatable Offer
There is a distinction to be made between a product and an irresistible offer.
Let me use this module to help you turn your product into an irresistible offer.
A good product can be ignored, but an irresistible offer can never be refused.
I will assist you in putting that in place so that your customers have no choice but to work with you.
MODULE 4: Creating Funnels
To become extremely profitable in online business, you must have continuous sales funnels running. Let me help you build your business funnels by passing on the same knowledge that has made me famous for my funnel conversions.
This is precisely where 99% of Facebook marketers go wrong and begin complaining about ads not being profitable, high costs, or whatever.
In fact, this module is so important that simply implementing it will make you "profitable" even if you have a "weak ad."
Yes, I will show you exactly how to do this.
MODULE 5: Landing Page Design and Strategy
Landing pages are classified into two types:
1.) Those that are only available on the internet
2.) Those that produce RESULTS
I will always prefer the second category. And my secret landing page methods and growth hacks will always help you fall into the same category (unless you don't want to – wink wink).
MODULE 6: Getting Started with Facebook Marketing
It's time to start the real game.
This module will teach you the fundamentals of Facebook marketing. I want to make sure that the "Timeline Domination" program caters to people of all knowledge levels, from beginners to experts.
So, if you're just getting started, this is the place to be. Don't worry, we've got your back.
MODULE 7: Facebook Ad Types
This module will introduce you to the various types of FacebookTM ads.
I will show you each and every type of FacebookTM ad in detail and will share with you detailed insights on when to use which type of ad.
This knowledge will be extremely beneficial to your successful FacebookTM ad journey.
Ad Set MODULE 8
This is where advertisements are either broken or made profitable. You will receive my detailed insight into each and every option available within the Ad Set level.
I've personally gone through this dashboard tens of thousands of times, and just by doing this correctly, you'll have done your significant part in creating a profitable ad.
This module will completely transform your life.
MODULE 9: ADVERT TRACKING
This will be a lengthy module that will assist you in targeting your most profitable customers with greater precision.
Consider yourself fully aware of your precise targeting options and additional laser targeting options that simply ensure that you are reaching out to the right audience.
By doing this correctly, you have already won half the battle.
MODULE 10: Creating Ads
The goal of creating an "ad creative" is to get someone to stop scrolling down their feed and pay attention to your ad.
This is your FIRST IMPACT.
We've made a lot of ads, and in the process, we've discovered some patterns that help our ads stand out from the crowd.
I'll show you our exact ads as well as the methods we used to create them.
MODULE 11: FACEBOOKTM PIGMENT
This is the precise point at which FacebookTM marketing begins.
As a result, we have dedicated this entire module to it in order to assist you in moving forward in the right direction.
Despite being the shortest module, it is the most important.
Conversions MODULE 12
This module will show you how to instruct FacebookTM to bring us sales.
FacebookTM is a massive algorithm that provides an incredible selling opportunity at all times.
Whatever niche or product type you have, you will learn how to maximize sales and conversions through FacebookTM.
MODULE 13: Facebook Ads
Your profitable audience will be set up and updated in real time.
This is like having your cash goldmines ready to go whenever you want. I'll show you my top-secret methods for creating FacebookTM audiences.
My methods of building an audience are unlike any other marketer I've ever seen, and it's no surprise that my ads are so successful.
Allow me to assist you in establishing your profitable audiences right away.
WEBSITE CONVERSION ADVERTISING MODULE 14
This is the ad type I use 99% of the time, and you should too. It's like getting the most out of FacebookTM and generating the most conversions (leads or sales) from FacebookTM.
There is a specific way to do this, which you will see in this module.
Again, a critical module for your success with FacebookTM ads.
RETARGETING (MODULE 15)
RETARGETING is the answer to regaining all lost sales.
Retargeting entails showing ads to people who were interested in your product but were unable to purchase it for various reasons.
Retargeting ads can recover 90% of lost sales with an EXTRAORDINARY INSANE level of ROI.
So, instead of just one or two retargeting methods, we've developed multiple levels of retargeting ads over here.
We will share all of our retargeting methods as well as our best retargeting ads with you, taking the guesswork out of the equation.
MODULE 16: REPORTING ON FACEBOOK
Guesswork is for amateurs. Data nerds are geniuses. And that is where the majority of the money is made.
I'll show you how I do FacebookTM reporting and my custom FacebookTM filters to get the most out of the standard FacebookTM reports.
When you know exactly what works for you and what doesn't. You reach a point where 2X-3X ROI is your new normal.
Don't worry, I'll assist you with this in this module.
MODULE 17: scalability
What if I told you that once you've gone through all of the above modules, finding your winning 2X-3X ROI ad and winning campaign will be the easiest thing you've ever done?
When you scale your ad up, bottom, left, right, and center, you make the most money.
Let me tell you that scaling is where 90% of the best FacebookTM marketers get stuck, and I was there once.
But now that we've gotten over the hump, trust me when I say that scaling our ads and revenue is something we do all day.
When the majority of marketers scale (increase their budget), they begin to lose money on their marketing. As a result, you begin to lose money.
I'll show you scaling techniques that will allow you to scale at constant or higher ROIs.
MODULE 18: Adv. Module
There are several advanced FacebookTM features that we have not yet covered, and they will be covered in this module.
Split testing, automated split testing, competition checking, DPA ads, and a few other advanced FBTM ads features are covered within this module.
It is time for you to master FacebookTM ads and stop being a mediocre marketer.
Case Studies MODULE 19
How about I give you my specific case studies (the most profitable ones)?
What if I show you the exact steps of everything I did while executing a specific campaign and share with you the exact psychology of why I did what I did?
It's referred to as spoonfeeding. I'll call it mentoring and providing the best possible assistance to my students.
MODULE 20: Advanced Techniques
There is a distinction between going to war with the best weapons and going to war with the best weapons PLUS "a mastermind plan."
You always know who will win.
So far, we've covered everything FacebookTM allows you to do.
In this module, I'll show you my mastermind strategies for putting everything into action.
MY ADVANCED FACEBOOK AD STRATEGIES – this is what makes my ads successful.
This module alone is worth the money you'll pay for the entire course.
This is my best work (my best working strategies) for you.
MODULE 21: Applied Skills
In this module, I will demonstrate all of the practical skills required to apply all of the knowledge that we have discussed.
Of course, all of the modules contain useful information.
However, there are some outside practical tools/resources that must also be used to make your ads a winner, which you will see inside this module.
DESIGN & OUTSOURCING MODULE 22
Your ad creative is your first point of contact with a potential customer, and it must be PERFECT.
There are two approaches to this:
A.) Your own design and creation
B.) Contracting it out
I'll demonstrate both approaches.
And there is no clear winner over here because I continue to do both. Depending on the situation.
In this module, I'll show you how to make a lasting first impression.
Module 23 is about copywriting.
You are reading this point right now because you are interested in what I am writing.
This demonstrates my ability to instill genuine trust in you in my product.
When you write your own ad or landing page copy, I will show you exactly how to create that genuine trust for your product.
Consider this: an interested potential buyer visits your page.
There are now two possibilities:
A.) He becomes engrossed in your copy and becomes interested in purchasing your product.
B.) He loses interest in purchasing from you and searches for it elsewhere.
This module will teach you how to get into the "A" level category.
MODULE 24: Facebook Ads Affiliate Marketing
As an affiliate, I'm selling an insane number of units through FacebookTM ads.
No, I do not engage in direct sales.
I believe in long-term business relationships.
So I'll teach you how to do long-term affiliate marketing by maintaining a relationship with your audience so that you don't just sell once (as others do), but can sell over and over.
The system is simple to implement but extremely effective.
P.S. – As a reminder, affiliate sales are 100% profit without even considering product delivery and support. Allow me to demonstrate the most effective method.
MODULE 25: Facebook Ads for Software Sales
If you own software, you're in for a treat because I'm going to show you my best ad campaigns that bring in software sales for me DAILY.
I have a background in software and spend my days selling it on FacebookTM.
It's a time-consuming process, but it's extremely profitable.
MODULE 26: Agency for Social Media Marketing
If you are just getting started, you can make a career as a Social Media Agency Owner by learning from "Timeline Domination."
As an SMMA owner, you should make $10,000 or more per month on average.
I'll lay everything out in front of you.
In addition, I will show you how to find clients for your project.
Most importantly, you will receive the most comprehensive and advanced FacebookTM ad knowledge available anywhere on the planet. That knowledge alone will help you become a successful SMMA owner.
Adding this module in which I show you some additional methods of obtaining clients will be a tremendous benefit.
Lead Generation Module (MODULE 27)
The person who generates the most leads on the internet is the person who wins the internet business.
This module is entirely focused on assisting you in becoming a Lead Generation Ninja.
I'll show you my exact lead generation pages and strategies that you can use in your own business.
The exact DOs and DONTs of lead generation landing pages, as well as the ultimate growth hacks.
MODULE 28: Sales Coaching Using Facebook Ads
Do you want to create a course and sell it online?
or
You already have an online course and want to learn how to scale the revenue?
We generate 1,000+ leads per day and generate five figures per week from our coaching programs.
Let me show you the exact step by step procedure of how to generate these leads, convert them into warm prospects & then finally lead them towards sales.