Scott Dinsmore – How to Connect – Anyone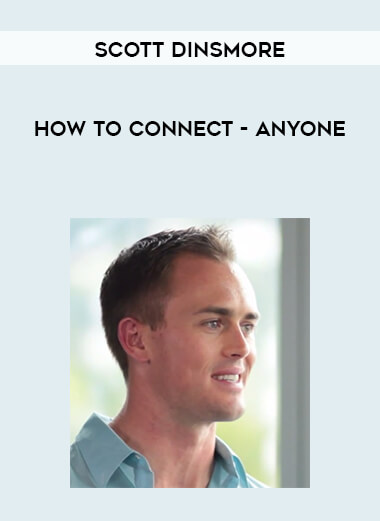 Salepage : Scott Dinsmore – How to Connect – Anyone

What would you do if the people around you

refused

to let you fail?
Come join us and find out…
This How To Connect With Anyone course offers a step-by-step process for making the genuine connections you need to naturally and honestly create a world-class network of passionate peers, partners, mentors, and supporters necessary to build your ideal business or career.
ENROLL NOW FOR ONLY $199
Surrounding yourself with the right people can be intimidating, but there's also no bigger predictor of success.
The course is new and improved (with even more help for introverts!) and exclusively sells out 2-3 times a year for $497 per person. But we want to get this material into more people's hands so they can change the world and start living their legends. So due to popular demand, we have made the course available year round for $199 only.
Even if you're an introvert…

Even if you don't know what to say…

Even if you live in an isolated environment…

Even if you feel like you have nothing to offer…
Full Course Lineup Details
PRE-MODULE 1:

Discovering Dream Connections, Showing Up & Making First Contact

PRE-MODULE 2:

Firing Toxic Friends & Discovering the World-Changers You Already Know

Introverts 101:

How to Leverage Your Most Powerful Connection Trait & How Shy People Can Talk to Anyone

MODULE 1:

Cultivating The Right Mindset & Building The Habits of the World's Best Connectors

MODULE 2:

Overcoming Approach Anxiety & Creating Instant Physical Rapport

MODULE 3:

Building Your Brand & Telling Your Story

MODULE 4:

Setting Up Your Systems, Leveraging Technology & Everyday Connecting

MODULE 5:

Creating Unique Value, Turning Enemies into Friends & How to Help Anyone (even the uber-successful)

MODULE 6:

Becoming Instantly Memorable

MODULE 7:

Creating Referrals, the Importance of the People You're Not Paying Attention to & Enlisting the Help of Others

MODULE 8:

Creating Real Relationships with Influencers, Leaders and the Impossible-to-Reach

ADVANCED MODULE 1:

Creating Genuine Online Connections, The Right Way to Use Social Media & The Simple Web Tools No One's Using

ADVANCED MODULE 2:

Building Your Local In-Person Community

ADVANCED MODULE 3:

Long-Term Success & Turning Acquaintances Into True Friends

BONUS MODULE:

Sales, Influence & Negotiating 101 in the REAL World
Come Join the Fun!
ENROLL NOW FOR $199
You may have seen our connection and career tools on:
Here's the amazing part… I am a very nervous introvert but after finishing Scott's workshop, I went on to meet roughly 70 people in one afternoon and 115 in one weekend!
Scott's How to Connect With Anyone Workshop truly changed my life. I fought my fear and won. And I continue implementing the three-second rule with wonderful success. He made me believe for once in a very long time I could do anything."
Erica B., Georgia
Since your How to Connect With Anyone workshop, I have connected with the Founder and CEO of a multi-billion dollar furniture conglomerate and also the Innovation Director for Adidas. We continue to stay in touch about continued advice and potential collaborations.
Your lessons are inspiring and highly actionable, and have taught me that I, too, can connect with anyone.
– George M., Portland
Course Examples
This is a comprehensive course and interactive community with step-by-step tools, scripts, and videos, to teach you a proven framework. The below videos are just a flavor of what you have to look forward to when you start the course.
Dive into how to leverage an introvert's most powerful natural connection traits as well as what allows introverts and extroverts to understand each other and meet on a level that creates genuine lasting connection. Put those hidden talents to work!
One of the most powerful connection strategies of all time and definitely a CWA favorite. This one action alone led to one of our members meeting 70 new people in one afternoon, despite being a massive self-proclaimed introvert.!