Scott Halman – Speed2Profit – The Foundation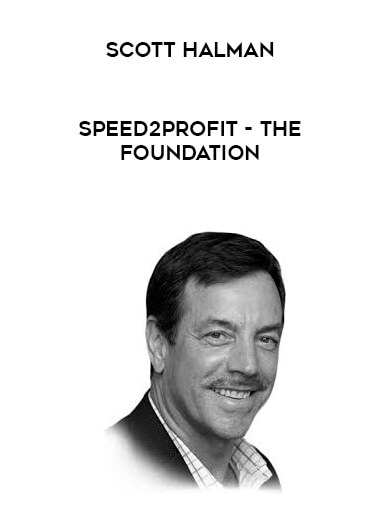 Salepage : Scott Halman – Speed2Profit – The Foundation

Hi, this is Scott Hallman and Welcome to The Speed2Profits Program.
In this first video, I am going to share with you core philosophies of our program and provide you with some important grounding information that will likely increase your excitement about this program to a whole new level.
I will talk about effective implementation that will help you maximize what you get out of this program.
I also will walk you through the training content you will learn over the following 16 weeks. It is not uncommon for businesses to begin generating profits just from what they learned in this overview.
I will also provide you with a quick tour of the Speed2Profits Online Learning Center so you know where to access all the incredible training resources we have made available to you in order to help you achieve your goals.
The Speed2Profits Program is about OPTIMIZATION of your marketing, sales, and client value processes (everything that is involved in getting more clients and maximizing their transactional value for life). And, if you are in the early stages of your business, you will learn to maximize your cash flow profits from day one in order to fuel your growth.
Over the next 16 weeks, you will learn how to predictably and systematically increase your businesses profits 25-100%+, faster and easier than you ever thought possible. All without any specialized skills, added resources, fancy technology or investment.
You will learn how to create a simple yet powerful Model that will enable you to implement and execute even more effectively than you do today. A model that is built using your business' actual figures in order to determine predictable profits you will generate from this program. This model will also contain the precise strategies and tactics that you will utilize in order to generate these added profits for your business.
You will have a clear strategy and execution plan for methodically implementing each success strategy and tactic within your unique business.
You will learn to identify your businesses' ProfitDrivers, or measurable steps in your marketing, sales, and customer value processes. The Speed2Profit¢ Program covers 18 ProfitDrivers in detail.
You will learn HOW to predictably increase your revenue and profit by "one-upping" the current performance of these ProfitDrivers by just 3-5% each.
Note: This is only The Foundation Module of Speed2Profit. This is not full course. But it's good to learn
vvvvvvvvvvvvvvvvvvv