Secret Formulas School of Advertising DVD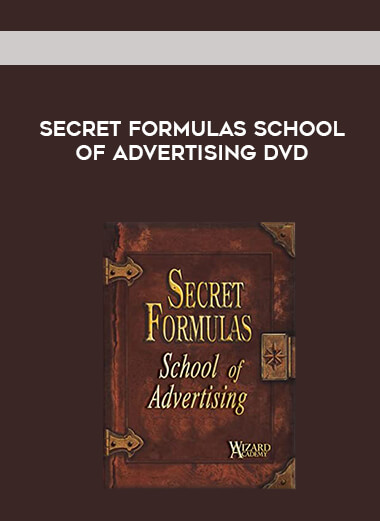 Salepage : Secret Formulas School of Advertising DVD

In 1998, a 12-tape video series featuring The Wizard of Ads was made available to advertising professionals around the globe. Since then, exactly 1,427 copies of that series have been shipped. This is not that series,  but a significantly updated replacement for it. A tremendous value for the money.
(Want access to the old Wizard of Ads Academy videos?)
This video library includes:
Session 1 – What is Selling? and The Three Worlds of Business
The Wizard's first Secret Formula explains how to define selling, a term that has come to mean numerous things over the years. You will also learn how to begin analyzing your clients' businesses, as well as your own, after hearing The Wizard's classic updated discussion of The Three Worlds of Business: the world of the executive office (your vision), the world inside your door (customers' experience), and the world outside your door (advertising and reputation). 
Session 2 – The Uncovery Part I – The Sword in the Stone
The Uncovery Part II – How Long is the Time Horizon
No person or business can gain a true understanding of who they are or what they stand for from the inside. In other words, it is impossible to read the label from inside of the bottle. The most crucial stage in consulting is called the Uncovery. During this meeting, your Sword in the Stone, your business's core, is unearthed. Then, and only then, can a powerful advertising campaign be developed that will shake the earth and bring the masses running. Once the campaign is launched, results will continue to improve exponentially, as long as you can stand to weather the 'chickening-out period,' which usually comes somewhere between invoice 2 and invoice 3.
Session 3 – The Uncovery Part III – Targeting Relationally or Transactionally 
This never before recorded discussion teaches how transactional and relational customers vary greatly in their purchasing habits. Both are valuable customer bases, but most companies have trouble determining who they're speaking to, and who they should be speaking to. Which type of customer does your business attract? Are you speaking to the dog in the language of the dog?
Session 4 – The Uncovery Part IV – Business Topology
Henry Ford did not revolutionize his industry by looking at what other automakers were doing. General Mills did not overhaul their production process based on other cereal companies. Only by looking outside of their industries to parallel but unrelated businesses did these companies find the principles to launch themselves to the top. Learn about Business Topology and shatter your old ways of thinking and standard practices.
Session 5 – Uncovery Part V – The Message
The two most crucial elements in business are what you do (business practices) and what you say (message). Learn how to harness the power of words to answer the questions that people are really asking.
Session 6 – How to Calculate an Ad Budget
"How much should I spend on my advertising?" This truly is a secret formula that you can take to the bank…as well as to your chosen media.
Session 7 – The APE
Albert Einstein, contemporary wizard of physics and mathematics, is best known for E=mc2. This equation, however, represents a relationship that is much deeper than any mathematical statement can convey. In much the same way, the Advertising Performance Equation (APE) represents the relationship between your message, the frequency of that message, the customers' experience, market potential, and sales. 
Session 8 – Neurology 101
Exactly how does your brain process information? You may not be expecting an advertising discussion to involve things like brain maps and neuro-pathways, but you will gain valuable insights that reach far beyond advertising in this engaging scientific discussion.
Session 9 – Depths of Memory and Branding 
Few advertising experts go to the lengths to research how the human brain captures and retains messages. Do you know how many types of memory there really are? You will be astounded at the depth to which The Wizard delves into the mind to uncover these mysteries. Learn to reconstruct these verified scientific facts to implant your messages into the minds of your potential customers.
Session 10 – Foolish Things We Believe
Many wizards past have discovered and proclaimed truths that were outside the realms of popular opinion or traditional wisdom, yet we affirm their ideas today as trusted science. How many "policies" do you follow based on tradition or unverified "popular" wisdom?
Session 11 – Selling Customers Their Way
featuring Dr. Nick Grant with Jeffrey Eisenberg
In this fast-paced, 35 minute session, you'll receive an introduction into New School Selling and hear tips from one of America's most brilliant consulting psychologists on how to recognize and accommodate the preferred interaction style of your customer. This session is all about how to serve your customers in the ways they prefer to be served after they've responded to your ads.
Session 12 – To "E" or not to "E,"
with Jeffrey and Bryan Eisenberg
Jeff & Bryan Eisenberg are the founders of Future Now, Inc. , based in New York City and founded in 1998. They specialize in helping clients increase the conversion rates and return on their online marketing investment. Bryan and Jeffrey have been featured speakers at numerous industry events: DMDAYS, @dtech, Search Engine Strategies, Internet Marketing Conference, Internet World, Net.Marketing, eMarketing World Expo, DMA Annual, ClickZ Email Strategies, and have been featured in publications such as ClickZ.com, Publish, Chicago Business Tribune, Inc Magazine, DM News, EDP the Business, MarketingSherpa, the Toronto Star, and Internet Retailer. Bryan is co-author of "The Marketer's Common Sense Guide to e-Metrics" and both Bryan, Jeffrey and Lisa Davis are co-authors of the book "Persuasive Online Copywriting," released by Wizard Academy Press.