SESSION GUITARIST – ELECTRIC SUNBURST DELUXE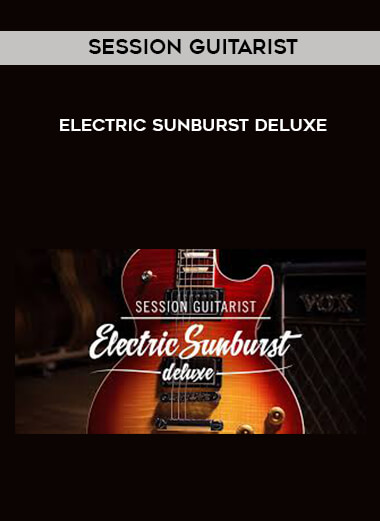 Salepage : SESSION GUITARIST – ELECTRIC SUNBURST DELUXE

THE ELECTRIC SESSION PLAYER YOU REQUESTED
ELECTRIC SUNBURST DELUXE is an enhanced version of the extremely popular ELECTRIC SUNBURST. This DELUXE instrument is based on the same precisely recorded famous electric guitar but includes a slew of user-requested features such as a second instrument for melodic playing, additional patterns, improved performance settings, and more effects. With a completely adaptable instrument, you can simply create real, polished songs for any current project.
TO CUSTOM MELODIES, TIGHT RHYTHMS
ELECTRIC SUNBURST DELUXE includes two KONTAKT instruments for crafting fully realized electric guitar sounds. By just playing a chord on your MIDI controller, you may quickly construct riffs, strumming patterns, and arpeggios. in a rumble rumble. Smooth transitions between melodies and rhythms assist you in delivering distinctive, captivating electric guitar parts for any project.
SONIC TOOLBOX EXPANDED
The effects, amps, and cabinet emulations in ELECTRIC SUNBURST DELUXE are of outstanding quality. To the original variety of traditional distortion and modulation effects, the DELUXE instrument adds brand-new chorus, flanger, and phaser stomp pedals. You can customize your tone with five amplifier types and 10 cabinet options. High-quality console EQ, two vintage compressors, tape emulation, reverb, delay, tape delay, as well as recently introduced REPLIKA delay and a studio-grade algorithmic reverb, enable you to create full, finished recordings entirely within the instrument.
THE KEYBOARD
The legendary electric guitar selected for its rich, warm, and extremely versatile tone is captured in ELECTRIC SUNBURST DELUXE. Every element of this renowned instrument was faithfully recorded thanks to a clean signal route that included high-end cables, antique tube preamps, and high-resolution converters. You may have complete control over the mix balance by using separate bridge and neck pickup samples. To add punch and authenticity to the performance, blend in fine sound nuances using a condenser mic set above the strings.
PATTERNS ARE EXTENSIVE
Tap into 237 patterns, including realistic riffs, arpeggios, strummed intervals, and chords. ELECTRIC SUNBURST DELUXE includes new strumming and arpeggio patterns, as well as a selection of reverse patterns to help you come up with fresh ideas. You can quickly discover what you need with patterns organized into song presets, whether you're working on a pop production or electronic compositions.
CONTROLS FOR ENHANCED PERFORMANCE
ELECTRIC SUNBURST DELUXE has a broader set of performance settings for unrivaled versatility, realism, and tone variation. Access hundreds of loops, single notes, and sounds played with a plectrum or fingers in open, muffled, flageolet, and tremolo articulations. The DELUXE instrument includes real-time bending and vibrato settings, as well as numerous vibrato rates, allowing you to add more expressiveness to your parts. Innovative pitch bend presets allow you to bend only specific notes in a voicing to mimic standard bending procedures.
Even if you're not a guitarist, you may create or execute realistic electric guitar parts using an autochord mode and handy voicing presets. This DELUXE instrument's advanced voicing capabilities allow you to experiment with new arrangement possibilities.
PERFECTLY TUNED FEELING
The new playback and selection engine in ELECTRIC SUNBURST DELUXE allows you to fine-tune the feel of your parts. Tuning, timing, and humanization options assist you in creating live-sounding performances that may be used in any genre.
INTEGRATION OF COMPLETE CONTROL
ELECTRIC SUNBURST DELUXE fully utilizes KOMPLETE KONTROL hardware and the NKS standard, providing benefits like as hardware browsing and audio previews, keyrange and articulation light guide display, and more.
ELECTRIC GUITAR WITH FULL VERSATILITY
ELECTRIC SUNBURST has been expanded and made completely pro.
The second melodic instrument is used to compose your own tunes and rhythms.
Picking patterns have been improved, as have strumming patterns and new reverse patterns.
Extended variety of pedals, including Replika Delay, Chorus, Flanger and Phaser