Shamanic Practices
Delivery : Digital Download Immediately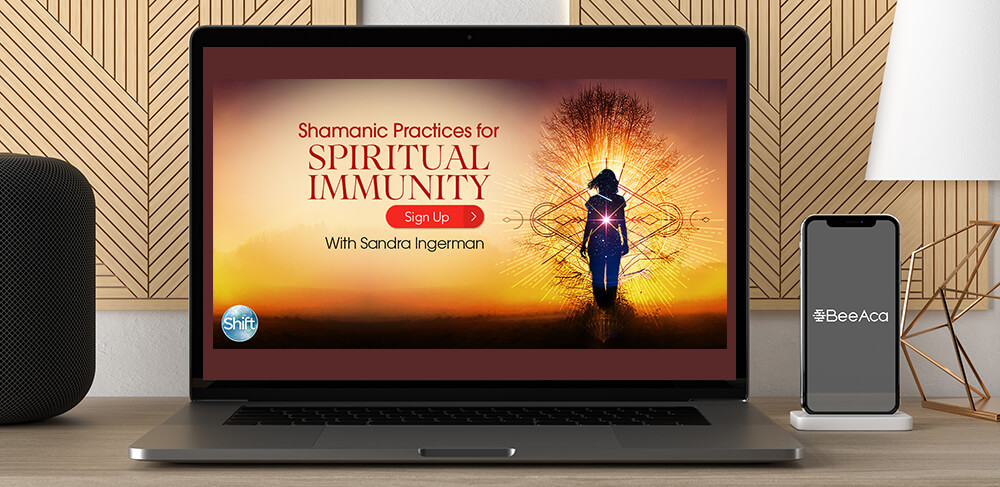 Sandra Ingerman – Shamanic Practices for Spiritual Immunity
Salepage : Sandra Ingerman – Shamanic Practices for Spiritual Immunity
Archive : Sandra Ingerman – Shamanic Practices for Spiritual Immunity
Course Download Size :
New 7-Week Live Video Training Starts
Tuesday, April 14, 2020
What You'll Discover in These 7 Weeks
In this 7-week transformational intensive, Sandra will guide you through the fundamental body-mind-spirit skills and competencies you'll need to strengthen your health, shift your mindset, and empower your community.
Module 1 — Reweaving Your Creation Story for Health: Empowering Your Ability to Dismember Illness (April 14)
Because we can't love ourselves, we're attacking ourselves, our immune systems, and our world — all without even realizing it.
The creation story has always been essential to every shamanic culture. It teaches us how the creator heals illness and brings health back to the body.
In this opening week, Sandra will guide you to meet your creator and learn about your own creation story… so your body can dissolve illness as you free yourself to absorb the love of our creator.
As you'll discover, you have the power to reweave your energy back to perfect health — all by either learning your creation story or using a name of the creator as a mantra.
In this module, you'll discover:
The Mayan tradition of dispelling illness by chanting the names of God and chanting your creation story
How much love went into your creation — and how that love is still supporting you to stay healthy on all levels
Divine light and oneness through learning about your creation story
How the creation story gave people in shamanic cultures a roadmap for living a good life — and what it means for YOUR life, today
howto set up a sacred altar space to place your prayers for yourself, your loved ones, and the planet. Sandra will guide you to leave materials at the altar and perform ceremonies to release your fears and call in the goodness of life
Module 2 — Transfiguration & Seeing the World Through Eyes of Spirit: How to Radiate Light Through Your Organs & Out Into the World (April 21)
Everything that's alive is made with light, and light heals…
And when you create a field of light energy, nothing negative can come into that field without being immediately transmuted.
In this second session, Sandra will share a core exercise you'll use in each future class — as well as healing powers of light practices you can use every day.
As you get in touch with your own spiritual light, you'll let go of ego, mind, and body — and experience how strong and all-encompassing your own spiritual light truly is… and why it's your greatest form of spiritual immunity.
Sandra will also share how tragedy is still part of her life no matter how many practices she does — and yet, these transformation practices have powerfully impacted her life, teaching her how to find healing in the shadows — something you'll be able to apply to your life, too.
In this module, you'll learn to infuse every part of your being with inner light as you explore:
Why light practices are never a miraculous cure for every person and illness at the same time
How this spiritual work assures you you're being held in love, and even in these days of social distancing, you're never alone
How to look at people and the world through the eyes of spirit — changing your perspective and seeing the light and strength in those who we perceive as suffering
How to teach children to do this work, as it will protect them as well as give them a valuable tool to keep their nervous systems in balance
A guided ceremony with music to experience healing with spiritual light as a practitioner — and absorb this brilliance and radiance for your own personal health AND for the collective
Module 3 — Invoking Dreams for Healing & Shifting Your Daytime Reality (April 28)
Did you know that in shamanism, when you're experiencing a time of illness, stress, chaotic thoughts, anxiety, and more… you can ask for healing in your dreams?
It's an often-overlooked healing resource you can access instantly — and this week, Sandra will show you how.
Years ago, Sandra was cured of an illness that every specialist said she'd be living with for the rest of her life. She prayed every night that healing would come to her in a dream — and after many nights, her prayers were answered… she was healed, and her illness never returned.
This week, Sandra will share how to ask for a healing in a dream of your own — and how persistence is the key to receiving the healing.
Along the way, you'll also receive the wisdom and much-needed guidance to bring your dreams into being.
In this module, you'll discover how:
How to be extremely persistent when asking for a healing dream
The whole world is actually a creation of our dreams
In your dreams, the master or mistress shows you how to change your daydreams — and change elements of our world, personally and collectively… even when our world is feeling out of balance
Your daydreams are creating the events that are occurring in your life as our daydreams sculpt our lives
You can discern which dreams give you a premonition of the future – and how to accurately interpret them
Module 4 — Healing Toxic Thoughts: How to Transmute & Dismember Fear, Anger, Grief & Betrayal (May 5)
One of the cornerstones of shamanic thought is the importance of expressing every emotion that comes up for you, especially during tough times…
If you don't, you'll be left with stuck energy in your body — which affects your immunity on both a spiritual and a physical level.
This week, Sandra will share how your emotions turn into energy forms, which she calls psychic darts… and how you end up sending these emotions into the collective without knowing it.
You'll learn how to be responsible and respectful when negative emotions arise — and how to avoid sending them out into the collective… because negative thought forms come back to all of us three times over, according to the shamanic perspective.
In this module, you'll discover:
The reasons many shamans believe that viruses are created from negative thought forms that flood our collective, lowering our immunity and creating widespread contagious illnesses
Healthy ways to express your emotions, including working with your energy to make sure you're flooding the collective with love and light
Ways to protect yourself spiritually throughout the day
How to deal with grief and honor the beings that have departed
A group ceremony to dream and reweave new thoughts, desires, and realities into being
Module 5 — Working With the Moon & Crystals: How to Transmit Healing Energies in Ceremony (May 12)
This week Sandra, will share some of her most-loved spiritual tools and teachings — including how to work with healing crystals…
… and cultivate a deeper understanding of the moon's cycles and its energetic impact on us all.
You'll discover exactly how the moon's energy affects the planet…
… and how, when you combine the moon's energy with the right crystals and perform your ceremonies at the correct time — the moon can add exponential healing and manifestation power.
In this session, Sandra will share:
Why moonlight is one of the best ways to clean a crystal
How to infuse crystals with new energy
The many ways crystals are natural transmitters of light
What crystals can teach YOU about becoming a natural transmitter of light
A group healing transmission with Sandra's teacher in the unseen realms, the Egyptian goddess Isis, who'll be working with you and your fellow participants throughout the course
Module 6 — Harnessing the Elements Within & Without: Merging & Building Connections (May 26)
In the shamanic view, the five elements of earth, water, fire, air, and space are alive — and they give us life.
Sadly, with our industrial world full of technology and pollution, we've done everything possible to destroy these elements…
And then we wonder why people have become sick on such a massive scale. The world has been forced to clean itself through storms, earthquakes, floods, illness, and more…
According to Sandra, these phenomena are all connected.
In this pivotal module, Sandra will share how the shamans have always known how to talk to the elements, respecting them as family… and how we can all learn to do the same IF we're willing to change our lives and relationship to the elements.
This week you'll explore:
Specific ways our loss of connection with Nature and the elements is fueling health crises, as well as climate change
How the land you live on, whether city or country, is there to help you become stronger on all levels
How the five elements are your allies — and how to build communication with them
How to live in a state of harmony as you tap into a level of flow that leads you to robust health
A deepening practice to merge with the elements, using fire as an example… you'll experience how, by merging with fire within, you'll learn to balance out states of anxiety and depression
Module 7 — Journeys Into the Future & Back to the Ancestors: Accessing Wisdom for Survival in Current Crises (June 2)
The ancestors have given us every single piece of knowledge we need to move through what's happening during this time of turmoil…
We're just not listening, according to Sandra.
In this final class, Sandra will share powerful healing ceremonies shamans have been calling on for thousands of years…
… as well as what the ancestors have been telling us — about how we have to clean up our ways of thinking, how we walk on the Earth, and so much more.
You'll also tap into the wisdom of your future ancestors. They already survived the times we're living in — so what advice do they have to share?
In this closing module, you'll experience:
The clues and breadcrumbs our ancestors (past and future) have been leaving us, which we haven't paid attention to
A journey to access beings in the future and discover what we need to add to our lives — from our diets, to our healing practices, and everything in between
A journey to the future descendants to bring high-frequency healing into your personal and professional lives — including using sound and light for healing
A time to share stories and wisdom, so you, Sandra, and your fellow participants can learn and grow together as a unified global community
Author
Sandra, a world-renowned teacher of shamanism and award-winning author of 12 books, has been teaching for more than 30 years. She's taught workshops internationally on shamanic journeying, healing, and reversing environmental pollution using spiritual methods. She's recognized for bridging ancient cross-cultural healing methods into our modern culture to address the needs of our times.
Sandra is passionate about helping people to reconnect with nature. Since the 1980s, thousands of people have healed from past and present traumas through Soul Retrieval, the classic cross-cultural shamanic healing method Sandra teaches.
Readmore: Sandra Ingerman