Sherm Cohen – Storyboard Secrets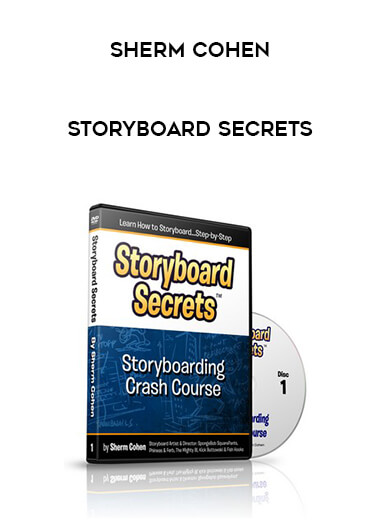 Salepage : Sherm Cohen – Storyboard Secrets

Attention: Cartoonists, Illustrators, Comic Book Artists, Modelers, Animators and any other artists who want to make money and a great living from your talent…
Learn How to Storyboard from Disney and SpongeBob Storyboard Artist Sherm Cohen
How can you do what you love and make a great living at the same time?
Be a Storyboard Artist!
Even though jobs are quickly vanishing for traditional animators and newspaper/magazine cartoonists, Storyboard artists are in high demand — more than ever!
Even the slickest CG-Animated movie uses hand-drawn storyboards. Look at any of the "Art of…" books about Pixar, Dreamworks, Sony and Disney movies and you'll see that storyboards are still drawn like they've always been…
And that just for starters — As special-effects-driven blockbusters continue to dominate the box-office, storyboard artists are constantly needed to provide the "blueprints" and pre-visualization art those movies require. Action movies, video games, TV series and even commercials are hiring storyboard artists every day.
And You Already Have Half of What You Need
You already know how to draw, but the specific storytelling strategies, technical requirements and the specific challenges of the storyboarding format remain a mystery.Do you know how to do a hook-up? When to use a truck-out? an x-dissolve, a banana-pan or how to avoid a jump-cut?
I had never even heard of those things when I started — In these days of tight deadlines and even tighter budgets, on-the-job training doesn't even exist anymore. When the studios need a storyboard artist, they don't have the time or resources for training; they want someone that demonstrate today that they'll hit the ground running and start pumping out killer storyboards from the first day on the job…
…Are You READY To
Grab That Opportunity?
You will be when you discover Sherm Cohen's
And You Can Get Started TODAY…
To get you moving on the right road,
you'll have instant access to the full Storyboard Secrets 10-DVD Course…
Online and On-Demand 24/7!
All videos available INSTANTLY to you online…and shipped to you on DVD via Priority Mail!
The Six Essential Steps to take …BEFORE you start to draw

How To Overcome the Fear of the Blank Page

The single biggest beginner's mistake …don't let it happen to you!

Pacing your storytelling for maximum impact

Breakthrough strategies guaranteed to

bust down creative blocks

Pacing your workload to keep ahead of the Dreaded Deadline Doom

Screen Direction Made Easy:

Save time and headaches with these simple tips

The "Magic" way to avoid and solve the toughest of staging problems
…and dozens of practical studio tips you won't find anywhere else
It's the real stuff you can't learn from a book!
Part ONE:
"Storyboarding Crash Course"
A Quick Overview Designed to Get You up and Running Right Away
Angles, Staging And Framing

Screen Direction & Continuity

Quick-Start Guide to Camera Moves
Part TWO:
"Angles, Framing and Screen Direction"
Choose the best angle for your shot. Lots of tips and shortcuts to make it quick and easy.
The emotional power of angles

The

drop-dead easiest solution ever

for the dreaded "180-degree rule"
Part THREE:
"Acting and Posing"
Make Your Characters Come To Life Using The Line Of Action And Silhouettes
"How Many Poses Do I Draw?"

How Some

Simple "Opposition"

can make a huge difference in your boards

The Power of

Character Interaction
Part FOUR:
"Camera Moves And Transitions"
How To Use The Moving Camera & Transitions to Strengthen Your Story
Cuts, Dissolves, Wipes And Fades…

4 Sure-Fire Ways To

Avoid the Nightmare of Jump-Cuts
Part FIVE:
"Special Shots And Progressions"
Discover The Patterns Of Shots And Never Face Artist's Block Again
How to Boost the Emotional Impact of Your Scenes with

Reaction Shots
The Magic of the Cutaway

— (this one can save you a world of headaches)
…And that's just the first half of the course!
Listen to what recent customers have to say…
Hey Sherm!
Before time slips by I just wanted to thank you for promptly sending out the DVDS! You rock! The examples you show thus far are super clear and easy to understand
Most of my questions have been answered so far and I'm only on Disc 5!!!!
I'm making a 3 minute film on my own and it's been a battle every inch of the way. Your discs have saved me, man. I was moving in slow motion. Thanks again!"
— Robert Dress
http://robertdress.blogspot.com/
"I learned more in 2 hours than one year in Art School and I still owe them 50,000 dollars.
Thank you for sharing your knowledge and please let me know if you would ever do a workshop here in New York in the future!"
Robert Castillo
Storyboard Artist for:
Sopranos – Season 5 and "Precious"
http://robertcastillostoryboards.blogspot.com/
Hey Sherm!
Just wanted to take a minute and say thank you for the great job you did teaching on your DVD set. Excellent resource!
Martin Lauzon
3D team leader – CG supervisor Art Direction at Vision Globale
EFX Supervisor at Omation "The Barnyard"
http://www.imdb.com/name/nm0491686/
Discs #6 through #10 Take you Step-by-Step through the Entire Storyboarding Process
Part SIX:
"Before You Start Drawing"
Avoid Disastrous Mistakes By Taking These Essential Steps Before You Start To Draw
Planning &

Time-Saving Strategies

The Six-Point Plan for Solid Story

Ensure Your Storyboarding Success

Before

You Even Start to Draw
Part SEVEN:
"From Thumbnailing
To Roughs"
This Is The Stage Where Some Big Factors Come Into Play:
Structure And Pacing

Creating Visual Interest

Using And Reusing Setups

Avoid Visual Distractions
Part EIGHT:
"Cleanup And
Perspective Tips"
As The Deadline Crunch Approaches, Use These Proven Shortcuts To Get Your Board Done On Time
Fixing The Worst…First

The Technical Nitty-Gritty

Freehand Perspective Techniques
Part NINE:
"Digital Storyboarding
And Pitching"
The Truth About "Going Digital" And How To Win Over Your Audience
Choose the Right Storyboard Software

Low-Cost Cintiq Alternatives

What

Not To Do

Before Your Pitch
Part TEN:
"How To Get A Job
And Keep It,Too"
Take Control Of Your Career With These Real-world Job-Getting Strategies
Get Around the "Gatekeepers"

Creating a Killer Portfolio

How to Avoid the Pink Slip and Get on Track for Your Promotion
————
That's 13 Hours of real-world, practical,
nuts-and-bolts storyboard training! 
Here's what storyboard artists are saying about Sherm's storyboarding Courses:
——
"Where was this when I was at Cal-Arts? Where was it when I started my storyboard career? Great job!"
Joe Banaszkiewicz
Storyboard Artist and Director on Tiny Toons,
Animaniacs, Disney's House of Mouse & more
http://www.imdb.com/name/nm0051573/
"I've learned some of these storyboard techniques from various directors over the years only to find out that they learned them from Sherm Cohen.
This guy really knows his stuff!"
— Fred Osmond
Storyboard Artist – Penguins of Madagascar
Assistant Director – El Tigre
http://cartoonsandcaricatures.blogspot.com/
"The storyboard principles Sherm taught me landed me my first job; doing boards at Nickelodeon.
You won't find this information anywhere else"
–Michael Moloney
Storyboard Artist – Making Fiends
Nickelodeon Animation Studios
Titmouse Animation Studios
http://hobofish.blogspot.com/
About Sherm Cohen
After starting out as a comic book artist and magazine gag cartoonist, Sherm Cohen entered the animation field as a character layout artist for The Ren & Stimpy Show.
Sherm moved up from Storyboard Revisionist to Storyboard Artist to Director on Nickelodeon's Hey Arnold. In 1998 he became part of the founding crew on SpongeBob SquarePants, and worked on the show for the next seven years as writer, director, storyboard artist and Storyboard Supervisor. Sherm was also Lead Storyboard Artist and Character Designer for The SpongeBob SquarePants Movie.
Sherm storyboarded at Cartoon Network Studios and Warner Bothers before moving to Walt Disney Studios to write and draw storyboards for Phineas and Ferb, Kick Buttowski and Fish Hooks. In 2013 Sherm returned to Bikini Bottom as Sequence Supervisor for The SpongeBob Movie: Sponge Out of Water. He is currently Supervising Director on the brand new seasons of SpongeBob SquarePants.
Sherm Has taught storyboarding at CalArts, Woodbury University and The Disney Creative Academy. Sherm's tutorial DVDs are being used my animation studios around the world, and in schools including San Francisco's Academy of Art University, The Columbus College of Art and Design, USC School of Cinematic Arts, Art Institute of Indianapolis and Ringling College of Art and Design.
Sherm received an Emmy Nomination
for his work on Kick Buttowski at Disney TV Animation
"I've made it through three of your DVDs so far- I watched 10, 1, and 2 (I couldn't help skipping to the end).
Really, REALLY great content! Pretty much anything you would want for television storyboarding.
After I watched #1 I was like, "That was great, but how can he expand on this for 8 more DVDs?" and then I watched #2. Wow. So simple, and yet…not. I'm really excited to start putting this info to work. I like your teaching style!"
Meredith Randazzo
http://www.rocarts.com/portfolio
"Super clear, easy to follow, no-nonsense.
I already got some great nuggets outta it. Thanks Sherm, you're a champ and a really nice dude. Keep up the great work!"
-Mike Nassar
Animator, Six Point Harness http://mikenassar.blogspot.com/
"They were
a great help"
I finally had a chance to review and digest all the 10 DVDs and found the contents awesome.
Since I am mostly doing storyboards now they were a great help specially the one on thumbnails.
Chapters on screen direction and perspective were great too. Of course I had been exposed to the basics before but overall I found them very informative and loaded with very important tips. I plan to show them to my storyboard crew here too.
Best wishes,
Haroldo Guimarães Neto
Owner, Director – HGN Produções