Snapseed. Fun and Easy Editing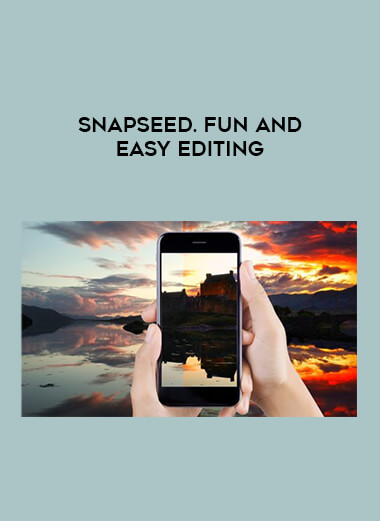 Salepage : Snapseed. Fun and Easy Editing

Snapseed is one of the greatest picture editing applications. It is simple, easy to use, and completely free. It is compatible with both Android and iOS, and it is a good choice for editing smartphone images.
The purpose of this course is to help you become competent in using Snapseed, beginning with the tools. Once you understand how these tools function, you can tailor them to your specific requirements rather than simply applying them and hoping they work. No two photographs are similar since photography is such a creative medium. Neither is their editing. As a result, it is vital to understand what you are doing (both while capturing images and when editing) and put that information to use. After you understand what each tool does, you may use them singly or in combination, knowing exactly what the overall outcome will be. Unlike other courses, this one addresses the fundamentals of these tools in order to provide you with knowledge and confidence. If you are already familiar with these tools, please skip to the relevant sections.
The course is structured into three primary sections, as you will observe. The first section covers the previously described fundamental tools (how to apply each tool to an image and the effects it brings). The second section includes examples of minimal modification performed to specific photographs using a variety of tools. The final section focuses on more complex editing, with nine photos from three categories (architecture, landscape, and commercial) modified from start to end, with the majority of the tools combined and explained.
I've also included the photographs featured in this course for your convenience, so you may use them in your editing and learning processes. You are welcome to use them or experiment with your own photographs.
By enrolling in this course, you will receive an A to Z training from a professional photographer and trainer, at your own speed, with real-life examples of locations and items. Going through this course will give you access to all future updates and allow you to edit both personal photos in a way that will impress your friends and images for professional purposes, should you decide to sell photos online or photos of products to be commercialized online. This course also draws on my years of experience selling photographs online on specific stock photography platforms. And, with the advancements of smartphone cameras and editing apps, the balance of DSLR versus smartphone photos is rapidly shifting in favor of smartphone photos for me, other photographers, and, why not, you as well.
Finally, you will become more consistent in taking photos because you know you can bring them to life the way you imagined them. You will also gain confidence in editing photos and progress to more complex editing techniques. Finally, you will do all of this while having fun and relaxing. Because photography should be fun first and foremost.