Stephen Gilligan – Hero's Journey – 6-Day Seminar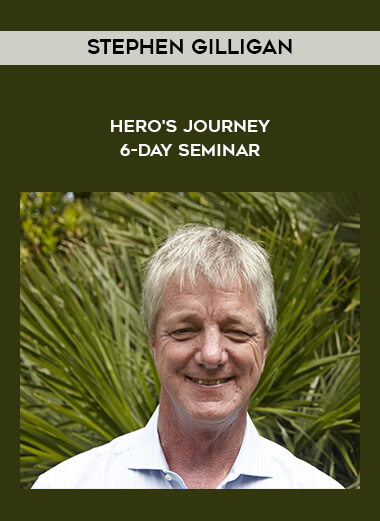 Salepage : Stephen Gilligan – Hero's Journey – 6-Day Seminar

Stephen Gilligan, hypnosis expert, has created a new workshop. It was a 6-day practice course held in Moscow at the end of 2012.
Languages: English and Russian (Russian translator, that annoys by translating every sentence of Stephen).
The Hero's Journey is a myth discovered in every culture by Joseph Campbell, in which life is lived as a grand "call to adventure," a creative journey that brings something new into the world. We will look at the Hero's Journey as a road map for living a really satisfying life of healing, change, and creativity. You will discover how to (1) identify a life calling, (2) convert "demons," (3) build guardians and resources, (4) realize personal change and healing, and (5) contribute transformative gifts back into the community.
This is not just an academic journey, but a highly experienced one that necessitates the capacity to move in and out of creative levels of awareness in both safe and stressful contexts. We will investigate generative trance as a significant method of accomplishing a magnificent life adventure. You will discover a variety of techniques for developing generative trance, releasing the several levels of "neuromuscular lock" that underpin "stuck" states, and moving into "creative flow" states that allow generative transformation in a variety of domains, both personal and professional. Far from being a trance-like state of apathy, generative trance is a highly attentive attunement to creative consciousness that allows for amazing change. A special emphasis will be placed on how to establish, sustain, practice, and use generative trance in a variety of situations and applications.
You Will Discover:
The Hero's Journey map and how it may be utilized to live a meaningful and creative life.
There are several strategies for establishing generative trance in oneself and others.
How "brain maps" shape reality, and how generative trance alters "brain maps"
How generative trance may help you build new realities, heal scars, increase competences, and improve important aspects of your life.
What determines whether a trance is positive or negative, and how to turn "negative trances" (such as worry, despair, self-criticism, and harmful habits) into good resources
How to cultivate and sustain "disciplined flow" states of creative consciousness
How to effect transformative change while in a creative trance state
How to Form a Deep Bond with the Creative Unconscious
How to Overcome Restrictive Beliefs and Resistances