Steve Maxwells Gracie Jiu-Jitsu Self-Defense Catalogue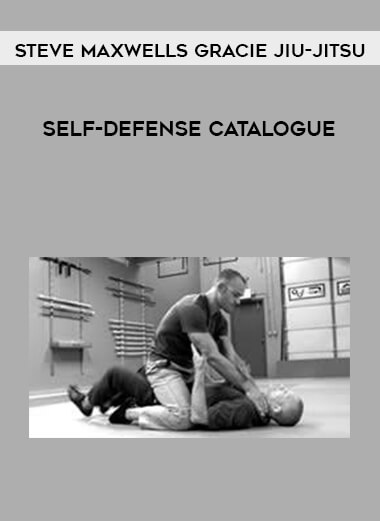 Salepage : Steve Maxwells Gracie Jiu-Jitsu Self-Defense Catalogue
This video series is intended for the jiu-jitsu student who wants a catalog of techniques, the layperson intrigued by the possibilities of a practical self-defense system, or anyone who appreciates Steve's consistant combination of ability, education, aesthetics, and entertainment value.
A perfect adjunct to jiu-jitsu training, this video series is distinctive in its lack of discussion. The action is shown three times: first the demo, then instant replay, and again from a second angle.
The complete set of videos forms an overview of the Gracie self-defense system as taught to Steve by the sons of Helio Gracie, useful for the student and professional alike, or the average guy who wonders about his own potential when faced with a threatening situation.
A no muss/no fuss, all-action-and-no-dialog, graphic stream of the rational overcoming evil, in 15-30 second increments, for those who wish to visually experience the Gracie system of street self-defense in a convenient format.
Realize how you can protect yourself in virtually any situation – from blocking a punch, or escaping a bear hug, to disarming an assailant with a knife, gun, club, bat, or chain.
Once upon a time, until 1967, there were no tournaments associated with the practice of Brazilian Jiu-Jitsu. Street fighting, with all its risks, was the only testing ground.
In contrast to the sport jiu-jitsu objective to win against an opponent of similar size, in a closely-monitored and controlled match, the Gracie Jiu-Jitsu objective remains to this day enabling practitioners to defeat an all-out attack from a larger and more athletic opponent. This point is well-illustrated in this video series.
Volume 1: Stand-Up Self Defense
Download now for $22.50
Volume 1 is in 2 parts for ease of downloading. Part one runs 30:47. Part two runs 30:54.
Volume 2: Ground Self Defense
Download now for $22.50
Volume 2 is in two parts for ease in downloading. Part one runs 22:14. Part two runs 23:55.
COMPLETE SET + BONUS GRACIE JIU JITSU SEMINAR
$45 instant download
Purchase both videos together and receive the gift of Steve's Gracie jiu-jitsu seminar, which Steve presented in Ohio the day after shooting this catalog series. Watch Steve teach a roomful of local students the basics of the same techniques in the catalogue series.
Click here for information on how to watch these videos on your mobile devices and tablets
Bonus Gracie Jiu Jitsu Self Defense Seminar!
The Facts
The Gracie system of street self-defense includes solutions to various grabs and holds, punches and kicks, even weapons — this video series demonstrates techniques to overcome prepared a wide array of situations
Most real fights will end on the ground, but they always start standing up
Strength, speed, and coordination are not necessary for the execution of these simple and effective techniques
Self-defense is the most important aspect of any martial art, including jiu-jitsu
Competency, when faced with personal harm, is a foundation for self-confidence.
When confronted by a larger and more athletic opponent who doesn't play by the rules, a man can lose his mind and fail to respond appropriately — this is the danger in sophisticated systems — the shock of unpredictable violence can incapacitate
The simple efficiency of these techniques are a boon in overcoming the unpredictable and chaotic circumstances of a real fight
Helio Gracie intended Gracie Jiu Jitsu to be a self-defense art consisting of strikes, throws, stand-up self-defense, and ground grappling techniques
Caveat:
This series is not intended for anyone requiring in-depth explanation of the techniques presented.
This is not a tutorial, but a catalog and study guide.
This video is not a substitution for physical training with a black belt in Gracie jiu-jitsu.
FAQ for Steve
Why did you make this series?
I wanted to show the vast array of techniques included in the Gracie system.
I put this video together as a memory jogger for those who would like to practice the techniques without enduring the usual video tutorial dialog.
I realized a lot of people don't know this side of jiu-jitsu — a lot of people have never seen it — and I wanted them to understand how very effective it is.
If you're going to be a materialist, you'll need to know how to defend your stuff.
Why black and white?
I didn't want the viewer distracted by a lot of talk and color stimulation.
I especially like the black and white because it recalls old-school techniques. Many of these techniques were modified by Helio Gracie himself, to boost the smaller, weaker target of violence.
I just watched Steve Maxwell's Gracie Jiu-Jitsu Self-Defense Catalogue and I am much impressed with the complexity of the stuff he shows. This is not a beginners guide to self-defense because Steve is showing the moves without explanation (so everything is shown in great detail and slow motion) but if you are a Jiu Jitsu student and looking for a curriculum of sel