Stewart & Alina Carroll – Drone Cinematography Masterclass 2.0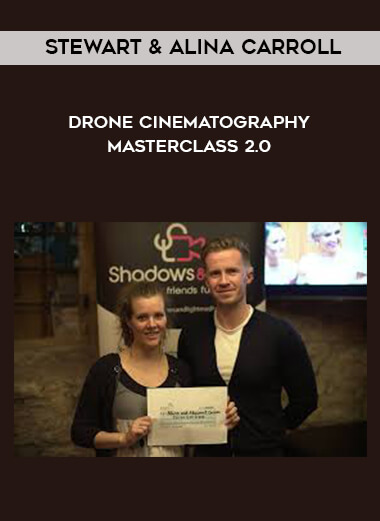 Salepage : Stewart & Alina Carroll – Drone Cinematography Masterclass 2.0

Drone Cinematography Masterclass 2.0
From Drone Owner To Aerial Cinematographer
8 Hours Of Aerial Cinema Tuition From YouTube's Leading Educator
Learn to THINK, FLY, FILM and EDIT like a professional aerial filmmaker.
Course Curriculum
INTRODUCTION
Start
Hello and welcome! (2:15)
PART 1 || FROM DRONE OWNER TO DRONE PILOT
1. What's in the bag? (11:53)
Preparing your drone (11:15)
3. Thoughts on batteries (7:05)
4. Monitoring your flight (8:16)
5. How is your memory? (4:40)
6. The Application (8:24)
7. Failsafes (14:35)
8. Learning the sticks (6:50)
9. Control settings for cinematic flight (3:12)
10. Glencoe flight school (pt.1) (13:39
11. Glencoe flight school (pt.2) (14:52)
12. Find amazing drone locations with Google Earth (9:54
13. How to not fly over an airport… (18:04)
14. How are your map reading skills? (9:04)
15. Learning from the DJI flight recordings (9:50)
PART 2.1 || THE 5 STEPS TO OUTSTANDING DRONE CINEMATOGRAPHY
Introducing the 5 step framework (3:14)
Start
1: Creating Suspense (19:15)
Start
2: Creating Depth (7:20)
Start
3: Adding Value With Motion (10:44)
Start
4: Understanding Light (6:31)
Start
5: Composition (12:12)
Start
50 point framework for critiquing drone shots (12:01)
Your instructors…
Filmmakers first, drone cinematographers second, as a husband and wife team, we have spent years refining our approach to filmmaking. Through our experience creating commercial films with Captain Cornelius and award winning wedding films with White Balloon Films, we find ourselves in a position to pass on the lessons we have learnt to you. You might also have seen us on our YouTube channel, Drone Film Guide!
Our advice and instruction is always founded on our personal experiences having flown hundreds of commercial drone flights filming landscapes, buildings, people, cars, rock bands and more! Combined with almost a decade of filmmaking experience, we are ideally positioned to apply filmmaking principles to drone cinematography and the results are clear to see in our work. Offering drone services in-house with our businesses, more often than not you will find that our drone gear is the same as yours. We fly accessible prosumer drones and produce outstanding results. You can too!