Success: New Managers Guide To Development and Motivation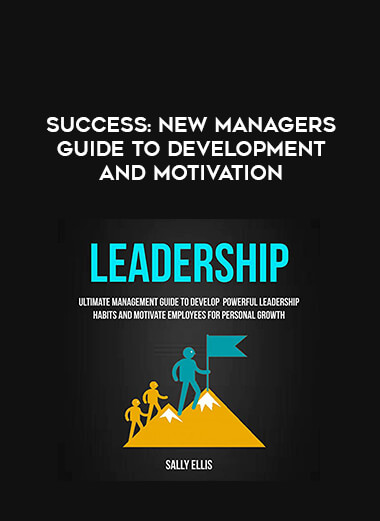 Salepage : Success: New Managers Guide To Development and Motivation

Discover how to be a good manager by emphasizing growth, motivation, and coaching.
This training is designed for new and experienced managers who wish to build a successful team. concentrating on the most critical areas such as:
Planning for Personal Development
Inspiring and motivating your team
guiding your team to success
Many new managers experience a significant shift in their goals and view toward the organization and the people around them when they enter the domain of management. You nearly feel yourself bravely accepting more tasks, but deep down, we're concerned of messing up or, worse, being despised by our team members. These are frequent concerns shared by new managers throughout the world, but the best advise we can give is to watch this course and learn about the groundwork you'll need to lay.
Learn more about some of the abilities covered in this course.
Leadership Qualities:
This course will teach you what it takes to be a leader and how to deal with severe obstacles in your early career. We'll go through coaching tactics that will help you get the most out of your squad. These coaching sessions will assist you in connecting with and building rapport with your staff. They will also provide you the opportunity to encourage and coach your team like a pro.
Solving Issues:
We will go through how to overcome obstacles for yourself and your team in depth. By the end of the course, you'll understand how critical it is to empower your team to solve challenges on their own. We want to offer them the opportunity to participate and bring a fresh viewpoint by allowing them to grow and make controlled mistakes.
Positive Leadership:
The ultimate manager, as uncommon as it may appear, is one who is highly appreciated by their team and their superiors. It's not simple to become the link between what your team wants and what the business requires. However, you will learn how to manage and balance both sorts of pressures in this course. Maintaining a pleasant atmosphere for your staff to grow and develop is crucial for both them and the organization.
IBRAHIM & CO designed this training to assist firms boost employee happiness and engagement. Embedding some of our key learnings can help boost employee motivation and the desire to advance within the company.
Readmore : Success: New Managers Guide To Development and Motivation