TACFTT Mass Assault
Product Include : 16 MP4 + 6 M4V + 1 PDF
Product Size : 1.3 GB
Delivery : Digital Download Immediately
Scott Sonnon – TACFTT Mass Assault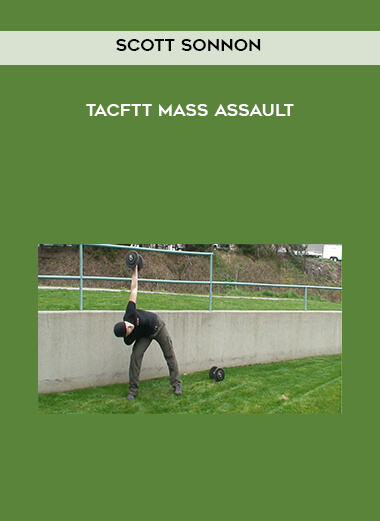 Salepage : Scott Sonnon – TACFTT Mass Assault
TACFIT MASS ASSAULT
Stack Quick Muscle With Dumbbells Only…
Access the Program Used By Coach Sonnon's Clients
When They Require Muscle in a Hurry
Use Nothing but a Simple Set of Dumbbells to Build Impressive
Functional Muscle in Record Time
What is TACFIT Mass Assault?
What is TACFIT Mass Assault?
TACFIT Mass Assault is the leading muscle building program available for achieving rapid gains without leaving your house. This precision engineered program is a component of Coach Sonnon's personal training regimen. It's the very same program he uses to mount one devastating Mass Assault after another. A workout proven to rapidly increase muscle mass, and the best part is? You only need a set of dumbbells to experience these gains. The mainstream fitness industry wants us to believe that expensive equipment and never ending supplements is the only path to real mass gain. They also suggest the idea that muscle mass must interfere with our movement ability and skill. The latter being a misguided notion that grew from methods of the bodybuilding era.
Read More
Why TACFIT Mass Assault?
Why TACFIT Mass Assault?
Mass Assault will stack pounds of muscle on your frame in record time. But that's not all. You'll also love that Mass Assault is:
Efficient: you're done in 40 minutes!
FUN: The unique design makes training an experience to be enjoyed, not endured.
Simple Instructions: It's completely "plug-and-play." Simply press play on the videos and train alongside Coach Sonnon.
No Expensive Health Club or Gym Membership: All you need is a set of dumbbells.
Read More
About TACFIT
About TACFIT
TACFIT® is the original Tactical Fitness System, created by Scott B. Sonnon. Tactical Fitness is defined as:
• Tactical: Of, relating to, or constituting a series of actions, carefully synchronized, coordinated, planned and executed to achieve a specific end.
• Fitness: methods, protocols and principles to physically, mentally and emotionally prepare, mitigate and compensate for specific occupational, recreational and lifestyle stressors.
• Tactical Fitness, therefore, is a contiguous approach for specific physical preparation to enter, overcome, and recover from stressors in such a way that the individual and team become stronger, better and healthier from the stressors, rather than deteriorate from them.
Read More
Creator of TACFIT
Scott B. Sonnon is COO for RMAX International. He is an adjunct instructor for the US Federal Law Enforcement Training Center (FLETC) and has acted as an SME for many agencies including: Israeli LOTAR Counter-Terror Academy, NYPD Academy, 3/160th SOAR, U.S. Marshals Academy, U.S. DHS Office of State and Local Law Enforcement, the US CBP Use of Force Center and several U.S. Military SOF Units. He provides his consulting to the U.S. Veterans Hospitals as a service. Scott developed the health first system: Circular Strength Training® to focus on deployable strength, mobility and resiliency. Since 1997, he has been teaching worldwide. In every country, he found the same problem: warriors shaped like their jobs, carrying an accumulated stress load; leading to shortened careers and "rusty armor."
In answer, Scott developed TACFIT and the first tactical fitness instructor certification course available. TACFIT athletes recover faster from acute stress response and shed chronic stress load from training and career. TACFIT has been administered to over 4,000 trainers worldwide. Units in more than 13 allied countries have formally implemented TACFIT. Scott has been named by Men's Health Magazine as one of the Top 25 Trainers in the World, and one of the 7 Most Influential Instructors of this Century by Black Belt Magazine, earning him a place in the National Fitness Hall of Fame, Personal Trainer Hall of Fame and the International Martial Arts Hall of Fame. He is a 5-time world martial arts champion and 6-time USA National Team Coach. He is the holder of several patents including the Clubbell®, has written 7 books, published 43 training manuals, and developed 53 specific fitness programs.
He serves as the Tactical Fitness Ambassador for 5.11. Scott and 5.11 are co-developing new technologies in tactical fitness, biomechanics and stress physiology. He leads training each day at the DHS CBP Office of Air and Marine Bellingham Branch 'Fight Cage' and connects this daily resource to a host of carnivores online.
"Every detail is focused on maximizing performance and Scott Sonnon intricately describes the technique and importance of each movement." – Jacob Riley, United States Secret Service
"By combining an intimate knowledge of biomechanically efficient movement, the physiological capabilities and weaknesses of the human body, and both fighting and fitness, Coach Sonnon is helping to revolutionize the modern combatives world." – Matt Larsen, NCOIC U.S. Army Combatives Author: US Army FM3-21.150
"Learned of many "functional exercises" from the rehab world. A lot of which are being misused by 'core stability' gurus to substitute for real heavy weight training. But nobody, yes nobody, ever told me that there are other innovative ways to train with the dumbbell, until TACFIT Mass Assault ." – Don Scott, Federal Law Enforcement Officer
The Complete TACFIT Mass Assault Dumbbell Training System
TACFIT Mass Assault Start Up Guide
The Start-Up guide exposes you to the secrets of cranking your body's anabolic furnace, details how to schedule your training on both a 4-day and 7-day progression, and diagrams your entire mission complete with a Master Program Chart and full color photo illustrations of every exercise.
TACFIT Mass Assault Daily Journals
The Daily Journal component makes it simple to follow the program design. You're still expected to do the work, but we've taken care of all the details. Simply choose the program level — Pre-Recruit, Recruit, Grunt, or Commando— turn to the page, watch the corresponding video, do the workout, and get back to your life.
Mission Instructional Briefing Videos
These videos explain every single exercise in all 4 levels of the TACFIT Mass Assault program using accurate coaching cues and performance driven goals directly related to building muscle mass.
Follow Along Mission Simulation Videos
These videos challenge you through every single Mass Assault engagement—all you have to do is press play and try to keep up with Scott.
Follow Along Videos for Recovery
This essential component includes 2 follow-along simulations of both the joint mobility and Prasara compensation principles of the TACFIT mission-ready longevity plan. Avoid injury and get maximum benefit from your workout with these easy to follow recovery routines.
Bonus Components : Drift and Accelerator
The Drift is a bodyweight-only core-centric workout that specifically engages you for explosive power generation. Accelerator adds acceleration and deceleration, using a medicine ball to alter slow and smooth into fast and furious by pairing weight with movements performed at high intensity. Coupling this program with Mass Assault adds the power of a tactical air strike to your previous infantry drive.
Warm-ups and cooldowns
Bonus Components include warm-ups and cooldowns.
* The above is a symbolic depiction of the product's content. For illustration purposes only.
The complete product's content comes in a digital/downloadable format.
*** PLEASE NOTE ***
>> YOUR BROWSER COOKIES MUST BE ENABLED <<<
Readmore: Scott Sonnon