TCG – Mary Beth Vanderlinden – Chakra toolkit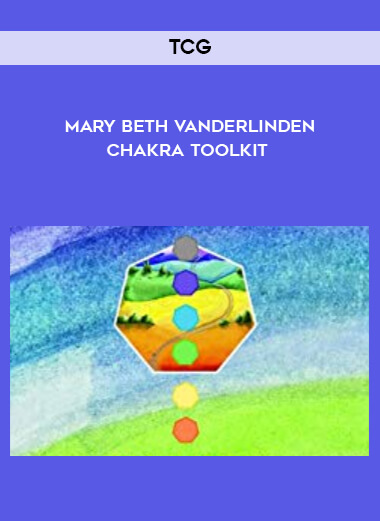 Salepage : TCG – Mary Beth Vanderlinden – Chakra toolkit

 IGNITE MIRACLES IN YOUR LIFE
(and Get 7 Days of Clearing Out  Blocked-Energy)
WITH THE CHAKRA TOOLKIT
| | |
| --- | --- |
| | Mary Beth's New System (and Healing Sessions) Help You Identify which Chakras are Holding You Back and How to Quickly Get Clear, Get Aligned, and Get into the Energy-Filled Manifestation Zone |
Item #1 

WHY GROUNDING MEDITATION & PDF GUIDE BOOK

Format: E-GUIDE & MP3

Why Grounding EBOOK  is an important first step to bring you to an understanding of what grounding does for you and why it is so important for everyone to be grounded every day. 

Before you can begin to understand how to clear out your chakras it's best to follow Mary Beth through this grounding meditation, so you're energetically prepared to accept the profound shift experienced during the healing sessions. 
Item #2

7 MAIN CHAKRAS EGUIDE

Format: Digital Book

Discover everything Mary Beth teaches about how to experience the most profound shift in your Chakra System with this helpful, and easy to follow guide.
Item #3 

Chakra Issues Directory

A directory of the issues that relate to each chakra

Format: Digital Book

If you've ever wanted to understand why you're experiencing any type of ailment, block, or struggle, then you're not alone. Millions are left without answers to these pressing questions, every day.

That's why Mary Beth has developed this quick reference guide which puts the answers you need right at your fingertips in a simple, timeless directory. Simply flip to your specific issue to see which chakra is blocked, and follow what you're about to learn from Mary Beth to fix it fast.
Item #4

7 COMPREHENSIVE CHAKRA EGUIDES

TO QUICKLY BALANCE YOUR ROOT, SACRAL, SOLAR PLEXUS, HEART, THROAT, 3RD EYE, AND CROWN CHAKRAS

Format: PDF (7 Guides)

Three Easy Steps to Identifying Your Challenge + Balancing Your Chakras

Use the Chakra Issues Directory to Identify your challenge.
  
Open the specific chakra eguide to read up on how to implement the 'quick balancing' technique
  
Review the signs that help you know your chakra's been balanced

If you're looking to increase your Chakra balancing knowledge, then you'll love how each Chakra's comprehensive guide teaches you each chakra's name, location, function, color, meaning of color, connection, development age, programming origination, the right responses, life lessons, right, endocrine gland, relationship, food, tone, mantra, sound, sense, fragrance, nerve center, zodiac, yin/yang, astral dimension, aromatherapy, Sanskrit name and meaning, number of petals, symbol, metal, animals, affirmations, what it's affect by, the foods to eat or eliminate plus a comprehensive list of related gemstones, crystals, and associated planets.

Root Chakra Ebook
  
Sacral Chakra Ebook
  
Solar Plexus Chakra Ebook
  
Heart Chakra Ebook
  
Throat Chakra Ebook
  
3rd Eye Chakra Ebook
  
Crown Chakra Ebook
Item #5 

7 CLEARING, BALANCING, AND ALIGNING MP3'S

(ONE FOR EACH OF YOUR 7 CHAKRA'S) 

Format: MP3 (7 mp3 files)

Once you have identified the challenge you're facing, and the corresponding Chakra, you're ready to get clear, and there's no easier way than sitting back, relaxing, and listening as these guided meditations help you clear, balance, and align your energy.  Each of these MP3's are infused with Reiki Healing Energy and the Frequencies to clear and then bring that chakra into balance and alignment. 

Root Chakra Clearing & Balancing Meditation

Infused With Reiki Healing Energy


  
Sacral Chakra Clearing & Balancing Meditation

Infused With Reiki Healing Energy


  
Solar Plexus Chakra Clearing & Balancing Meditation

Infused With Reiki Healing Energy


  
Heart Chakra Clearing & Balancing Meditation

Infused With Reiki Healing Energy


  
3rd Eye Chakre Clearing & Balancing Meditation

Infused With Reiki Healing Energy


  
Throat Chakra Clearing & Balancing Meditation

Infused With Reiki Healing Energy


  
Crown Chakra Clearing & Balancing Meditation

Infused With Reiki Healing Energy
A Total Value of $2497
Yours for only $997
No Results Found
The page you requested could not be found. Try refining your search, or use the navigation above to locate the post. 
BONUS #1  
TAME YOUR HORMONES TO

IGNITE YOUR INNER GODDESS!  

Many people are surprised to discover that poorly aligned energy, and blocked chakras are a leading cause of hormonal imbalance.  

When you sign up for this special offer you will receive a MP3 that contains the Reiki hormone balancing energy you need to maintain a healthy weight and have

boundless energy plus eliminate the culprits behind slow-metabolism, menopause, infertility and menstrual cycle disrupters. 

 

Plus Mary Beth shares her wisdom about the symptoms of hormonal imbalance, why your metabolism is affected, and how to use crystals and gems to balance your hormones today, whether you're young, in menopause, or beyond.

Each of the items included in this special bonus are tools that can assist you in becoming the unique Goddess you came here to be. Enjoy! 

Rejuvenated Goddess With Balanced Hormones PDF
  
Balance Your Hormones and Assist With Menopause Using Crystals PDF
  
Chakra Stone Layout to Balance The Hormones PDF
  
Hormone Health PDF
  
Infertility and Childbirth Crystal Grid Layout PDF


For those that would like this same image to lay your grid on you can print out the Flower of Life Image from google images.


  
Reiki Hormone Balancing MP3


You know your own body. For most people playing this MP3 on the days leading up to your menstral cycle will calm things down and give you a more relaxed experience, if your in menopause you may want to play this on loop each night during sleep. Just listen to your body and use this tool as you feel you need it. 
BONUS #2   
Be FREE From EX LOVER's or Other People's Energy So You Can Move on and Live Life With Less Struggle, More Focus and the Experience of The True You….

This effective process is exclusive to Mary Beth and allows you to remove old energy shards that are stuck in your system and constantly draining you, sometimes even for decades!

These shards of energy are picked up through Intimacy you have had with other people but also the energy of the people they have been intimate with and so on. For empaths this will release energy in general that you pick up from others all the time. 

The removal is quick and the relief is sometimes felt instantly. Some people report feeling like "themselves" for the first time in years or ever. 

This is an extremely powerful healing tool and a perfect example of one of many types of healing opportunities or processes you might expect to experience during the women's retreats I hold across the country and globally. 

Value: $197.00
BONUS #3   
$100 Discount on a 30 Minute Life Changing Intuitive Healing Session

Available to the first 60 who take advantage of the offer

Value: 100.00

Being known as the Human Cat Scan, Mary Beth is a highly regarded Master Medical Intuitive & Gifted Healer. She can see the energy in your body and help clear out negative energy and energy blocks. She can get to the heart of the issue and help you move forward in blissful health. Imagine your life long issues being dissolved in a short 30 minute private session! This 30 minute private and loving connection is a deep dive energetic healing session which focuses on shifting and transforming your health and wellness. Allow energy support, energy healing and total transformation to occur for you!

During your Intuitive Healing Session, Expect Major Shifts to Happen.

These are some of the experiences you can expect:

Clear away energy blocks so you can "move forward"

Release old beliefs that no longer serve you

Release toxins

Remove energy cords to keep you from taking on the energy of other people

Receive messages from deceased loved ones

Create an energetic flow to energetically support the release of illness and disease

Go into past lives to release leftover karma

Soul retrieval to integrate all of who you really are

Reduce pain and side effects of chemo

"First, I would like to send many thanks to you because what you did on me was truly amazing, profound and powerful. I can really see and feel the results and wonderful changes overnight.

I woke up this morning feeling great and my shoulder pain seemed to subside. Every morning I would get up and my whole body aches all the time, especially my shoulder. I thought it was due to my sleeping position and tried to change it, but it still didn't work. But this morning, things have changed.

My throat gets clearer and my voice also sounds clearer and louder. Like you said, my throat chakra has so many, many blockages. Even before I got into energy healing and chakra balancing, I could even feel something is just not right with my throat. There was like a lump in it that held me back from speaking out and expressing myself in the most truthful manner. That's why I am sort of bad at getting my points across and always think of myself as "not a good talker". Moreover; whenever I speak, not all the time but quite often, fear and anxiety keep crawling in my throat and my head fills with things like: "Am I saying this right?", " Are they gonna judge me if I say this?…

You were so spot on about everything. You really sent me chills down my spine when you mentioned my big brother. I didn't know he was always there supporting me and even my other deceased loved ones as well. It's really just mind-blowing. I also feel deeply touched when you mentioned my Heart chakra; my body was literally vibrating with love at that time. It was just a magical and unforgettable moment.

Once again, I'd like to send my deepest gratitude to you- my sweet "grandma". I've been struggling a lot with my emotional life since the day I was born. Even though I grow up normally like many other people, my parents love me; something was always missing until I've found my answers to all these issues thanks to you wealth revolution and especially you. This is the first time in my life that I've felt like I've been heard and come back to my true self. Thank you so, so much for making this happen! I feel blessed to have worked with you. I truly believe that this is the great gift God wants to send me."  

Tammy