The Advanced Content Roadmap Generator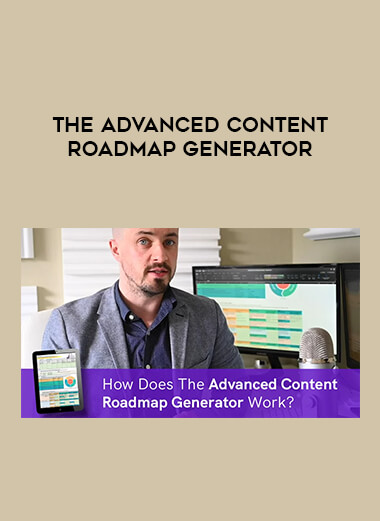 Salepage : The Advanced Content Roadmap Generator

Are you:
❌ Stuck for content ideas, even though you know your audience inside-out?
❌ Unsure how your blogs, videos and other materials align with your customer journey?
❌ Struggling to turn all your ideas into a simple, actionable content roadmap?
Yup. We've been there.
✅ Best-case scenario: it's costing you time and mental energy to complete what should be a straightforward task.
❌  Worst-case scenario: it's costing you sales, customers, clients… and money.
That's why we built the Advanced Content Roadmap Template.
This simple-but-mighty spreadsheet takes granular pieces of information about your audience, your objectives and your product – and turns this information into a clear, defined narrative through each stage of your customer's journey.
All the coding is in-built – so you just need to answer the simple questions, and let the tool work its magic!
The Advanced Content Roadmap Generator will guide you through:
✅ Detailed persona development;
✅ Definition of objectives and sub-objectives;
✅ Creation of content ideas based on the various stages of your customer journey
✅ Prioritisation of these ideas so you can apply your resources smartly and efficiently
You'll come away with a crystal-clear vision of your content – and how it aligns to your business strategy.
I was having a bit of an issue
Hi! I'm Aidan.
I'm co-founder and Managing Director of Far From Avocados, one of Ireland's leading content marketing agencies.
And I built this tool.
Not because I love Excel (though I kinda do). But because I needed to solve a problem that was holding me back.
As a content strategist. As a content creator. As a marketer.
As a business owner.
I couldn't get my ideas down on paper
I could come up with content ideas, sure; ones that I knew audiences would love and respond to. But I could never get them to line up – or make them feel like they fit into a broader strategy.
And because of that, I could never properly communicate them to the client – or even my own team.
And I was always being niggled by a sense that I'd left out something important. Too much was left to chance.
My issue was getting ideas out of my head and on to paper – through a logical, reliable and repeatable process.
So I decided to fix this problem once and for all
I say 'decided'. But really, I had no choice!
I drew up a very basic process for mapping out my thoughts – based on the needs of the audience, as with everything we do in our agency.
First on paper.
Then, on Excel.
At first, as a single 4×6 table, and then developed over time – as I added stages, automations and even colour-coding to make it easier to use.
The Advanced Content Roadmap Template Was Born
And I wasted no time in putting it to use.
First, for myself
Immediately, it fixed the big issue that had plagued me for all that time.
I stopped chasing scraps of paper, and spent more time delivering business-changing value to my clients. 
It made me feel less stressed, because I knew we had a system in place.
I wasn't under pressure to come up with great ideas out of nowhere. I filled in the blanks, reviewed the outputs, and they came to me.
Then, for the agency team
I distributed it to my colleagues at Far From Avocados, and after some refinements, we put it at the centre of our processes.
This was key, not only to a happier and a more efficient team – but to better and more successful client projects.
They got busier.
We got busier.
And within a year, we were doing six-figure revenues… in large part thanks to this modest but mighty little tool.
But we didn't stop there.
And then, for our clients
At Far From Avocados, we've always believed that the more we helped and educated our clients around content marketing, the more successful we'd be.
Their success is our success, after all.
So we put the tool to the ultimate test. And shared it with some clients, prospects and even some nice people we encountered through our business.