The American Accent Course: 50 Rules You Must Know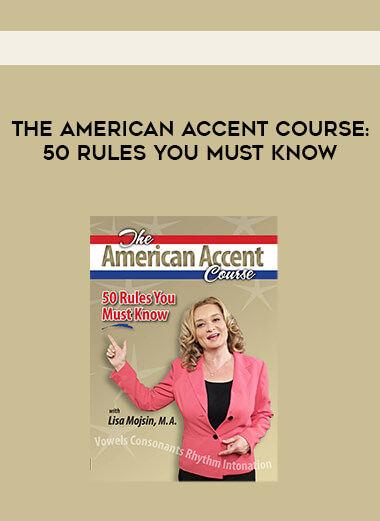 Salepage : The American Accent Course: 50 Rules You Must Know

+ DVD 01: AMERICAN VOWEL SOUNDS – 10 RULES YOU MUST KNOW (50 MINUTES LONG)
Learn to fix all of the most common vowels mistakes that non-native speakers of English make.

Commonly confused sounds are reviewed in detail.

British and American vowels are compared.

Speak with confidence and avoid potentially embarrassing mistakes and misunderstandings such as "fool" and "full," "cop" and "cup", "robber" and rubber," "beach" and "bitch" and many others.

Learn the phonetic symbols so that you can use your dictionary more effectively.

Learn the common spelling rules for the difficult vowel sounds.

+ DVD 02: DIFFICULT CONSONANT SOUNDS – 15 RULES YOU MUST KNOW (1 HOUR AND 20 MINUTES LONG)

Fix the most common consonant errors.

Practice the difficult sounds in word pairs and sentences.

See the correct mouth positions.

+ DVD 03: WORD STRESS, RHYTHM AND INTONATION – 15 RULES YOU MUST KNOW (1 HOUR AND 20 MINUTES LONG)

This is most important of the four videos. Learning these 15 lessons is the quickest way to improve your accent.

Learn how to create the natural rhythm and melody of American speech.

This video teaches you all the rules you need to know about correct stress and reduction of words.

Learn the most common rules about syllable stress.

Learn about rising and falling intonation and pitch.

Contains exercises which test your knowledge of American word and sentence stress

If you only buy one video, this is the one that will have the greatest effect on your accent. Without correct rhythm and intonation, your speech will be difficult to understand and will sound foreign, even if you are pronouncing all of the individual words correctly.

+ DVD 04: ADVANCED LESSONS – THE FINAL STEPS TO AN AUTHENTIC AMERICAN ACCENT (50 MINUTES LONG)

Develop natural sounding speech.

Find out about other important exceptions that you need to know.