The American Accent Course: 50 Rules You Must Know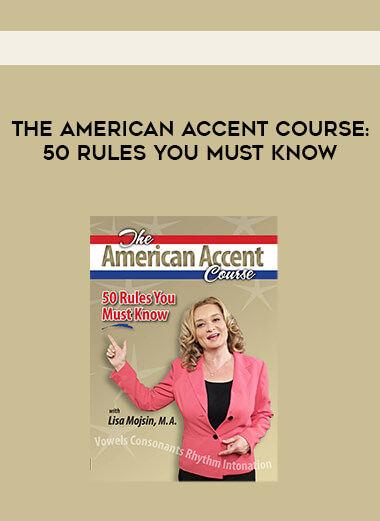 Salepage : The American Accent Course: 50 Rules You Must Know

+ DVD 01: AMERICAN VOWEL SOUNDS – 10 MUST-KNOW RULES (50 MINUTES LONG)
Learn how to correct the most frequent vowel errors made by non-native English speakers.
Frequently confusing noises are thoroughly examined.
The vowels of the United Kingdom and the United States are contrasted.
Avoid potentially embarrassing blunders and misunderstandings such as "fool" and "full," "cop" and "cup," "robber" and "rubber," "beach" and "bitch," and many others.
Learn the phonetic symbols so you may make better use of your dictionary.
Discover the most prevalent spelling guidelines for problematic vowel sounds.
+ DVD 02: DIFFICULT CONSONANT SOUNDS – 15 MUST-KNOW RULES (1 HOUR AND 20 MINUTES LONG)
Correct the most common consonant mistakes.
Use word pairs and phrases to practice the challenging sounds.
Examine the proper mouth postures.
+ DVD 03: WORD STRESS, RHYTHM, AND INTONATION – 15 MUST-KNOW RULES (1 HOUR AND 20 MINUTES LONG)
This is the most crucial of the four videos. The easiest method to enhance your accent is to learn these 15 lessons.
Discover how to imitate the natural rhythm and melody of American speaking.
This video teaches you all the principles you need to know about proper stress and word reduction.
Learn the most frequent syllable stress guidelines.
Learn about pitch and rising and falling intonation.
It includes tasks that will put your understanding of American word and sentence stress to the test.
If you just buy one video, make it this one. It will have the most impact on your accent. Even if you accurately pronounce all of the individual words, your speech will be difficult to understand and seem strange if you do not use proper rhythm and intonation.
+ ADVANCED LESSONS – THE LAST STEPS TO AUTHENTIC AMERICAN ACCENT (50 MINUTES LONG)
Create natural-sounding speech.
Learn about some key exclusions that you should be aware of.