The Best of MMA 2014 (TOP 200 fights, TOP 150 Subs & KO's)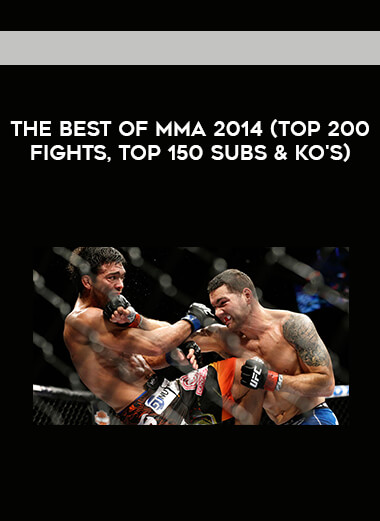 Salepage : The Best of MMA 2014 (TOP 200 fights, TOP 150 Subs & KO's)
Alienator13's Best of MMA 2014
This bundle covers the top 200 fights, submissions, and knockouts of 2014. These are my personal thoughts, and I can only rate battles that I have witnessed.
There is so much MMA these days that it is hard to keep up with all of the events that are offered here or on streaming services. I selected these conflicts.
from about 300 occurrences Except for one battle from the KO section, all fights are entire fights. This collection contains duplicate bouts (sorry about that); if a fight is missing,
It has been graded in two distinct categories since I wanted to maintain all categories full in case someone just wants to download one.
TOP 150 knockouts, for example. Don't worry about the ranking order I've created; instead, enjoy the fantastic MMA year of 2014.
Cheers
alienator13
TOP 200 FIGHTS
200] 2014-07-06 Dustin Ortiz vs Justin Scoggins (UFC – TUF 19 Finale)
199] 2014-03-21 Sergei Kharitonov vs Tyler East (Tech Krep FC – Prime)
198] 2014-07-26 Bobby Green vs Josh Thomson (UFC on Fox 12 – Lawler vs Brown)
197] 2014-02-28 Kurt Holobaugh vs Eric Marriott (Titan FC 27)
196] 2014-08-22 Jordon Larson vs Donavon Winters (RFA 17 – Cochrane vs Giagos)
195] 2014-02-21 Lenny Wheeler vs William Romero (WSOF – Canada 1)
194] 2014-08-08 Charles Rosa vs Jake Constant (CES MMA 25)
193] 2014-12-06 Mike Wooten vs Peter Ligier (BAMMA 17 – Fletcher vs Brightmon)
192] 2014-04-26 Levan Makashvili vs Scott Heckman (CFFC 35 – Heckman vs Makashvili)
191] 2014-12-14 Jea Hoon Moon vs Min Woo Kim (ROAD FC 20)
190] 2014-08-07 Boyd Allen vs Barend Nienaber (EFC Africa 32)
189] 2014-09-05 Patricio Freire vs Pat Curran (Bellator MMA – Bellator 123)
188] 2014-04-11 Ryan LaFlare vs John Howard (UFC Fight Night 39 – Nogueira vs Nelson)
187] 2014-10-10 Marvin Blumer vs Junior Maranhao (RFA 19 – Collier vs Checco)
186] 2014-12-12 Jessica Penne vs Randa Markos (UFC – The Ultimate Fighter 20 Finale)
185] 2014-06-28 Nate Marquardt vs James Te Huna (UFC Fight Night 43 – Te Huna vs Marquardt)
184] 2014-11-07 Martin Nguyen vs Rocky Batolbatol (ONE FC 22 – Battle of Lions)
183] 2014-07-05 Urijah Faber vs Alex Caceres (UFC 175 – Weidman vs Machida)
182] 2014-07-19 Cathal Pendred vs Mike King (UFC Fight Night – McGregor vs Brandao)
181] 2014-11-01 Jonavin Webb vs Lyman Good (CFFC 43 – Good vs Webb)
180] 2014-04-19 Lewis Rumsey vs Mike Stewart (CFFC 34 – Santella vs Honstein)
179] 2014-04-26 Chris Beal vs Patrick Williams (UFC 172 – Jones vs Teixeira)
178] 2014-12-18 Elizeu Zaleski vs Eduardo Ramon (JF – Jungle Fight 75)
177] 2014-01-24 Darren Mima vs Merab Dvalishvili (Ring of Combat 47)
176] 2014-11-15 Joe Schilling vs Melvin Manhoef (Bellator MMA – Bellator 131 – Tito vs Bonnar)
175] 2014-03-28 Malik Merad vs Mohamed Ali (CWFC Fight Night 10)
174] 2014-01-17 Gilbert Smith vs Jason South (MFC 29 – No Remorse)
173] 2014-11-09 Riki Fukuda vs Dool Hee Lee (ROAD FC 19)
172] 2014-06-28 Jake Matthews vs Dashon Johnson (UFC Fight Night 43 – Te Huna vs Marquardt)
171] 2014-04-04 Martin Sano vs Clint Roberts (Legacy FC 30)
170] 2014-06-07 Scott Jorgensen vs Danny Martinez (UFC Fight Night 42 – Henderson vs Khabilov)
169] 2014-05-17 Borys Mankowski vs Aslambek Saidov (KSW 27 – Cage Time)
168] 2014-10-03 Carlos da Silva vs Joao Paulo Cardozo (Shooto – Brazil 50)
167] 2014-09-13 Lewis Long vs Steven Dinsdale (CWFC 72 – Tait vs Tauru)
166] 2014-12-11 Luigi Fioravanti vs Ruslan Khashhanov (M-1 Challenge 54 – ACB 12)
165] 2014-09-20 Kyung Ho Kang vs Michinori Tanaka (UFC Fight Night 52 – Hunt vs Nelson)
164] 2014-06-05 Knife Didier-Kilola vs Ricky Misholas (EFC Africa 30)
163] 2014-06-14 Murad Zeinulabidov vs Mika Hamalainen (Helsinki Fight Night)
162] 2014-05-30 Niko Price vs Mikerson Lindor (Fight Time 19 – Battle of the Brave)
161] 2014-03-15 Jessica Andrade vs Raquel Pennington (UFC 171 – Hendricks vs Lawler)
160] 2014-12-31 Yasuaki Kishimoto vs Yoshiaki Takahashi (DEEP DREAM Impact – Omisoka Special)
159] 2014-05-17 Diogo Silva vs Anderson Rodrigo (JF – Jungle Fight 70)
158] 2014-03-15 Alex Garcia vs Sean Spencer (UFC 171 – Hendricks vs Lawler)
157] 2014-08-16 Paul Redmond vs Alexis Savvidis (CWFC 70 – Duffy vs Lapilus)
156] 2014-01-15 Yoel Romero vs Derek Brunson (UFC Fight Night 35 – Rockhold vs Philippou)
155] 2014-08-30 Nobuhito Irei vs Duk Young Jang (ROAD FC 18)
154] 2014-02-09 Mu Gyeom Choi vs Bae Young Kwon (ROAD FC 14)
153] 2014-07-16 Donald Cerrone vs Jim Miller (UFC Fight Night 45 – Cerrone vs Miller)
152] 2014-10-04 Rick Story vs Gunnar Nelson (UFC Fight Night 53 – Nelson vs Story)
151] 2014-10-04 Dennis Siver vs Charles Rosa (UFC Fight Night 53 – Nelson vs Story)
150] 2014-04-19 Bradley Desir vs Joshua Key (CFFC 34 – Santella vs Honstein)
149] 2014-09-13 Phil Raeburn vs Damo Weeden (CWFC 72 – Tait vs Tauru)
148] 2014-06-27 Keenan Raymond vs James Murrin (CES MMA 24)
147] 2014-03-22 Michal Materla vs Jay Silva (KSW 26)
146] 2014-08-22 Steve Montgomery vs Rakim Cleveland (Titan FC 29 – Ricci vs Sotiropoulos)
145] 2