The Best of MMA 2014 (TOP 200 fights, TOP 150 Subs & KO's)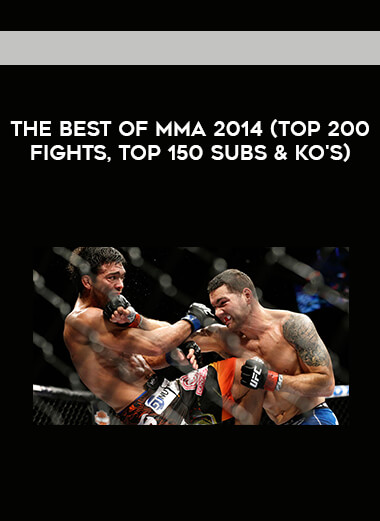 Salepage : The Best of MMA 2014 (TOP 200 fights, TOP 150 Subs & KO's)
The Best of MMA 2014 by alienator13
This pack contains TOP 200 fights, TOP 150 submissions & TOP 150 knockouts of 2014. These are purely my opinions and I can only rank fights which I have seen. 
There is so much MMA these days that it's impossible to watch all the events which are available either here or streaming sites. I have chosen these fights
from appr. 300 events. All fights are full fights except one fight from KO part. This pack contains duplicate fights (sorry for that), if some fight is 
ranked in 2 different categories it has being included in both categories since I wanted to keep all categories complete in case someone only wants to download
f.e TOP 150 knockouts. Don't pay too much attention into ranking order I have put up, instead enjoy for the great MMA year of 2014.
Cheers
alienator13
TOP 200 FIGHTS
200] 2014-07-06 Dustin Ortiz vs Justin Scoggins (UFC – TUF 19 Finale)
199] 2014-03-21 Sergei Kharitonov vs Tyler East (Tech Krep FC – Prime)
198] 2014-07-26 Bobby Green vs Josh Thomson (UFC on Fox 12 – Lawler vs Brown)
197] 2014-02-28 Kurt Holobaugh vs Eric Marriott (Titan FC 27)
196] 2014-08-22 Jordon Larson vs Donavon Winters (RFA 17 – Cochrane vs Giagos)
195] 2014-02-21 Lenny Wheeler vs William Romero (WSOF – Canada 1)
194] 2014-08-08 Charles Rosa vs Jake Constant (CES MMA 25)
193] 2014-12-06 Mike Wooten vs Peter Ligier (BAMMA 17 – Fletcher vs Brightmon)
192] 2014-04-26 Levan Makashvili vs Scott Heckman (CFFC 35 – Heckman vs Makashvili)
191] 2014-12-14 Jea Hoon Moon vs Min Woo Kim (ROAD FC 20)
190] 2014-08-07 Boyd Allen vs Barend Nienaber (EFC Africa 32)
189] 2014-09-05 Patricio Freire vs Pat Curran (Bellator MMA – Bellator 123)
188] 2014-04-11 Ryan LaFlare vs John Howard (UFC Fight Night 39 – Nogueira vs Nelson)
187] 2014-10-10 Marvin Blumer vs Junior Maranhao (RFA 19 – Collier vs Checco)
186] 2014-12-12 Jessica Penne vs Randa Markos (UFC – The Ultimate Fighter 20 Finale)
185] 2014-06-28 Nate Marquardt vs James Te Huna (UFC Fight Night 43 – Te Huna vs Marquardt)
184] 2014-11-07 Martin Nguyen vs Rocky Batolbatol (ONE FC 22 – Battle of Lions)
183] 2014-07-05 Urijah Faber vs Alex Caceres (UFC 175 – Weidman vs Machida)
182] 2014-07-19 Cathal Pendred vs Mike King (UFC Fight Night – McGregor vs Brandao)
181] 2014-11-01 Jonavin Webb vs Lyman Good (CFFC 43 – Good vs Webb)
180] 2014-04-19 Lewis Rumsey vs Mike Stewart (CFFC 34 – Santella vs Honstein)
179] 2014-04-26 Chris Beal vs Patrick Williams (UFC 172 – Jones vs Teixeira)
178] 2014-12-18 Elizeu Zaleski vs Eduardo Ramon (JF – Jungle Fight 75)
177] 2014-01-24 Darren Mima vs Merab Dvalishvili (Ring of Combat 47)
176] 2014-11-15 Joe Schilling vs Melvin Manhoef (Bellator MMA – Bellator 131 – Tito vs Bonnar)
175] 2014-03-28 Malik Merad vs Mohamed Ali (CWFC Fight Night 10)
174] 2014-01-17 Gilbert Smith vs Jason South (MFC 29 – No Remorse)
173] 2014-11-09 Riki Fukuda vs Dool Hee Lee (ROAD FC 19)
172] 2014-06-28 Jake Matthews vs Dashon Johnson (UFC Fight Night 43 – Te Huna vs Marquardt)
171] 2014-04-04 Martin Sano vs Clint Roberts (Legacy FC 30)
170] 2014-06-07 Scott Jorgensen vs Danny Martinez (UFC Fight Night 42 – Henderson vs Khabilov)
169] 2014-05-17 Borys Mankowski vs Aslambek Saidov (KSW 27 – Cage Time)
168] 2014-10-03 Carlos da Silva vs Joao Paulo Cardozo (Shooto – Brazil 50)
167] 2014-09-13 Lewis Long vs Steven Dinsdale (CWFC 72 – Tait vs Tauru)
166] 2014-12-11 Luigi Fioravanti vs Ruslan Khashhanov (M-1 Challenge 54 – ACB 12)
165] 2014-09-20 Kyung Ho Kang vs Michinori Tanaka (UFC Fight Night 52 – Hunt vs Nelson)
164] 2014-06-05 Knife Didier-Kilola vs Ricky Misholas (EFC Africa 30)
163] 2014-06-14 Murad Zeinulabidov vs Mika Hamalainen (Helsinki Fight Night)
162] 2014-05-30 Niko Price vs Mikerson Lindor (Fight Time 19 – Battle of the Brave)
161] 2014-03-15 Jessica Andrade vs Raquel Pennington (UFC 171 – Hendricks vs Lawler)
160] 2014-12-31 Yasuaki Kishimoto vs Yoshiaki Takahashi (DEEP DREAM Impact – Omisoka Special)
159] 2014-05-17 Diogo Silva vs Anderson Rodrigo (JF – Jungle Fight 70)
158] 2014-03-15 Alex Garcia vs Sean Spencer (UFC 171 – Hendricks vs Lawler)
157] 2014-08-16 Paul Redmond vs Alexis Savvidis (CWFC 70 – Duffy vs Lapilus)
156] 2014-01-15 Yoel Romero vs Derek Brunson (UFC Fight Night 35 – Rockhold vs Philippou)
155] 2014-08-30 Nobuhito Irei vs Duk Young Jang (ROAD FC 18)
154] 2014-02-09 Mu Gyeom Choi vs Bae Young Kwon (ROAD FC 14)
153] 2014-07-16 Donald Cerrone vs Jim Miller (UFC Fight Night 45 – Cerrone vs Miller)
152] 2014-10-04 Rick Story vs Gunnar Nelson (UFC Fight Night 53 – Nelson vs Story)
151] 2014-10-04 Dennis Siver vs Charles Rosa (UFC Fight Night 53 – Nelson vs Story)
150] 2014-04-19 Bradley Desir vs Joshua Key (CFFC 34 – Santella vs Honstein)
149] 2014-09-13 Phil Raeburn vs Damo Weeden (CWFC 72 – Tait vs Tauru)
148] 2014-06-27 Keenan Raymond vs James Murrin (CES MMA 24)
147] 2014-03-22 Michal Materla vs Jay Silva (KSW 26)
146] 2014-08-22 Steve Montgomery vs Rakim Cleveland (Titan FC 29 – Ricci vs Sotiropoulos)
145] 2